Energy and Building Services
Glasgow Clyde College is ideally placed to provide vocational training and assessment for students and professionals, with state-of-the-art equipment and our new commercial gas centre we offer a excellence professional experience.
Working with industry
From plumbing and gas to water treatment, our courses suit both technical and non-technical staff alike. Our courses have a proven track record of success, with over 70% of graduates on the HNC Water Operations course subsequently being promoted within their organisation. It's no wonder we're the first choice of training provider to companies such as Scottish Water.
We also work with a range of partners including Midland Lead
To support growth Scotland needs to help reduce the future shortage of skilled labour in construction. This is why manufacturers, like here at Midland Lead, recognise that the expertise of specialist sectors really does help to secure and develop a workforce. As part of our commitment, we supply machine cast lead, tools and ancillary products free of charge to participating colleges. We also visit as many of the colleges we can to present best practice on how to handle, store and work with lead.
Flexible learning
As well as offering part-time courses to fit studying around work, we also offer flexibility on some courses - for example, the Central Heating Boilers and Instantaneous Water Heaters course offers training and assessment or assessment-only options, allowing you to maximise your time.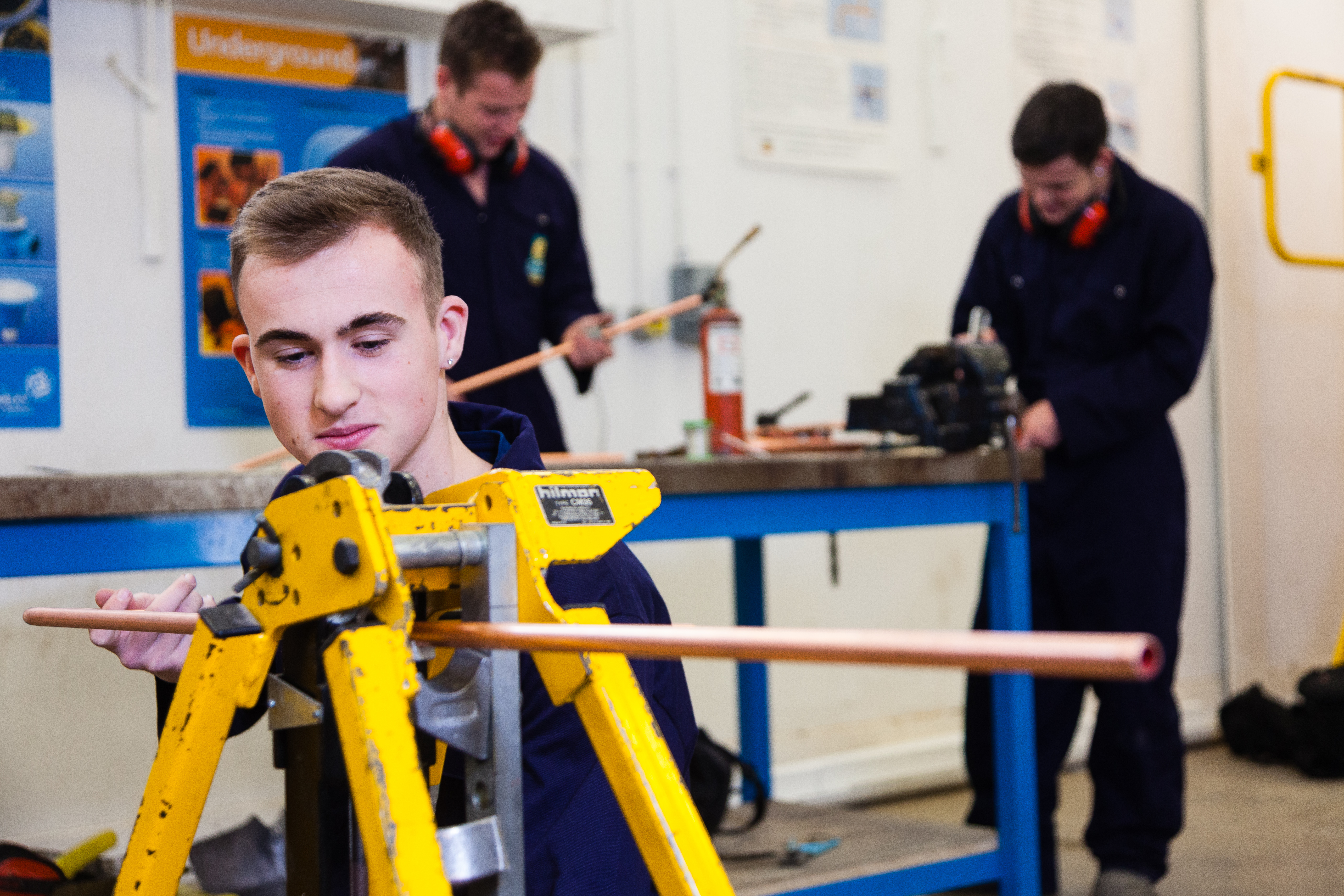 Training centre
In August 2017, Glasgow Clyde College announced the completion of its new BPEC-approved commercial gas centre. The new centre, based at Cardonald Campus, allows the college to train and assess in both domestic and commercial gas and is led by dedicated lecturers with a background in industrial gas maintenance.
We are committed to strengthening our industry relationships and providing vocational training and assessment for students and continual professional development across a large number of its courses. We will continue to invest in the right equipment and training facilities matched with the requirements of the industries in which we teach, to ensure students are industry-ready.
PoVE Water Pilot
Pilot PoVE water is a transnational project that draws on existing and emerging vocational competences and skills needs in the water sector, translating them into an approach of vocational excellence. This ensures upward convergence of VET with (EU) knowledge triangles and a strong engagement with the regional economic and social ecosystems. The project intends to create the infrastructure necessary to embed vocational excellence in the water sector in Europe, thus laying the grounds for vocational curriculum development and consequently competence development of VET students.Pilot PoVE Water aims to:
Ensure that VET is at the forefront of research and technological developments in the water sector;
Ensure that current and future water sector professionals have the work attitude, knowledge and competences that the rapid changing EU water industry demands;
Identify the existing and emerging labour market needs and enhance the responsiveness of initial and continuing VET systems to these needs;
Promote synergies, cooperation and cross-fertilisation.
Find out more about the PoVE Water project Pilot PoVE Water Brochure
Glasgow Clyde College has become Scotland's first Further Education institution to obtain accreditation from Breastfeeding Friendly Scotland.

Glasgow Clyde College is offering a glimpse into the future by launching the UK's first ever interactive metaverse Open Day - recreating Langside campus on Minecraft.

Scottish writer Chris McQueer launched a new swap library at Glasgow Clyde College as part of the Keep the Heid and Read campaign which promotes the benefits of books for mental health.