Please thank all of the staff for their hard work in helping me achieve the HNC last year. I really enjoyed my time at the college and still can't quite believe I walked away with a job I love at the end of the year!
That's an email from one of our students – and it's something we hear a lot.
Why you should consider a career in tourism? - Some Key Facts
"Since 2010 tourism has been the fastest growing sector in the UK in employment terms. Britain is forecast to have a tourism industry worth over £257 billion by 2025."
Source: Visit Britain

"Britain will have a tourism industry worth over £257 billion by 2025. 3.8 million jobs, which is around 11% of the total UK number."
There are new employment opportunities on the ground and in the air at Glasgow Airport with Jet2 expanding to almost 100 flights a week during peak periods next summer. Glasgow is also the only Scottish Airport to host world's largest commercial aircraft with Emirates now flying the Airbus A380 twice a day to Dubai
"Glasgow is a successful tourism destination, attracting over two million tourists per year, spending £482 million. On an annual basis, the city also attracts 20 million day visitors with an expenditure of approximately £1 billion."
Source: Glasgow City Marketing

"For the sixth year running, Scotland has outperformed the rest of the UK in attracting visitors to its tourist attractions. Edinburgh is the top UK destination outside London - but the whole country is benefiting from a tourism renaissance."
Source: BBC News
Tourism is one of the largest and fastest growing industries in Scotland and demand for qualified staff is only going to increase. So if you fancy working as cabin crew, at airport check-in, in a travel agent or overseas as a holiday rep then Glasgow Clyde College has the course to help you land your dream job.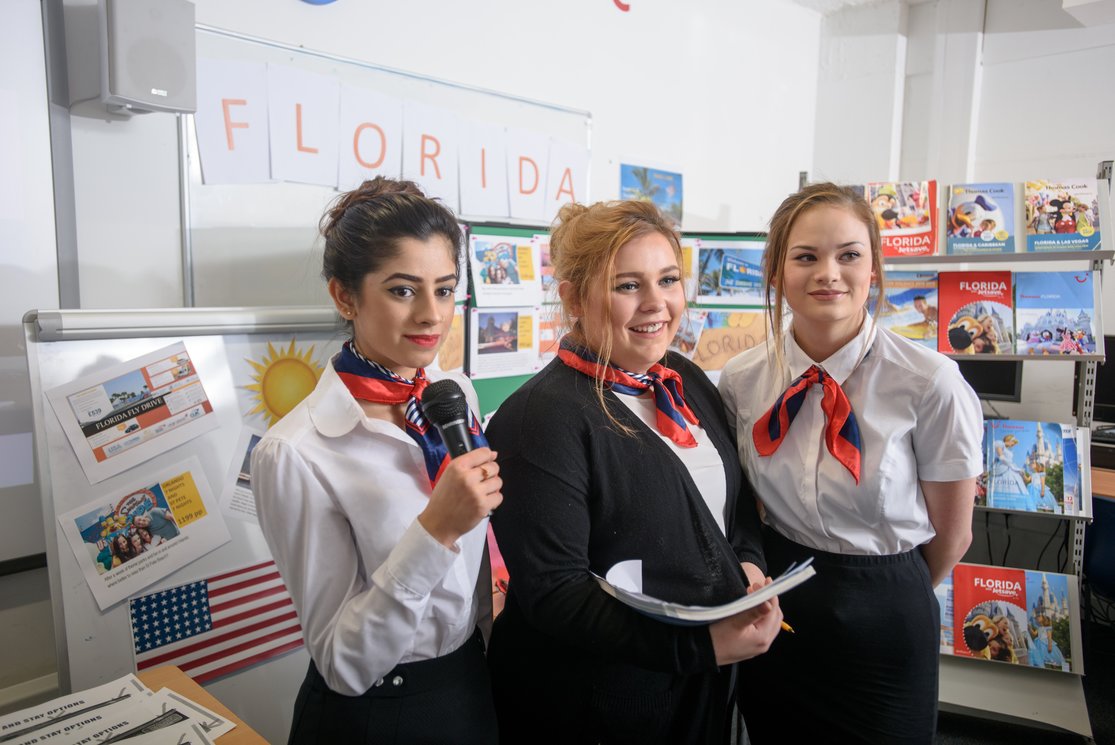 Choosing the correct college and course is a hugely important decision and we've answered some common questions below to help you make your decision.
Do you offer a range of courses?
Yes, we offer:
Check-In to Travel and Tourism (Level 4)
Cabin Crew Operations (Level 5)
Take-Off to Travel and Tourism (Level 5)
International Travel and Airport Operations (Level 6)
HND Travel and Tourism
Do you accept applications from those with a range of qualifications?
Yes, here are the entry requirements for our courses:
Check-In to Travel and Tourism – no formal qualifications
Cabin Crew Operations - Three National 5 qualifications
Take-Off to Travel and Tourism – no formal qualifications
International Travel and Airport Operations – Three National 5 qualifications at Pass
HND Travel and Tourism – Two Highers at C or above
Do your students get travel industry jobs?
Yes, we've got a great links with the travel industry and our students get jobs with airlines, at the airport, in travel agents or as tour operators
Are your courses up to date?
Yes, we employ specialist lecturers with up to date industry experience and use the latest software to make sure you are fully prepared to enter the workplace
Do your courses offer work experience?
Yes, our courses offer some great work experience opportunities – in fact often when students do well on their placements they end up being offered employment
Do you have links with universities?
Yes, many of our students progress directly into the 3rd year of Tourism Management courses at Glasgow Caledonian University or University of The West of Scotland
Next steps
Our Travel and Tourism courses tend to be very popular and fill up quickly so you should apply as soon as possible.



Despite a 'pause' in the sector during lockdown, Glasgow Clyde College's Tourism and Hospitality teaching has continued apace throughout.

Dana Malone, who studied on the Travel and Tourism Employability course, is an example of the kinds of industry connections that our students benefit from through coming to Glasgow Clyde College.
The Business of Travel and Tourism Convention
Travel and Tourism Students