If you're looking to kickstart your career in business or finance, Glasgow Clyde College has a variety of courses to help you on your way.
Jobs in Business and Finance
Whether you want to gain a good grounding in business, accounting or administration our courses are designed to help you develop the essential specialist knowledge and skills to succeed.
We also have a range of accounting courses which offer insight into economics, finance, management, information technology and law to get you ready for a career in commerce.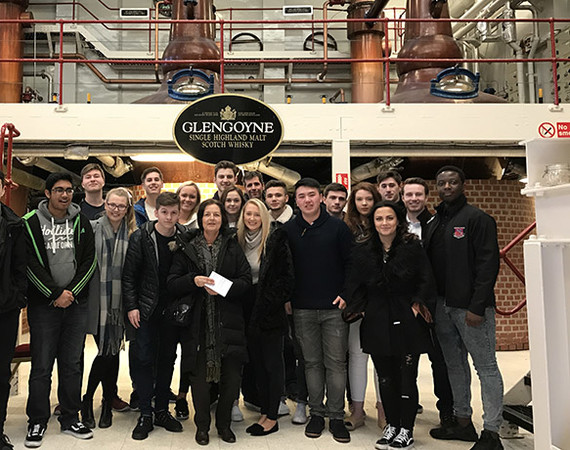 Industry and Employer Links
Students studying Business and Finance enjoy visits to local businesses, such as Glengoyne Distillery, to see how their learning fits into the working world.
Medical administration students also take part in work experience placements at general medical practices and hospitals, giving them valuable practical experience to make the transition to employment after studying.
Further Study Opportunities
Some courses at Glasgow Clyde College, for example, HND Accounting, offer the opportunity to study as a Pathway Student, which allows you to prepare for years 3 and 4 of the BA (Hons) Accountancy at Glasgow Caledonian University.
Other students completing their courses may go on to study at universities, such as the University of the West of Scotland, to move on to further study at Glasgow Clyde College or to progress to the world of work directly.
Award Winners
Our Business and Finance students have a strong track record in excellence, with the IFSD Student Awards regularly featuring a Glasgow Clyde College student in their top honours.
We have received an excellent annual engagement report on the quality of our learning and teaching from Scotland's national education inspection body. 

We have received an award from Cycling Scotland, the nation's cycling organisation, for our commitment to making it easier for people to get on their bikes.

Following advice from our professional building advisors we will be continuing tests to the exterior of the Anniesland campus. Whilst many areas of the campus are now open some areas will continue to remain closed until further notice.
Why study Admin and IT at Glasgow Clyde College?
Glasgow Life staff choose Glasgow Clyde College as training partners