Samantha Birrell: HND Industrial Biotechnology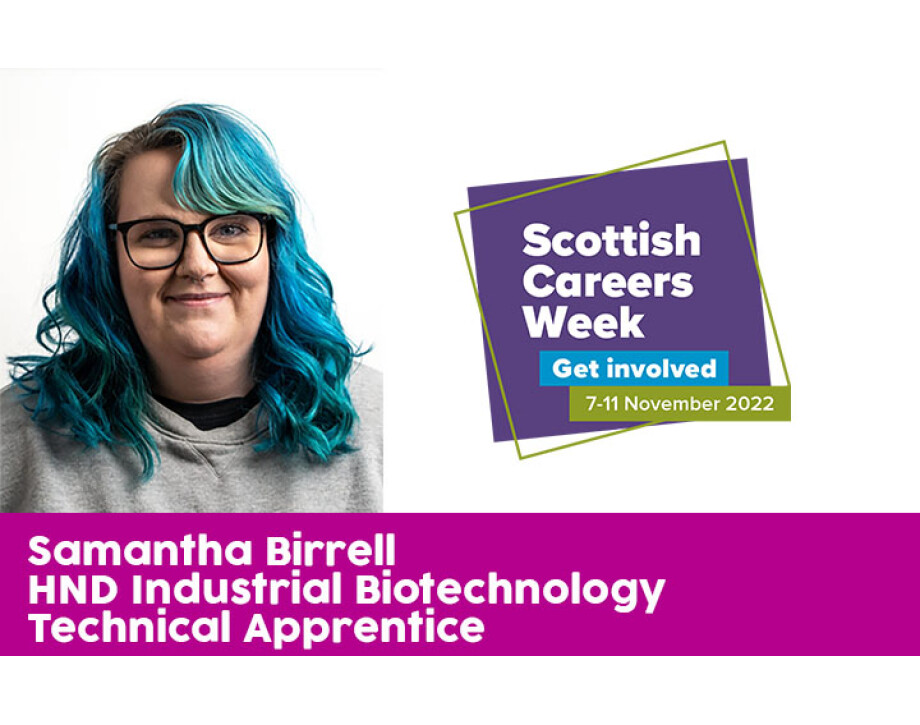 HND Industrial Biotechnology and Technical Apprenticeship
When I was at school I really enjoyed science, and I studied Higher Chemistry and Biology. But, after school I chose to study HND Graphic Design at Cardonald College (now Glasgow Clyde College). After this I worked full time in McDonalds for seven years, and became a manager there. It was actually my partner, who was studying a degree in Chemistry at the time, who said I should try going back to college to study science because he remembered how much I enjoyed it when I was at school. I took a chance and decided to apply for the HND Industrial Biotechnology course at Glasgow Clyde College, with the aim of getting into a Technical Apprenticeship programme that was being advertised.
The course co-ordinator suggested that because it had been so long since I had studied any science, that I should do the NQ Applied Science Level 6 course first, even though I was qualified enough to do the HND. This was the best decision because it gave me time to really grow my skills as a new scientist. After that there was a natural progression to the HND Industrial Biotechnology course. This was the best choice for me, as it offered the apprenticeship programme, and the appeal of being able to earn a wage whilst studying was very attractive to a mature student like me. The course also covered such a broad spectrum of subjects that I knew if the apprenticeship programme didn't work out, I would be able to choose any path because the course would set me up to follow a career in science.
I'm currently doing my apprenticeship with Antibody Analytics, a company based in Motherwell which performs experiments and assays for customers who need investigations conducted to see if their products work.
My apprenticeship started in November 2021 and will finish in November 2023. It's meant that I do the second year of my HND part-time so that I can work whilst studying. I am now in the second half of my second year so I should be graduating from Glasgow Clyde College in June 2023. Doing the apprenticeship allows me to advance my skills quickly at work. For example, one of my modules is for training, so I am now being put through how to train people when they first come to the company. I also need to submit proof work for things such as reagent prep and microscopy. This will all be very handy if I decide to go on to university as it will be another qualification that I can put onto my CV.
This year I was also selected to take part in the WorldSkills competition, which was great fun. It was a great opportunity to meet new people and network, and to try out new techniques that I had never done before. It is a great thing to add to my CV because people are always interested in what it was and what it involved because not many people have heard of it before, so it makes me stand out from the crowd.
The opportunities presented to me by the College have been fantastic and I can't thank them enough.
If anyone is thinking about going to college I would say, 'Just go for it'. I put off going back into education for so long because I was worried that I wouldn't be able to do it, but the support that I received from the College and the lecturers has been amazing. Also the lecturers put as much effort into you as you do to the course, so as long as you try your best, they will be there to help and support you.
I was also quite unwell in 2021, I needed support from ELS because I couldn't do my exams with the others. They were a great support to me during that time and always checked up on me to make sure I was doing ok. Even a year later when I no longer require their help, they still check up on me to double check I'm ok.
Find out more about HND Industrial Biotechnology and other science courses available here