Media and Communications students win PR competition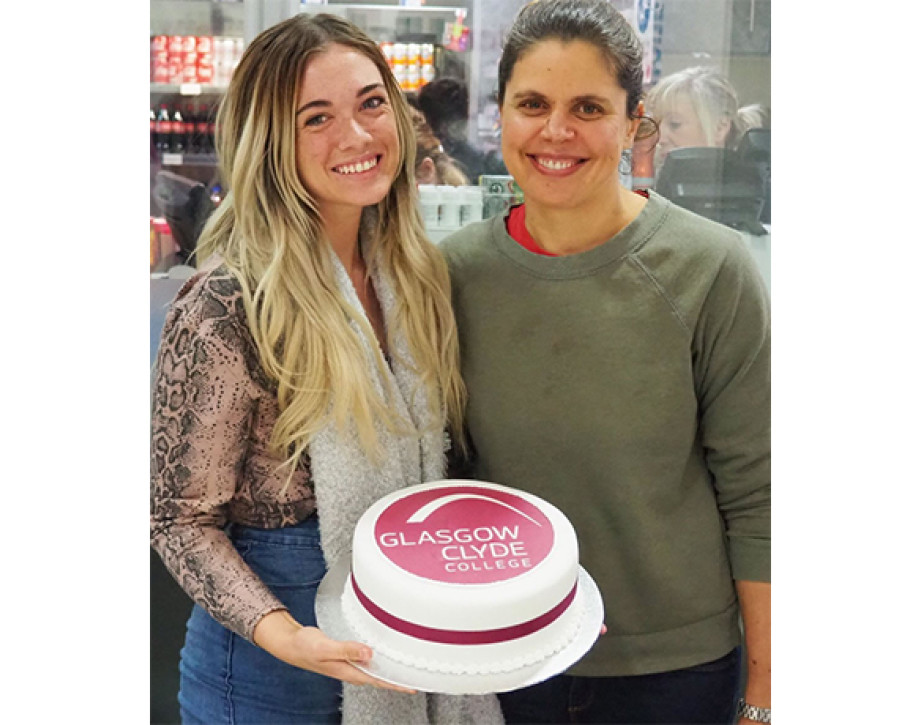 Media and Communications students at Glasgow Clyde College have taken part in a college competition for the best PR campaigns, judged by a panel of experts.
The HND Media and Communications students were asked to produce a pilot campaign as part of their PR unit, which they presented to a panel of industry experts, and two winning teams were selected.
The first winning team, who promoted the 'Eat on 8 café' on the Cardonald campus, launched a Masterchef-style cooking competition which they organised with the help of employability lecturer Barry Gunn.
The second winning team promoted local business, Icy Whites, run by Paisley mum-of-three Meena Patel, by running a cake-decorating demonstration and running Meena's social media.
The PR panel, consisting of Lynne McInnes, head of marketing at the College, John Clark, its Catering and Cleaning Services Manager, and Maggie's charity communication manager Samantha Booth, told the students their work was 'impressive and professional'.
John Clark told the winning Icy Whites team than their cake-decorating stunt was a 'stroke of genius' while the panel agreed the 'Eat on 8' team 'stood out' and the competition which 'hugely motivated students' should become an annual event in the college.
Lynne said, "The presentations from the students were incredible. Their proposed PR campaigns were of industry standard demonstrating once again that Glasgow Clyde College students are ready for the transition into the workplace when they are ready to graduate.
Lecturer Karen Bale said: "We try and make unit as practical as possible, it makes it far more real and enjoyable for the students to work on real campaigns.
"Knowing they are presenting to a panel of experts give them an extra motivation to work hard and do the best they possibly can.
"I was so proud of what the students achieved, and they received such positive feedback from the panel, which means a lot to them.
"We are very grateful to the many staff across the college who allowed us to work with them including John Clark, Lynne McInnes, Nicola Gilliand, Kyle Bettley, Barry Gunn, Nora O'Malley and Elaine McGregor.
"They have all been hugely supportive of the students which helped them build up the confidence to carry out their creative campaigns."
John Clark, Catering and Cleaning Services Manager, said: "The effort from every group was obvious and the attention to detail was impressive. There was an abundance of creativity and professionalism from every group!"
Samantha Booth, Communications manager for Maggie's, said: "I was delighted to be back at Glasgow Clyde College to help judge the student's PR projects.
"Everyone did a really incredible job and I was delighted to see so much creativity and professionalism among the students."
Image shows Icy Whites owner Meena Patel with student Holli Davidones