Glasgow Clyde College students top UK cyber security competition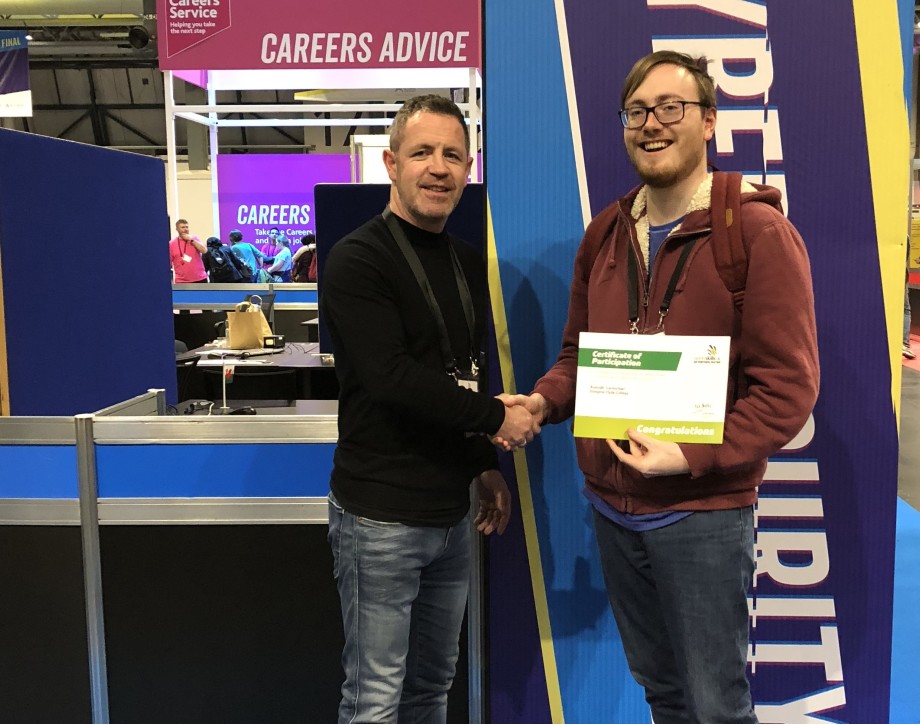 Glasgow Clyde College computer science student Ruairidh Carmichael topped the score board in the Cyber Security category at this year's WorldSkills UK.
This is the first year Cyber Security has featured as part of the skills and career event and proved to be a huge success for students and organisers. Students competed from across Scotland, Wales and Northern Ireland with Glasgow Clyde College students taking first and second place.
Following the success of the category, Glasgow Clyde College will continue to work with WorldSkills UK to develop the format and introduce Cyber Security as a full competition at the 2019 event, with the College remaining as the organising partner.
Ruairidh, 20 from Kilbarchan, said: "It hasn't really sunk in yet that I won! It's the first time I have competed at WorldSkills, it's a pretty intense day but it's a great experience. It's a good chance to connect with people who are studying and learning similar skills to you. I'll definitely be trying out again next year."
Glasgow Clyde College and its students ranked 10th place overall out of 115, the College's best performance to date. Students competed in various categories including network infrastructure, IT support, network server administrator and cyber security, demonstrating their skills.
With the increase in demand for cyber security jobs and the expanding nature of the field, Glasgow Clyde College is introducing a new HNC in Cyber Security in August 2019 ensuring it continues to provide relevant and innovative courses that reflects the changing requirements of the world of work.
Kevin MacLean, senior lecturer at Glasgow Clyde College, said: "Our success at WorldSkills reflects the hard work that goes into providing our students with the best learning experience and demonstrates the commitments of our students who are willing to take each opportunity to expand on their skillset and develop their knowledge and understanding further.
"This year, we worked with WorldSkills to develop the Cyber Security category and look forward to implementing a UK wide competition next year. I'm sure the introduction of the HNC in Cyber Security will mean the College will have more representation in the category in years to come."