Scottish Student Journalism Awards Shortlist 2018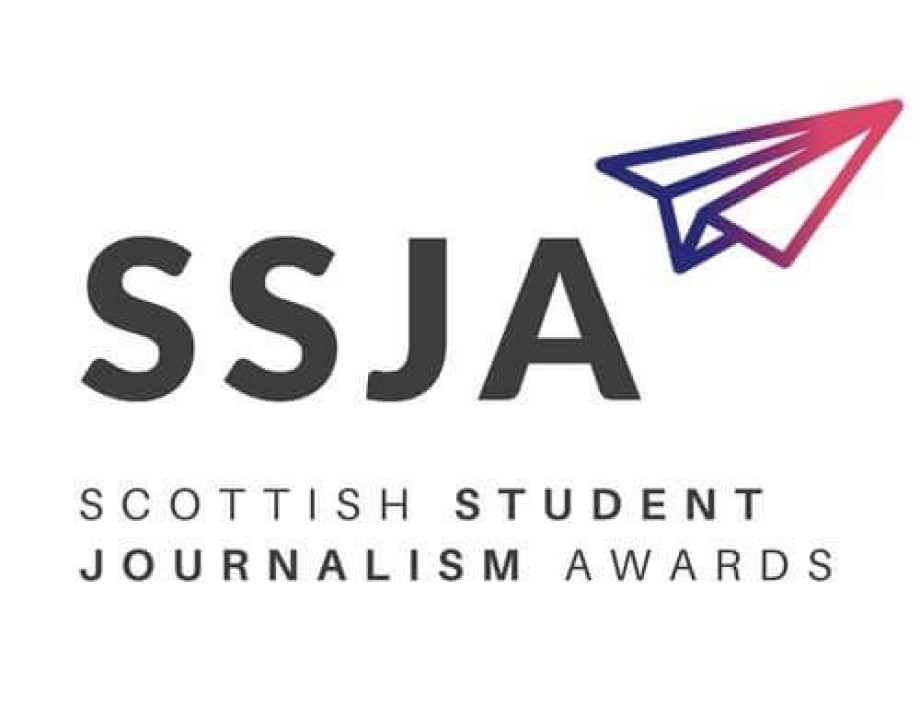 Glasgow Clyde College journalism students have received 14 nominations for this year's Scottish Student Journalism Awards.
First year HN Practical Journalism student Valentina Servera is shortlisted for both Column of the Year and Student of the Year while second year Iain Galbraith is up for two awards – Best Arts and Entertainment Story and Podcast of the Year along with classmate Darren McConachie.
HND 2 student John Glover is shortlisted for Student of the Year and Best Arts and Entertainment story while first year David King has two nominations for the prestigious Calum Macdonald Memorial Award – recognising investigative journalist – one alongside classmate Sara Lovallo.
Both college publications – The Clyde Insider and the second years' magazine, The Pattern, are shortlisted for Publication of the Year while first year students' website The Clydeinsider.com is nominated for Student Website of the Year.
Students Stephen McCabe, Margaret Fisher, Sean McAngus and Ewan Summers are also up for awards at the event which takes place at Glasgow's St Andrew's in the Square on 30 May.
Lecturer Karen Bale, who is organising the event with the HND Media and Communications class, is delighted with the number of journalism students shortlisted.
She said: "I'm over the moon so many of our students are shortlisted this year, they deserve it as they have worked incredibly hard and we have some very talented writers within both year groups.
"The media students have been fantastic in co-ordinating such a high profile event and I've been hugely impressed with the work they have put in to ensure the event is a success."
All shortlisted students are invited to the event – which will be hosted by BBC political correspondent Glenn Campbell.
Speakers on the night are STV news anchor John Mackay and veteran music journalist John Dingwall.
The event, which for the first time ever is being run in partnership with the Scottish Newspaper Society and in association with BBC Scotland, has been organised by Glasgow Clyde College's second year HND Media and Communications class.
SSJA team spokesperson and media student, Amy Beaton, said: "We are delighted to be organising the Student Journalism Awards this year and to be a part of such a great event that hosts many opportunities for journalism students. Our class have worked hard to ensure we give the best awards this year and congratulate all the shortlists for their excellent work."
A total of 77 entries have been shortlisted by a judging panel made up of industry professionals from BBC Scotland, STV, the Daily Record, The Scottish Sun, Glasgow Live, DC Thomson Media and the Frame Group.
Deputy Head of News at BBC Scotland, Pete MacRae, said: "We're very pleased to be associated with this year's Mobile Journalism, Podcasting and Broadcasting award categories. The shortlisted candidates display an excellent range of topical subjects and great story-telling potential. The future of Scotland's journalism is in good hands."
Sponsors this year supporting the event are led by the Scottish Newspaper Society and include The Scottish Sun, SQA, Media Scotland, Glasgow Live, The Frame Group, No. 1 Magazine, the NUJ, Glasgow Clyde College and Glasgow Clyde College Student Association.
John McLellan, director of the Scottish Newspaper Society, said: "The Scottish Newspaper Society is delighted to be able to sponsor this event, which is not only an undoubted highlight in the student journalism calendar but a great way to identify the news industry's stars of the future.
"And stars there are aplenty, some of whom I know well at Stirling, but other students need not worry as I play no part in the judging process.
"I would like to thank all the judges for giving up their valuable time, the other sponsors for their help and encouragement, to congratulate all the finalists for clinching a great addition to their CVs, but also to the Glasgow Clyde College students who have put so much effort into organising what is always an excellent evening."
This year's event will, for the first time, include live entertainment – with a saxophonist and DJ booked for the evening. Throughout the night there will be complimentary wine, a hot buffet and a personalised Snapchat filter has been set up for the award night.


The full shortlist for the awards is listed below.
For more information contact The Scottish Student Journalism Award 2018 team at :
Bobby Thomson: ssjaawards2018@gmail.com
Liam Dixon: 07494289796
Amy Beaton: 07956052527
Scottish Student Journalism Awards 2018 Shortlist
NEWS STORY OF THE YEAR
Craig Munro – Stirling University
Fraser Knight – Glasgow Caledonian University
Stephen McCabe – Glasgow Clyde College
Rozlyn Little – Stirling University
SCOOP OF THE YEAR
Rozlyn Little – Stirling University
Claire Hutchison – Glasgow Caledonian University
Fraser Knight – Glasgow Caledonian University
Amy Beveridge – Stirling University
Warren Hardie – Stirling University
PODCAST OF THE YEAR
Suvi Loponen + Soumitra – Strathclyde University
Iain Galbraith – Glasgow Clyde College
Sean McAngus – Glasgow Clyde College
Callum Ogilvie – Strathclyde University
Kieran Daly – Stirling University
Jamie Braidwood – Napier University
MOBILE JOURNALISM STORY OF THE YEAR
Martha Awinoh – Strathclyde University
Joe Gardner – Glasgow Caledonian University
Paul Rodger – Glasgow Caledonian University
Stephen Couse – Glasgow Caledonian University
Tamsin Ross – Glasgow Caledonian University
FEATURE OF THE YEAR
Amanda Park – Strathclyde University
Hannah Westwater – Glasgow Caledonian University
Daniel Tully – Napier University
Caroline McCaw – Stirling University
Susan Myles – Stirling University
Fraser Knight – Glasgow Caledonian University
Sirri Rimppi – Stirling University.
Selena Jackson – Glasgow Caledonian University
SPORTS STORY OF THE YEAR
Jamie Braidwood – Napier University
Peter Stewart – Stirling University
Callum Clark – Glasgow Caledonian University
Rowan Shaw Nicholl – Stirling University
David Brockett – Glasgow Caledonian University
ARTS AND ENTERTAINMENT
John-Anthony Disotto - Strathclyde University
Charlene McElhinney – Strathclyde University
Tamsin Ross – Glasgow Caledonian University
John Glover – Glasgow Clyde College
Iain Galbraith – Glasgow Clyde College
Madeleine Dunne – Glasgow Caledonian University
Laura Webster – Glasgow Caledonian University
Cameron Frew – Glasgow Caledonian University
COLUMN OF THE YEAR
Ryan Peteranna – Stirling University
Andrew Wilson – Robert Gordon University
Valentina Servera – Glasgow Clyde College
Louise Ramsay – Strathclyde University
Rosanne Sunter – Fife College
Shinjini Basu – Edinburgh University
Margaret Fisher – Glasgow Clyde College
BROADCAST JOURNALISM OF THE YEAR
Katie Williams – Stirling University
Douglas Matheson – Stirling University
Joe Gardner – Glasgow Caledonian University
Hannah Chandler - Stirling University
Cameron Ward – Napier University
STUDENT PUBLICATION OF THE YEAR
The Strathclyde Telegraph – Strathclyde University
EUSci – Edinburgh University
The Pattern - Glasgow Clyde College
Brig Newspaper – Stirling University
The Clyde Insider – Glasgow Clyde College
THE CALUM MACDONALD MEMORIAL AWARD
Natalie Lorimer – Strathclyde University
Katy Johnston – Glasgow Caledonian University
David King – Glasgow Clyde College
Ryan Carroll – Stirling University
Sara Lovallo & David King – Glasgow Clyde College
STUDENT WEBSITE OF THE YEAR
Strathclyde Telegraph - Strathclyde University
ENRG Sport – Napier University
Eusci.org.uk - Edinburgh University
The Clyde Insider – Glasgow Clyde College
The Avocado – Stirling University
Brignews.com – Stirling University
STUDENT JOURNALIST OF THE YEAR
Chris Bond – Stirling University
Valentina Servera – Glasgow Clyde College
Ryan Carroll – Stirling University
John Glover – Glasgow Clyde College
Selena Jackson – Glasgow Caledonian
Ryan McDougall – University of the West of Scotland
Ewan Mowat and Catherine Sheridan – Strathclyde University
Madeline Dunne – Glasgow Caledonian University