Ground breaking science resource for learning launched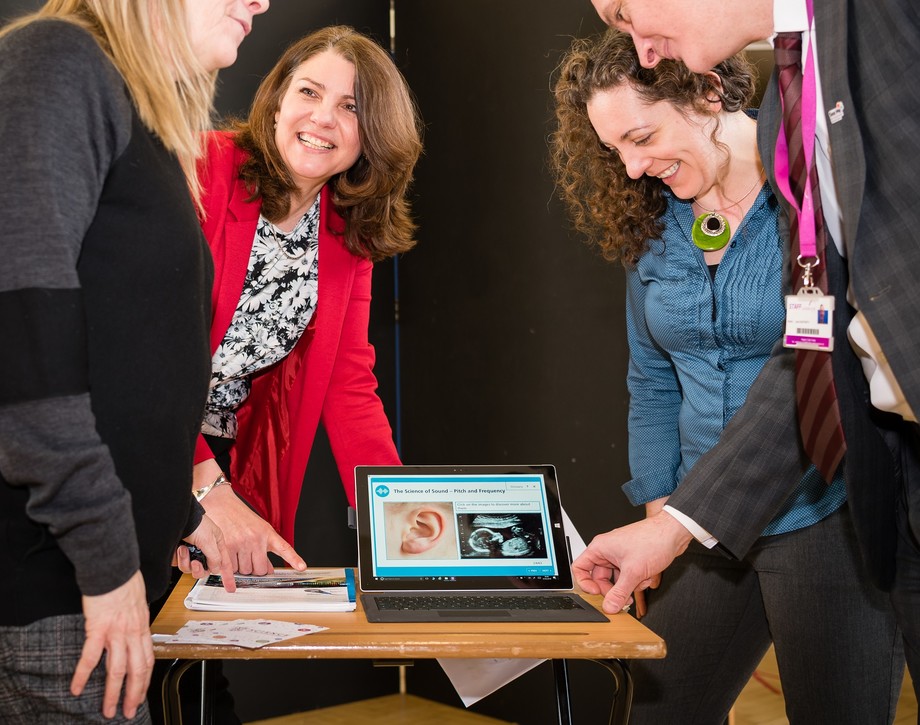 An innovative science resource for teaching and learning called Science for a Successful Scotland has been launched.
The resource, which has been funded by the Glasgow Clyde Education Foundation, was launched at Knightswood Secondary School, Glasgow, by Shirley-Anne Somerville, Minister for Further Education, Higher Education and Science.
Science for a Successful Scotland (or "3S") has been developed by the Workers' Educational Association (WEA) with Dr. Heather Reid, OBE,
Daniel Sellers, education consultant, and Glasgow Clyde College. The resource will be used with groups of adult learners in the community including those served by Glasgow Clyde College, which currently caters for over 20,000 students as well as working with partners such as Glasgow Science Centre.
Learners, particularly parents, will get the chance to increase their knowledge of science as well as develop important skills such as communication and numeracy. Glasgow Clyde College is supporting the roll-out and accessibility of the resource with the development of an interactive e-learning version for students and the wider community to access.
Intended to help adult learners to progress to further science and STEM learning at Glasgow Clyde College and other colleges, Science for a Successful Scotland will help to open up a whole new range of job opportunities in the future. The project team will also work with adults to support their children in making subject and career choices in science subjects.
This resource makes a contribution to the recently launched STEM Education and Training Strategy for Scotland which aims to support and encourage all to develop their own STEM skills throughout life (Scottish Government, October 2017).
Minister for Further Education, Higher Education and Science, Shirley-Anne Somerville said,
"Developing Scotland's STEM talent is key to achieving our ambitions of being a modern, dynamic and open economy. This new resource supports that goal and the broader aims of our STEM strategy by helping adults to increase their knowledge of science and highlighting the varied range of interesting and rewarding career opportunities on offer".
Dr Heather Reid said,
"As our society and economy become increasingly underpinned by STEM subjects, we hope this 'Science for a Successful Scotland' resource can help to raise awareness about the relevance and importance of science, and the many job opportunities studying science can bring. We are especially keen to see the resource play an active role within family learning, helping adult learners to advise and support young people with science subject choices".
Director of the Glasgow Clyde Education Foundation, Pauline Radcliffe said,
"This is a great example of partnership working between further education and third sector organisations and how they can successfully work together to deliver a better learning experience for families, adult learners and students living within their communities".
Jon Vincent, Principal at Glasgow Clyde College said,
"Science for a Successful Scotland is an excellent community learning resource that will provide vital support and information to its students.
"The development of the online learning platform will help further engage adult learners, parents and students who want to increase their knowledge and understanding of science related subjects. It provides an opportunity to trial subjects in a digital environment and potentially progress to further education".
Ray McCowan, Director of WEA Scotland, said,
"3S is an innovative learning and teaching resource that could, and should, make a transformational difference to the science education of young people in Scotland. At a time when Scotland aspires to be a leader in STEM subjects and to get more young people to choose career paths in this high growth area, it is essential that the science education experience on offer is innovative, exciting and different. 3S delivers this and also the means by which both children and parents can learn together, that brings family learning to life".