College launches Bell Decorating Academy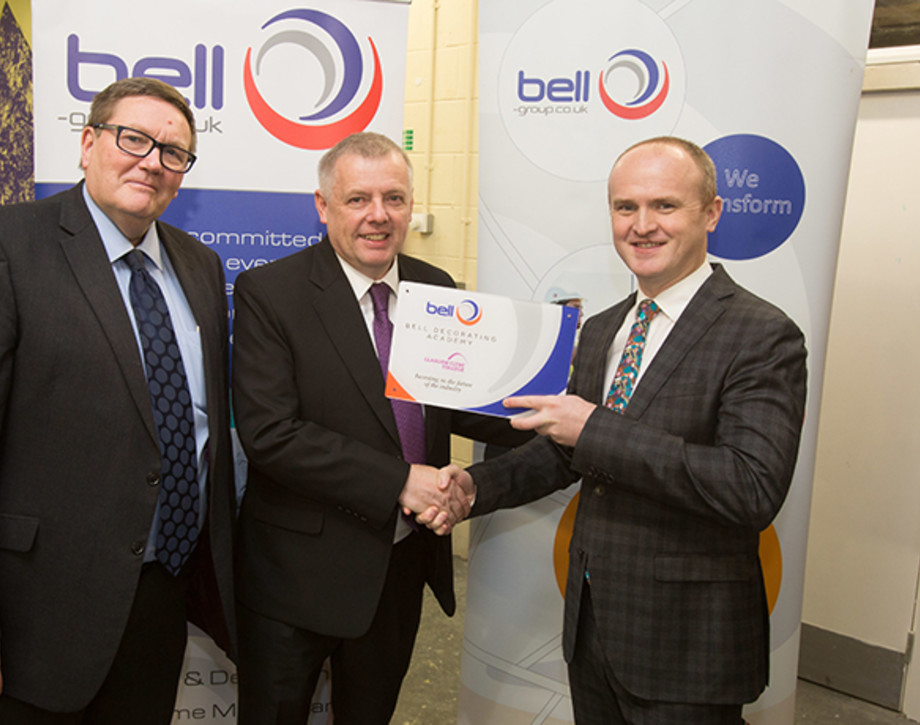 Glasgow Clyde College, in partnership with Bell Group, has launched the Bell Decorating Academy, which will focus on supplementing the painting and decorating skills taught in the College with hands-on experience.
The launch event took place at the College's Anniesland campus, where the College was presented with a plaque to mark the partnership, and Craig Bell, CEO of Bell Group, hosted a presentation and discussion with students.
Students who study on the College's NPA Construction course, which provides introductory elements to safety, practical woodwork, fabrication and wet trade skills such as painting and decorating, will have an opportunity to gain work experience onsite with Bell Group in the local area, as well as access to potential apprenticeships at the end of the course.
The company will also work with students throughout the year, delivering leadership talks, skill set workshops, masterclasses and provide corporate PPE. Glasgow Clyde College is the first college in the west of Scotland to offer the program.
The partnership aims to expand the potential of the progression routes from the NPA construction classes into employment, and it is hoped the initiative will help to narrow the skills gap identified in the painting and decorating industry nationally. Bell Group has recognised an issue with a large proportion of the skilled workforce nearing retirement or being promoted to non-trade positions, and so it is vital to invest in the future labour force.
Jim Taylor, Head of Curriculum Construction at Glasgow Clyde College said: "We're delighted to be the only college in the west of Scotland teaming up with the Bell Group to offer our students an exceptional opportunity to gain valuable knowledge, work experience and the chance at an apprenticeship with the company.
"This will ensure our students are equipped and fully qualified to progress into the world of work following their time at the College."
Bell Group's National Community Investment Manager Anna Higham, said: "We believe the Academy will help close the gap between learning the theory of a trade and working on site, and will better prepare young people for the world of work. By working together, we hope our Academies will prove successful in cultivating our next generation of employees."
Image shows Jim Taylor, David Innes (Assistant Principal Faculty of Engineering, Computing and the Built Environment) and Craig Bell.