Graduation and Awards 2022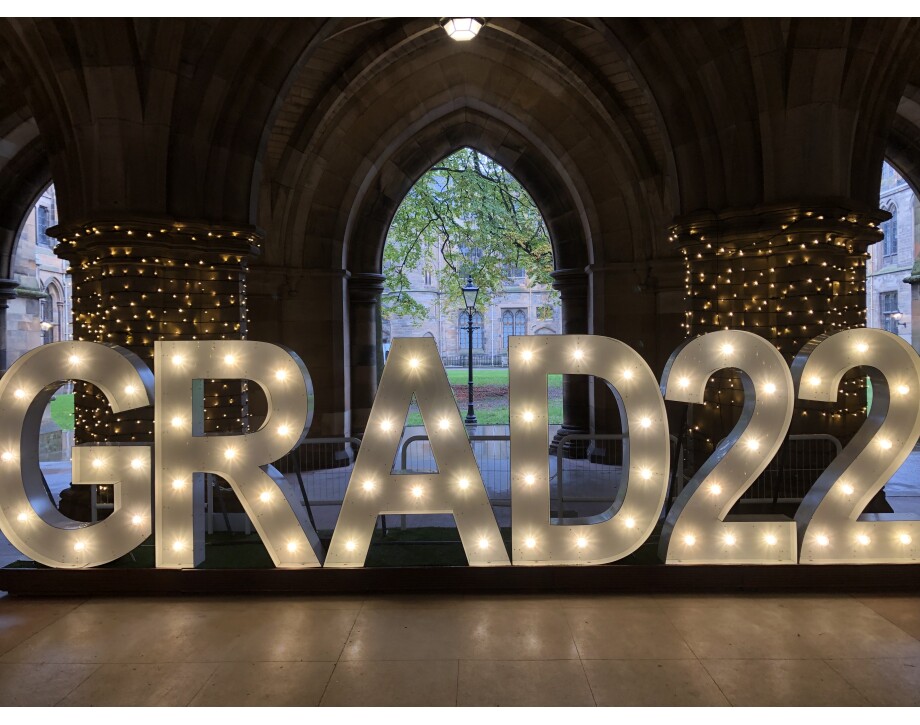 After two years of virtual ceremonies, students from Glasgow Clyde College took to the stage once again, with an in-person graduation on Saturday (5th November).
Taking place across three ceremonies at the University of Glasgow's Bute Hall, over 500 students, who had studied across the College's three campuses in the city donned their robes and celebrated their achievements in style.
Students graduating were from the faculties of Business, Creative and Digital Industries, Engineering, Computing and the Built Environment, Health and Wellbeing and Access and Continuing Learning.
The celebrations included key-note speeches from special guests, Scotland's Home of the Year judge Anna Campbell-Jones, STV reporter Brandon Cook and Gillian Docherty, Chief Commercial Officer at Strathclyde University.
Each ceremony also included a presentation of Outstanding Student prizes awarded to students from each faculty that have demonstrated remarkable hard-work, inspiration and determination throughout their studies. Prize winners included Fiona Pitt, Kaci Morris, Favour Odigie, Alina Marshania and Mohamad Khalil.
Mohamad left his native Syria at 12 years old, before travelling to Turkey with his family as refugees, and finally arriving in Scotland alone, at just 17. Despite being out of education since the age of 12, Mohamad was eager to learn and enrolled on an ESOL course at Glasgow Clyde College, before studying Computing. Working hard at developing his skills, Mohamad achieved an A Grade in HND Computer Networking, and has now progressed directly into the third year of a Networking degree at Glasgow Caledonian University.
Jon Vincent, Principal of Glasgow Clyde College, said: "After two years of virtual ceremonies, we are so pleased to have been able to bring back our fantastic in-person graduation ceremony.
"We are very proud of every single one of our students - not only for making it successfully through their studies, but also for navigating the last few years with tenacity and determination. It's no secret that the world that we live in presents a range of challenges, and it's important to recognise that young people across the country are going above and beyond to overcome them. Congratulations to you all."
Guest speaker Anna Campbell-Jones, said: "It's a true honour to be able to share this experience with students on their special day, and after years of disruption, be able to really celebrate with a ceremony. One of life's true milestones, a graduation ceremony is every student's rite of passage, and I'm so pleased to have been able to be part of it.
"I'd like to say a huge congratulations to every Glasgow Clyde College graduate - you did it!"