Fast-track NCTJ Diploma in Journalism is best in the UK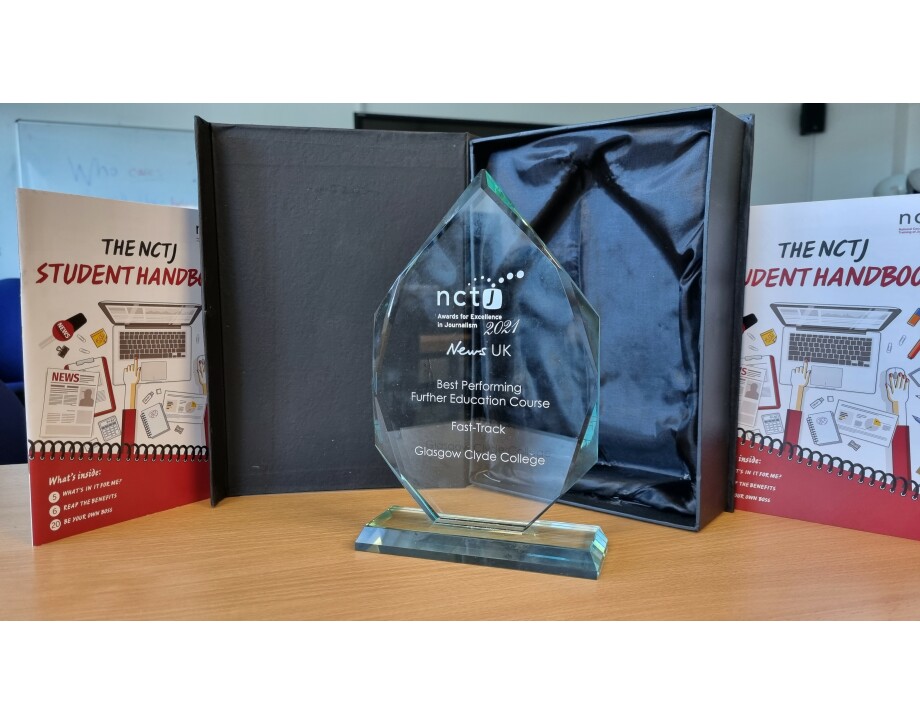 Glasgow Clyde College's fast-track NCTJ Diploma in Journalism has been named the best performing further education course in the UK by the National Council for the Training of Journalists (NCTJ) at their recent course performance awards.
The accolade was based on the performance of the 2020-21 cohort.
The National Council for the Training of Journalists is one of the UK's most recognised training centres in the industry and its diploma is a benchmark for editors when recruiting new trainees.
Since the fast-track course started at Glasgow Clyde College in 2020, it has seen a success rate of 80%, with an impressive 69% of those who have passed achieving the coveted gold standard diploma.
Candidates study a wide range of subjects such as news and feature writing, video journalism, digital journalism as well as media law and politics.
It features lecturers who are currently working in the industry or who have extensive experience working in it.
62% of those who passed with Glasgow Clyde College have then found work in the journalism and public relations industry.
Curriculum Manager for Journalism and Events, and course leader, Ross Nixon said: "We are delighted to receive this award from NCTJ. A lot of hard work has been put in by the students, especially during the difficult periods of the pandemic when the course was delivered solely online.
"We are also thrilled to see so many who have achieved the gold standard and have found permanent employment and freelance shifts with major companies in the industry such as Newsquest and Reach PLC.
"Finally, I would like to thank the staff who went above and beyond in their approach to teaching and supporting the students which has resulted in this accolade.
They are Karen Bale and Pete MacRae who taught Essential Journalism, Susannah Morris who taught Practical Magazine Journalism (PMJ) and Introduction to PR, Kathleen Morgan who also taught PMJ and Jonathan Whitelaw, tutor for Journalism for a Digital Audience."
The six-month diploma is aimed at those who have a relevant degree and wish to top up their academic experience with a recognised journalism qualification.
Applications are now open for the next intake starting in August 2022, find out more about studying the NCTJ course.