VIP treatment at the OVO Hydro for our Event Management students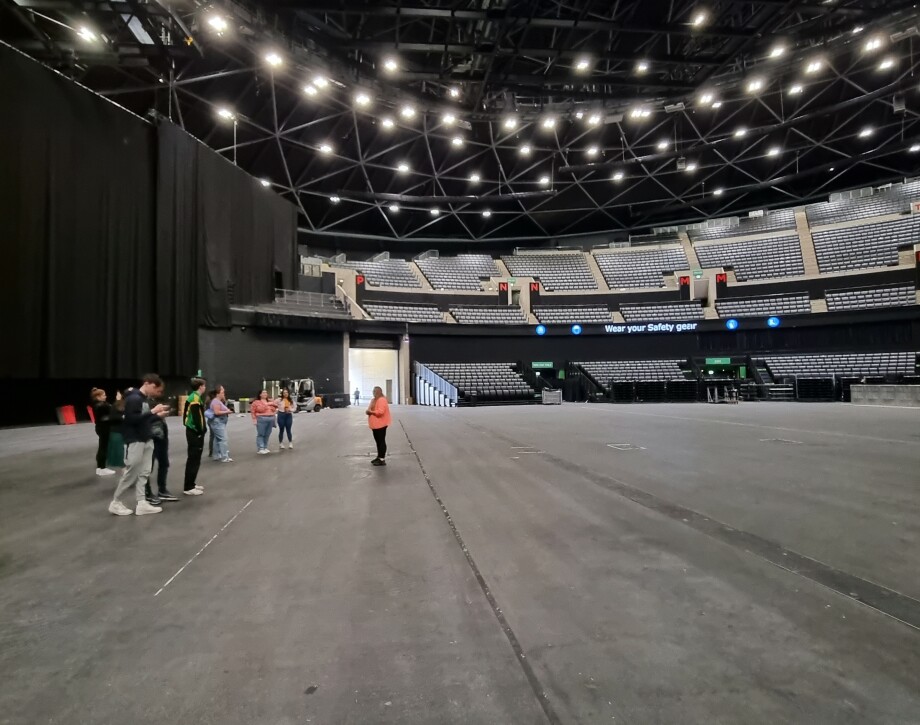 Our first year students on the HND Events Management course were recently treated to an exclusive access-all-areas tour of the OVO Hydro.
They were shown around various parts of the award-winning venue including the main performance area and were even given the chance to sit in the coveted green rooms which the likes of Beyonce, Madonna, Katy Perry and Glasgow's very own Kevin Bridges have graced since it opened in 2013.
They were then taken behind the scenes to the prestigious restaurants and bars which are only open to VIPs including corporate sponsors and the performers themselves. The visit was organised by lecturer, Lynsey Grant who also works at the Hydro as an Event Manager.
Lynsey said: "I have been teaching the Safety and Licensing unit to the class since March and thought that they could apply what they have learned in the classroom to a real venue. The students were able to learn about our safety procedures and the massive logistical operations which take place before, during and after an event such as setting up a band's stage and floor set-up to keeping an audience safe during a show. They were also able to learn about the customer service experience and how important this is for all of our customers. They were shown around our music-themed bars and our hospitality boxes which fit up to 16 people."
The OVO Hydro has a capacity of over 13,000 spectators and is home to over 100 different events a year welcoming around a million people to it. It recently became the first venue in the world to be given A Greener Arena (AGA) accreditation for its sustainability work.
It has eliminated single-use plastic cups, switched its electricity use to 100% renewable and is sourcing 80% of its ingredients in its restaurants from Scottish suppliers.
"It's really important to show the students how companies are making an effort in the fight against climate change. After hosting COP26 in November, the venue has been striving to lead the way and set an example."
First year student, Emily Hogg said: "Visiting the SEC Campus has already made a positive impact on my learning and even in my own job.
"Throughout the trip, we were able to learn more in depth about the health and safety work that goes on behind the scenes of an event, which you don't see and realise is going on. It has also helped me during the final few stages of my graded unit, by knowing about all of these details and steps taken."
In March, the students had worked at the venue as part of the Bunkered golf conference running exhibitions and stalls as part of the event.
You can find out more about our Event course options here.