Young Glaswegian scoops prestigious Prince's Trust Award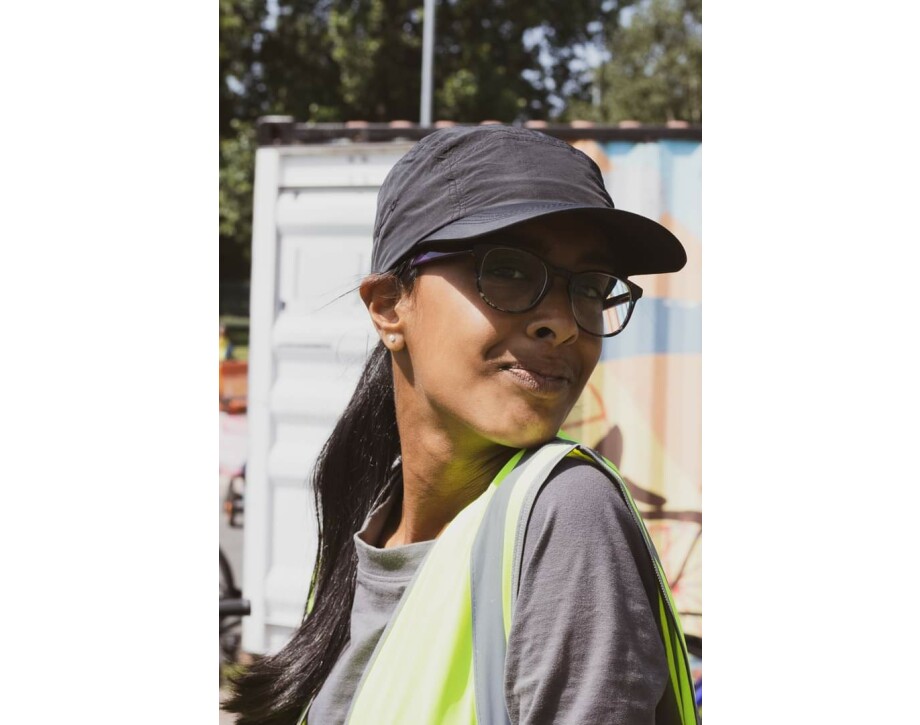 Habiba Amin, 22, from Glasgow has received a top award from The Prince's Trust after persevering to build an exciting future for herself, after leaving school with no qualifications.
The Prince's Trust and TK Maxx & Homesense Awards recognise young people who have succeeded against the odds, improved their chances in life and had a positive impact on their local community. Habiba scooped the prestigious Ascential Educational Achiever Award for Scotland, which recognises young people who have overcome barriers to succeed in education.
"Before I came to The Prince's Trust, I had nothing to get excited about. Now, I'm at university, I have a job and I'm living a life where I'm much happier with who I am."
There was a time when Habiba, from Glasgow, couldn't see a bright future ahead for herself. She had fallen behind at school and was experiencing poor mental wellbeing, all of which led to her making the difficult decision to leave school for the benefit of her health. Realising that having no qualifications could hold her back, she spoke to her school's careers advisor who recommended that she apply for courses with The Prince's Trust.
Habiba said: "Coming to The Prince's Trust was the best decision I have made; it gave me hope that I could change things for the better. No one had ever told me I could do it before, or that I can change the world, but my mentor realised my potential when I couldn't see it. That was such an advantage because now, I can see it."
Habiba completed two courses with The Prince's Trust. The first was the Explore programme, which helped Habiba to build her confidence through team-building exercises and a residential trip. The second course was the Team programme, which took place over three months at Glasgow Clyde college.
Habiba gradually became more confident and a valued member of the team. She found college was a better setting for her than school to learn and socialise with peers. After completing the programmes, Habiba embarked on a sports course with the college and went on to study social care. Her dream was to combine social care and sports and to find long-term employment in this industry. In 2020, Habiba found her passion in assisting people while she was studying a HNC in Additional Support Needs. Keen to learn more, in September 2021 she started a degree in Integrated Health and Social Care at the University of the West of Scotland.
"The Prince's Trust has changed my life drastically. Not only has my mental health improved, but I am now in a professional role. I feel like the future is mine and no one can take that away from me. I know that if I work hard, I will achieve whatever goal I set out to achieve. I know that the future is bright, and I know that I can inspire others. I couldn't see my future before and now I have some work to do because I have things I want to achieve."
On winning the Ascential Educational Achiever Award, Habiba said: "I feel so fortunate to have come across The Prince's Trust. It's where I found my passion, and now I'm at University! To go from where I was to where I am now is an absolute miracle."
Duncan Painter, CEO of Ascential said:
"On behalf of everyone at Ascential, I am pleased to congratulate Habiba for winning The Prince's Trust Educational Achiever Award in Scotland. She is truly inspiring and Habiba should be very proud. We at Ascential are sure she will continue to thrive. Well done Habiba!"
TK Maxx and Homesense have been a partner of The Prince's Trust since 2013 and are one of The Trust's largest delivery partners of the Get into Retail programme. This is a two to six week course that develops young people's skills in the retail sector and supports them into positive outcomes in retail.
Youth charity The Prince's Trust gives young people the skills and confidence to get their lives on track. Three in four young people helped by The Prince's Trust move into work, training or education.