Glasgow Clyde College partners with International Tree Foundation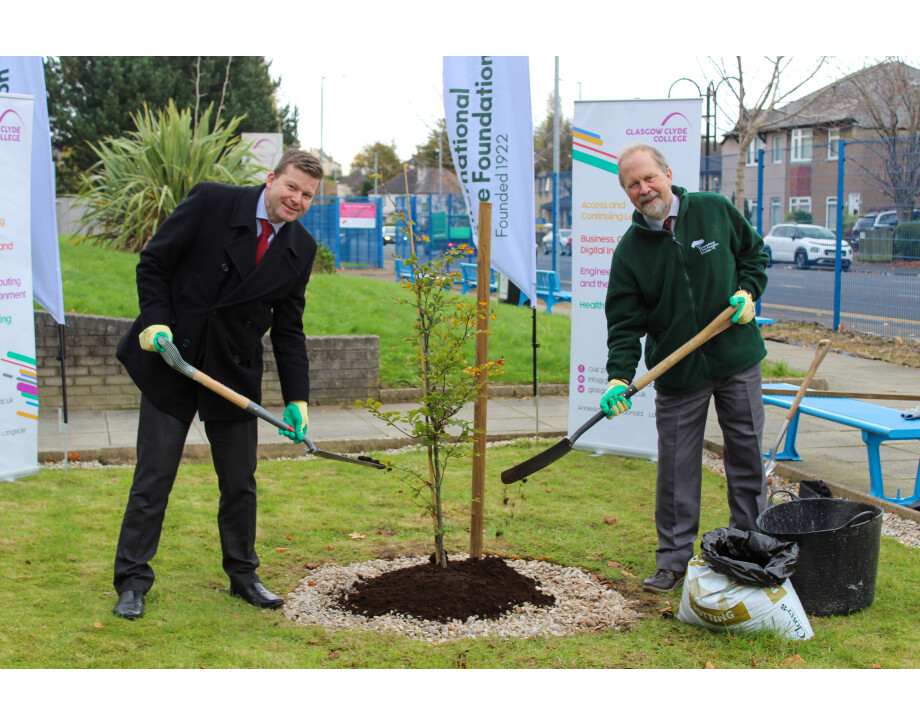 Glasgow Clyde College has partnered with the International Tree Foundation (ITF), pledging to plant trees and hedges on its Cardonald Campus over the next three years.
To commemorate the partnership and kick-start the sustainable initiative during Glasgow's COP26 Climate Conference, a beech tree was planted at the college's Cardonald Campus and unveiled by Glasgow Clyde College Principal, Jon Vincent, and International Tree Foundation Chair of Trustees, Stephen Vickers.
Jon Vincent commented, "I'm so pleased to be recognising the fantastic work of the International Tree Foundation by planting a tree on our Cardonald Campus. It seems apt that this is taking place during COP26, but it's also a partnership that will be in place for years to come."
James Whitehead, CEO, International Tree Foundation said, "There are big commitments being made at COP26. But we are proud to be working with Glasgow Clyde College to do something concrete with the students. This partnership will ensure many trees and hedges are planted in the college grounds over the next three years.
"As well as increasing biodiversity and giving opportunities for education and engagement with environmental issues, this project will make the campus more beautiful and provide a green space that can be so beneficial to mental health."
Additionally, during the COP26 fortnight, the International Tree Foundation has been planting trees at Cathkin Braes, with the Glasgow Clyde College Horticultural Department lending support and equipment for this green project.
Trees, woodlands and forests are recognised as essential if we are to address the Climate Crisis by reducing damaging atmospheric emissions and are crucial to assist in a recovery for nature.
Image above shows Jon Vincent with Stephen Vickers.