DFN Project Search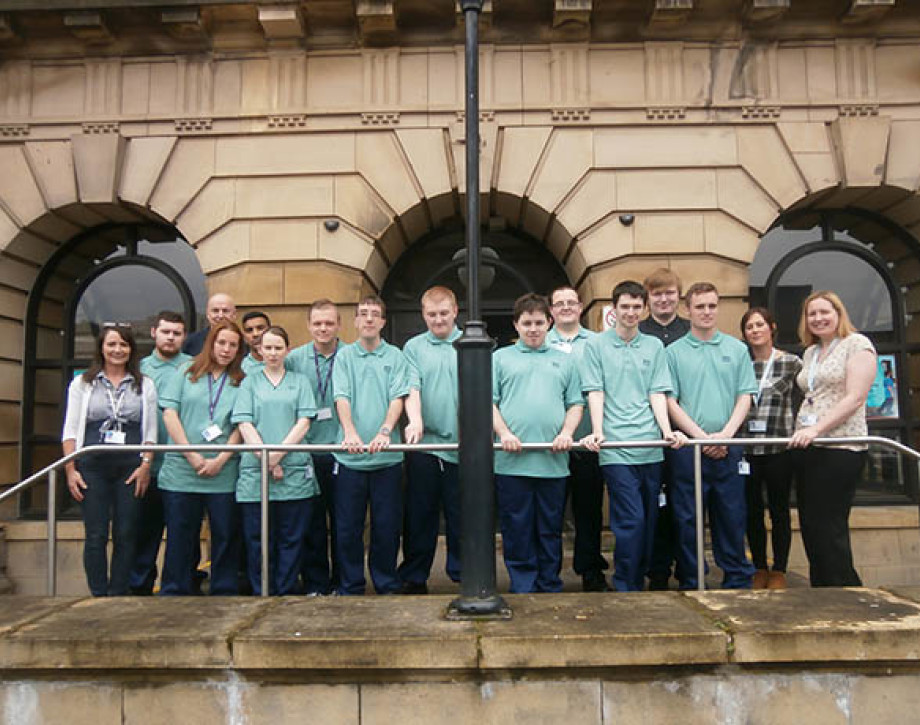 by Julie Joiner - Head of Curriculum Additional Support for Learning
A diverse workforce makes good business sense; understanding differences between people from a wide spectrum of backgrounds can help companies find ways of appealing to a broader range of customers and employees. While very few could argue with the benefits of inclusion and diversity, there remains to be a vast underrepresentation of minorities in the workforce.
DFN Project Search is an employability programme which supports young people with a range of learning disabilities into paid employment, delivered by Glasgow Clyde College, in partnership with NHS Greater Glasgow and Clyde and Glasgow City Health and Social Care Partnership Supported Employment Service. We have proudly been offering the course to young people at Glasgow Clyde College since 2013.
The course aims to provide real-life work experience combined with employability training and independent living skills to help young people with significant disabilities make successful transitions to productive adult life.
Every August we welcome 12 students from a variety of backgrounds to the course, which is taught at the Glasgow Royal Infirmary. The setting allows them to be truly immersed in the NHS and the working environment, and students are provided with a mix of classroom and on-the-job learning, usually completing three rotations through various departments. The one-year, full time course offers a highly supportive environment for those with learning disabilities and autism to develop both technical skills and soft skills, enabling them to become a valued member of the workforce.
The primary aim of the course is for students to enter full time employment by the end of the year – if not sooner. Since we began offering the course in 2013, we've consistently had between 80-90% of our students enter employment.
A graduate from our first cohort, Stuart Yuile, enrolled in August 2013, completing the course in June 2014. Stuart said: "DFN Project Search was a life changer for me. Before I joined I was unsure as what I wanted to do and lacked the confidence to look for a job, however now I have two jobs, both of which I've held since graduating from the course.
"In the morning, I work at Glasgow Clyde College as a domestic assistant, before going to Queen Elizabeth University Hospital, where I work as a catering assistant for NHS Greater Glasgow and Clyde. The project increased my self-confidence, and now I earn my own money, thrive in different environments and I love meeting new people."
Ruairidh Shields, 20 from Springburn joined the project in 2018, graduating in August of this year. He said: "I enrolled in Project Search as I heard it would be a great way to gain some relevant experience in the NHS, which would help me to get a job.
"While on the course I was able to gain confidence, a more mature outlook towards pursuing jobs and learn skills such as such as CV building, interview skills and money management. I think I thrived on the course in more ways than I could describe. Working for the NHS has given me more opportunities in life because I'm able to earn my own money and also contribute to the household."
Although we have an incredibly high success rate, we ensure those who do not immediately find employment by the end of the year have continued support, through a variety of other initiatives, in order to continue learning and preparing to join the workforce.
While the benefits to the young people are clear, we are also helping bring about long-term changes in business culture, which have far-reaching positive effects on attitudes about hiring people with disabilities, as well as the range of jobs in which they can be successful.
Diversity and inclusion should not be treated as a tick box exercise, there is so much talent in underrepresented groups just waiting to be discovered.
Image shows DFN Project Search students