Fearless Glasgow: Erase the Grey campaign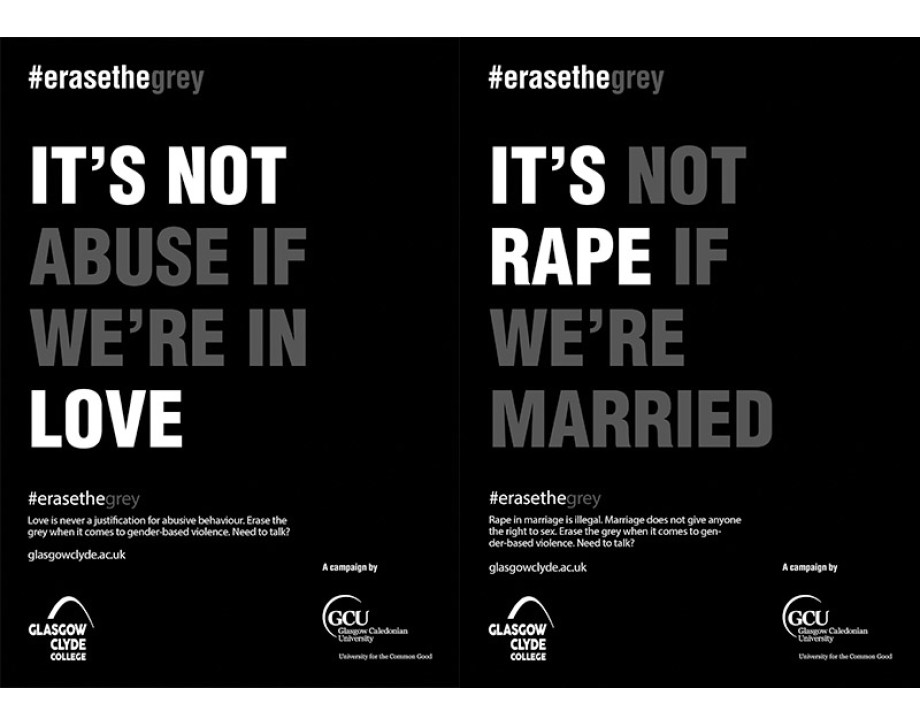 Glasgow Clyde College is a member of Fearless Glasgow, a partnership group of colleges and universities in the West of Scotland, united in tackling gender based violence together. The Fearless partnership includes Glasgow Clyde College, City of Glasgow College, Glasgow Kelvin College, Ayrshire College, Glasgow Caledonian University, University of Glasgow, University of Strathclyde, University of the West of Scotland, the Royal Conservatoire of Scotland, and Glasgow School of Art.
The group, supported by Police Scotland and the Scottish Government, aims to affect change by raising awareness, challenging harmful behaviours and attitudes, and offering enhanced support to students and staff across Glasgow and the West.
"There are no grey areas when it comes to gender-based violence"
As part of the Fearless Glasgow partnership, during the 16 Days of Action, we are promoting The Erase the Grey campaign - launched by Glasgow Caledonian University (GCU) to raise awareness of this issue with our staff and students.
This campaign "has key messages which challenge stereotypical attitudes and behaviours and reiterates a zero-tolerance policy towards gender-based violence."(GCU Website).
The term gender-based violence refers to violence directed against someone because of their gender and expectations of their role in a society or culture. It covers all forms of violence and assault, coercive control, harassment, discrimination, stalking, intimidation and all forms of physical and mental abuse, in person, online via social media, email or via text messaging.
If you need support please visit:
COVID-19 - Violence Against Women Services - Glasgow City Council