John Clark's 20th academic year marks biggest challenge to date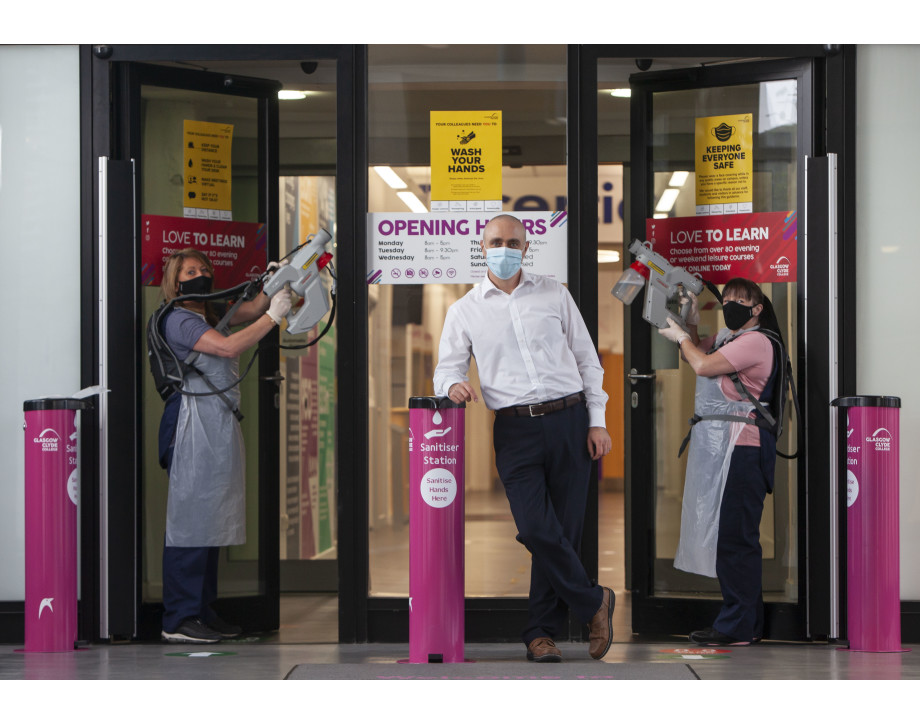 As the College reopens to a limited number of students for its 2020/21 academic year, the preparations which have taken place behind the scenes have been like no other.
The same can be said for John Clark, the college's 'Catering and Cleaning Services Manager', who as he approaches his 20th academic year at the educational establishment, is undertaking the most important challenge in his career to-date.
Heading up a 41-strong team of cleaning operatives at the Cardonald Campus – supported by a wider team of 38 across the College's other two campuses – John has bolstered an already robust hygiene and sanitisation strategy as the first students are welcomed back since it shut down in March.
On the frontlines of the fight to prevent Coronavirus, John and his colleagues have been planning for six months to cover every possible detail.
They have invested in new equipment, including a Clorox Total 360 which shoots a cutting-edge disinfectant which sticks to every available surface and touch point.
In addition to new equipment, the college has acquired almost 2,000 litres of hand sanitiser which is available at over 150 stations across the three campuses, as well as hand sanitisation facilities in every classroom. Hundreds of metres of Coronavirus safety signage have been laid up and down the walls and hallways of each campus – clearly setting out new safety procedures for staff and students.
The team starts work at 5.45am each morning to undertake the first deep clean of the day, taking shifts throughout the afternoon and racking up over 800 man-hours each week making sure every inch of the college is regularly disinfected.
He said: "To me, the job has always been really important, but this year it becomes the college's number one priority. We've designed an enhanced hygiene schedule that allows us to thoroughly clean all three campuses with our extended team of 79 staff.
"With three separate sites, there are thousands of touch points that need regularly wiped down. This includes door handles and light switches all the way through to the handrails in our dance studio.
"I have loved my time working at college over the past two decades but my focus for now is firmly on preparations for reopening and tackling the Coronavirus challenge head-on.
"I take pride in the fact that me and my team work to make sure the three campuses are a safe and comfortable place for returning students and staff. It's been a big job for everyone but a real team effort – with my colleagues in Estates team, as well as Health and Safety all working together in the build up to reopening.
John started his campus career in 2001 as a Catering Manager, based in the Cardonald Campus. When Cardonald, Anniesland and Langside colleges amalgamated in 2013 to form Glasgow Clyde College, he moved into the role of Catering and Cleaning Services Manager working across all Glasgow Clyde College's campuses.
Image shows L-R: Carole Daly, John Clark and Denise Fleming