CWU members complete CISCO CCNA professional qualification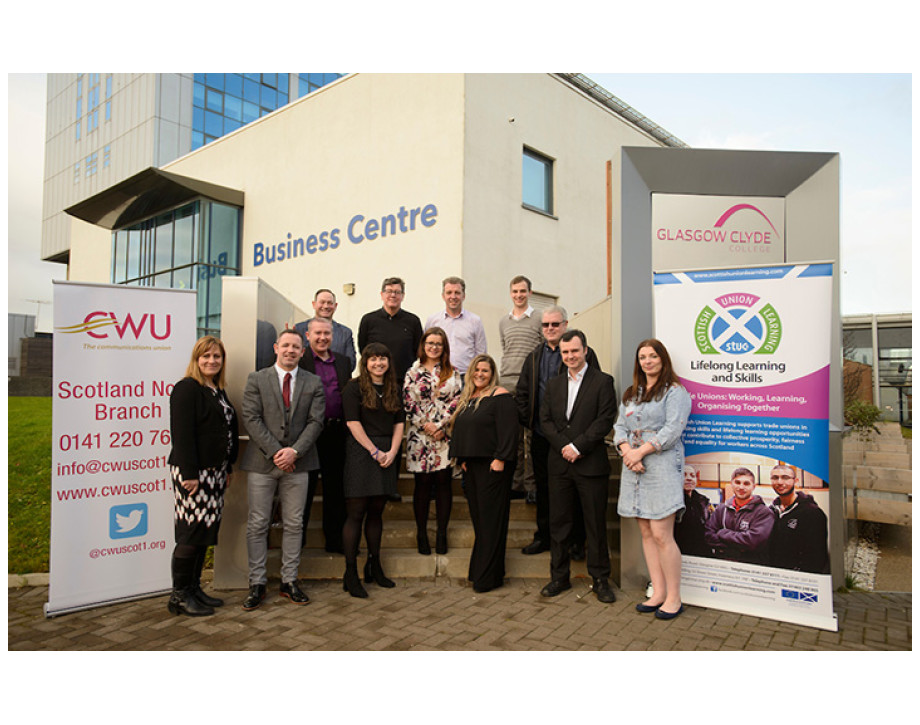 Glasgow Clyde College is celebrating 11 Communications Workers Union (CWU) members successfully completing the CISCO CCNA professional qualification.
CWU members and BT employees, lecturers, and business partners from CWU and CISCO, attended a graduation event at Glasgow Clyde College acknowledging the hard-work and commitment of each student.
The Cisco CCNA professional qualification provides students with an integrated and comprehensive coverage of networking topics, from the basics to advanced applications and services, while providing opportunities for hands-on practical experience and soft skills development.
The qualification, organised by CWU, is funded by the Learning Fund from Scottish Union Learning and delivered by Glasgow Clyde College and offers employees the opportunity to broaden their skills and industry knowledge.
Kevin MacLean, Senior Computing Lecturer at Glasgow Clyde College, said, "This is a great achievement for the students and shows what can be achieved through partnership working. The college is committed to offering the best solution to learning in the workplace. This has allowed students who are working to strengthen their current careers whilst enhance their future progression within the workplace."
Of the students involved, some have already noticed the positive the impact qualification has had on their working lives.
John Fay, CWU member and BT employee studying at Glasgow Clyde College said, "This has been a fantastic opportunity for me and has helped me achieve a new role within BT through studying for the CCNA qualification. I can't thank the Union enough for offering this type of qualification whilst working at the same time."
Trish Lavelle, CWU Head of Education and Training, said, "Many congratulations and well done to John and all of our members within BT who have graduated. It is no mean feat by any standard to have succeeded with flying colours within this digitally based training. Many of our members are benefitting from the fantastic work done by Scottish Union Learning."
Students graduating the course include Alan Strachan, Angela Knight, Gordon Pope, James Duncan, John Fay, Kenny Campbell, Lauren McDonald, Louise Scott, Paul Mcqueenie, Siamack Mirzaie, Stuart Major.
Michael McCargo and Paul Quinn from CISCO both attended the event to congratulate students on their achievement.
Paul Quinn, CISCO Distinguished Engineer said, "This qualification is recognised across the world and will help students improve their employment prospects. CISCO congratulates each student for gaining their CCNA qualification."