Using new skills to sew scrubs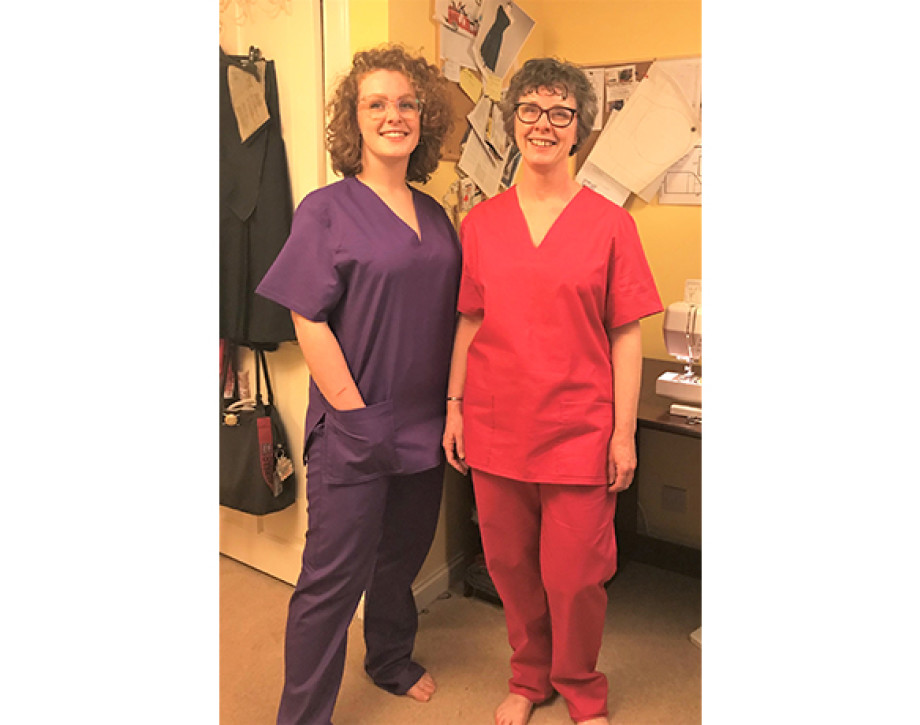 In an effort to support her community during the coronavirus pandemic, fashion student Emily Barker has been using her newly acquired skills from college to sew scrubs for health care workers.
Emily, 20, left her home in Forres last summer to study Foundation in Fashion and Textiles at Glasgow Clyde College. Since returning home in March due to the coronavirus lockdown, she has raised £1,090 through a Facebook fundraiser to buy materials to make PPE for local care workers.
Using the pattern reading and cutting skills she has learned in her first year at college, Emily and her parents are aiming to make over 80 sets of scrubs from 320 metres of blue, pink and purple fabric.
The first 24 sets were gifted to Anderson's Care Home in nearby Elgin, when Emily heard that their staff were concerned about a lack of PPE.
Emily said: "My mum taught me to sew when I was younger, and I was so keen to move to Glasgow and pursue the fashion textiles course. While I had basic knowledge, the techniques I've learned in first year has allowed my mum and me to follow a pattern and quickly produce more sets of scrubs for local frontline workers."
There is a production line in the Barker home; Emily's dad, Rob, washes the material and irons finished products, her mum, Dawn, sews the scrub tops while Emily cuts patterns and makes the trousers.
Emily continued: "I saw the 'For the Love of Scrubs' fundraiser online, which was set up by a frontline worker. I decided I could help make a difference – my friends and family were so supportive in the fundraising efforts, and it's allowed us to help with lots of local healthcare workers in need of PPE. We're working on the next batch and hope to have them ready soon!"
Theresa Lindsay, Head of Curriculum Fashion Textiles and Design at Glasgow Clyde College said: "I'm so proud that Emily is putting her new skills to good use during this pandemic. She progressed well in her NC year, and we are looking forward to welcoming her back to the HND Fashion Technology course."