Graduate named as one of Scotland's emerging tech talents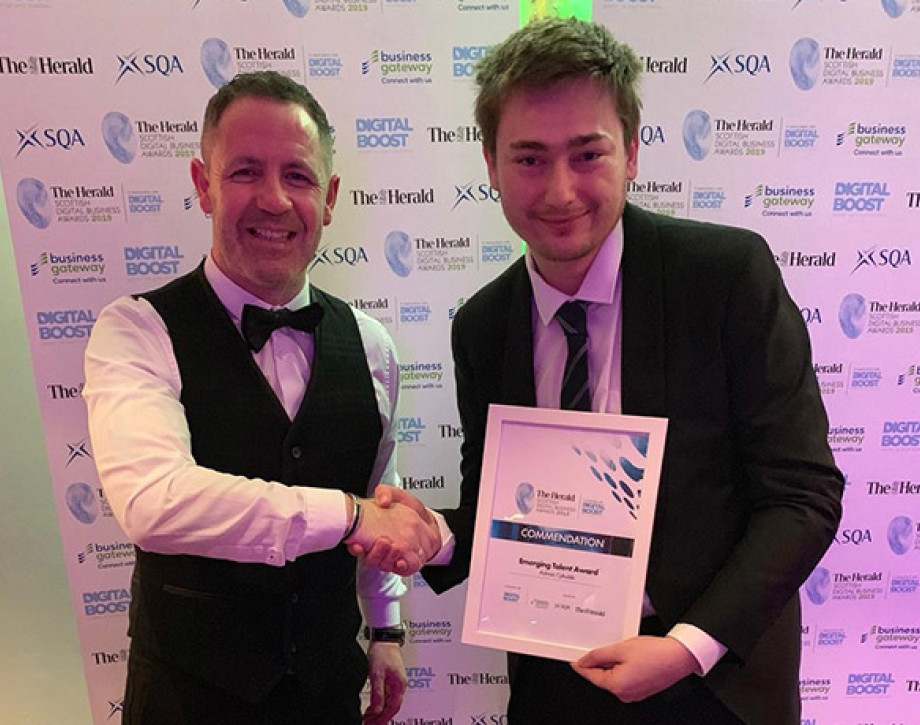 Adrian Cybulski, who studied HND Computer Science at Glasgow Clyde College, was recently commended as one of the country's top emerging tech talents at the Herald Scottish Digital Business Awards in October.
Adrian arrived in Scotland from Poland in 2014, and started his studies at Glasgow Clyde College, embarking upon the introduction to computing course. Adrian took advantage of the College's progression links and is continuing his studies at Glasgow Caledonian University. Last month he emerged as one of the country's most highly rated computing students. As one of four nominees for The Herald's new emerging talent award, Adrian was the only contender still in education.
Adrian was nominated after a whirlwind year which saw him being selected to compete as part of Team UK at WorldSkills 2019 in Kazan, Russia. Adrian was selected for Team UK after he excelled at the regional and national WorldSkills heats whilst he was studying at the College. Adrian was teamed up with Kyle Woodward from Cardiff and Vale College in the Cyber category at WorldSkills 2019 in August, where they did exceptionally well, finishing in eighth place out of 63 countries.
The global Worldskills competition allows young people to showcase their ability on an international stage. The talented students compete across 56 computing disciplines and have the chance to impress potential future employers such as Amazon, BAE Systems and Microsoft, all of which sponsor the event.
Kevin Maclean, Head of Curriculum Computing at Glasgow Clyde College, said:
"Adrian joined the college at a basic computing level, and in a short time has shown how incredibly talented he is. He really is one to watch.
"Computing is at its most transitional point since the invention of the internet, and with the emergence of the cloud, data analytics and artificial intelligence, there has never been a more exciting time to work within the sector. Our courses are designed in partnership with the industry to ensure we are teaching students the necessary skills to adapt to whatever the industry evolves into next.
"At the moment the IT sector does not have the personnel to cope, which is why we place great emphasis on developing both technical ability and soft skills, so students are fully future ready."
For anyone hoping for following in Adrian's footsteps, Glasgow Clyde College is offering an introductory computing course starting in January, visit glasgowclyde.ac.uk/January2020 for more information.
Due to a huge increase in the demand for digital skills, Glasgow Clyde College is working to ensure young people have a clear path into the industry. The College provides opportunities for school pupils in fifth and sixth year to attend college two afternoons a week to study key elements of computing courses. This paves the way into the HNC and HND courses, and beyond this, the College has articulation links with further education establishments, allowing students to progress directly into third year level of university to continue their studies.