Transitions to Barbering students offer free haircuts to pensioners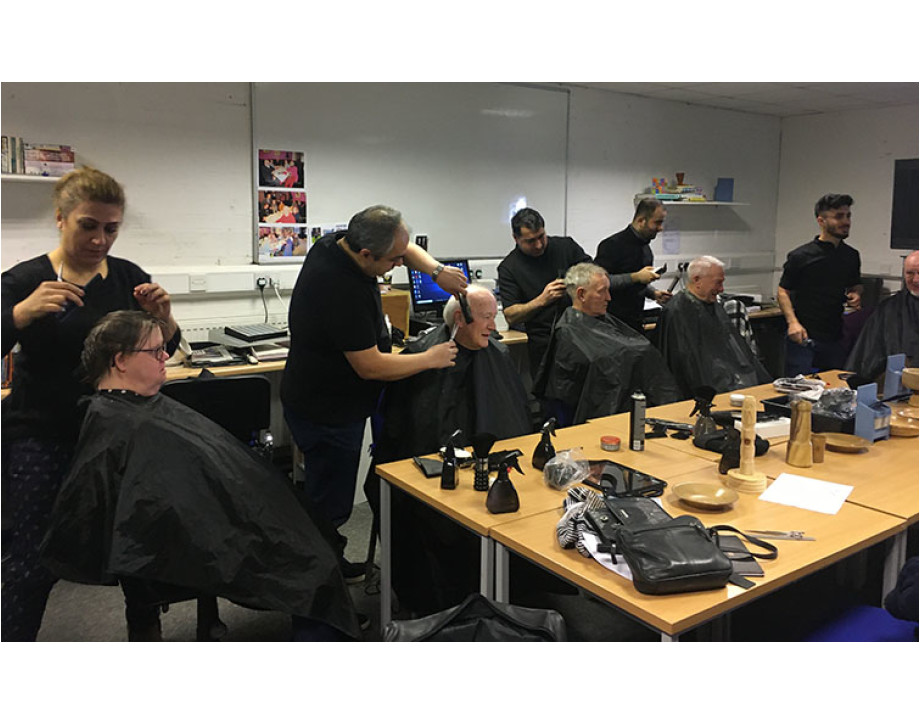 A group of Glasgow Clyde College's ESOL Transitions to Gents Barbering students offered free haircuts to pensioners at the Men's Shed in Barrhead.
Whilst developing their barbering and English skills the students were also supporting the elderly in the community so the event was extremely beneficial for both the students and all those that attend the Men's Shed.
Barrhead's Men's Shed was founded to help those who feel isolated get out and have something to go to and look forward to. Both men and woman are invited to work on projects of their choosing in a safe and friendly environment. Some of the many items that they make include domino and card tables for local pubs, planters for Braehead shopping centre and pens for those with arthritis to make them easier to hold. There is also a ukulele group of 14 that attend the Men's Shed.
Zahara Goldoost, one of the Glasgow Clyde College ESOL students said: "It was a really good experience because we had real clients and could have real conversations with them".
Kyle Bettley, Senior Lecturer for the course commented "It really is great when a community college such as Glasgow Clyde College can provide students with the opportunity to develop their skills for employment while also giving back to their local community."
Not only was this a great experience for all of the students involved but a great experience for all of the men at the Men's Shed. They said that the event "created a great atmosphere" and everyone was "over the moon with their haircuts". Everyone at the Men's Shed enjoyed having the students there and they were all happy to help due to the lack of models they have at the college.
Awara Othman, another of the ESOL students said: "We took everything we learnt in class and did this with real customers. I would like to do it again".
Similarly, those at Men's Shed said they would love to have the students back and hopefully they will be returning to support the Men's Shed again in 2020.
Article written by HN year 1 Practical Journalism student Caitlin Macdonald