Internationally-acclaimed artist visits students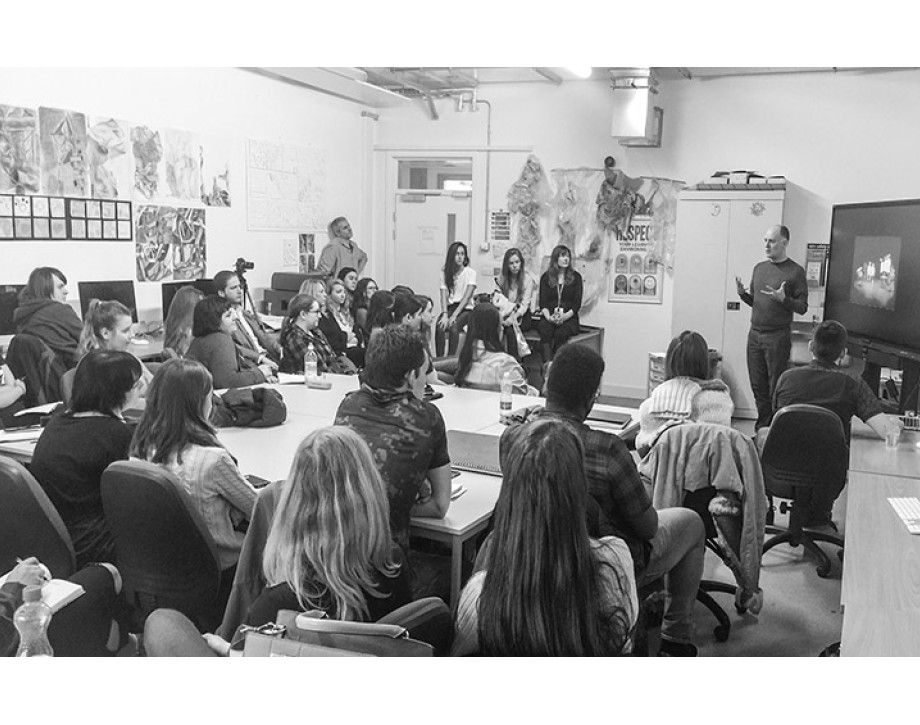 Internationally acclaimed local artist and Professor, Graham Fagen, inspired Contemporary Art Practice students at Glasgow Clyde College with a guest lecture sharing his experiences as a working artist.
Graham Fagen, a Scottish artist, who has exhibited all over the world from New Zealand to South Korea to Venice took the opportunity to share his career and experiences as a working artist with students studying HND Contemporary Art Practice.
Throughout the year, the College invites guest speakers to share their career paths and achievements to encourage students to think about their own ambitions.
Marlene Lochhead, Contemporary Art Lecturer at Glasgow Clyde College, said:
"It is extremely important for the College to have visiting artists and events like this as it inspires and motivates our students to achieve in the world of contemporary art, giving them ideas, aspirations and an insight into the reality of working as an artist and the possibilities it may offer.
"Visiting artists, like Graham, are an inherent part of the HND Contemporary Art Practice course as it gives them first-hand knowledge and understanding of the diversity of contemporary art practice."
The two year course is an innovative Fine Art course designed to develop students as creative practitioners equipped with transferrable knowledge and skills. The course is project driven and encourages independent learning through studio practice in preparation for Art School.
Graham Fagen, Professor and Scottish Contemporary artist, said:
"Art is about sharing your thoughts, ideas and understandings. This can take many forms, from an exhibition through to a conversation. I enjoy sharing my creative thoughts with students, to help them understand and see the possibilities for their own art."
Calum McFadyen, HND Contemporary Art Practice student at Glasgow Clyde College, said:
"It's important for us to get an insight into the mind of artists who are leaders in their field, how they project themselves through their work and the impact they have on the next generation of artists. Graham has an ability to cross history into contemporary modern practice to make us explore his creative process."