Professional Cookery students in final of prestigious competition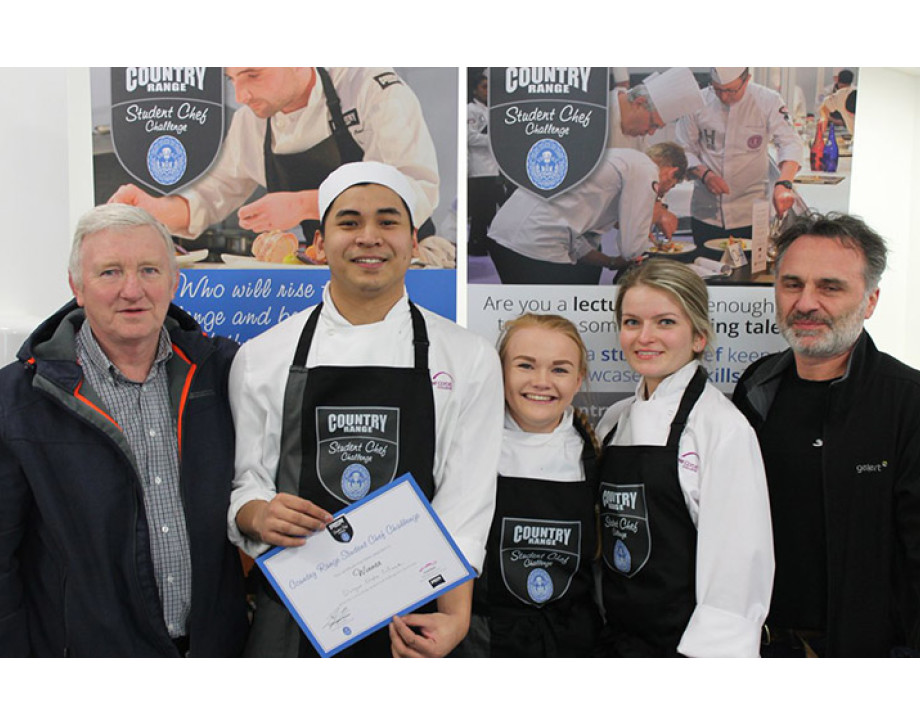 Three NC Professional Cookery students from Glasgow Clyde College have made it through to the Country Range Student Chef Finals.
The students secured their place in the finals by creating a three-course dinner menu that incorporated healthy fine dining and modern cooking techniques.
Erin Sweeney, Natalia Siwek and John Punsalang are currently studying a Level 6 Professional Cookery course at Glasgow Clyde College which emphasises the most important skills when it comes to the hospitality industry such as, patisserie, fish and shellfish, creative cookery, meat and poultry, silver service and wine and spirits.
Steven Sanderson, Professional Cookery Lecturer at Glasgow Clyde College, said: "This is a huge achievement for Erin, Natalia and John and we couldn't be happier for them. We have watched them pour themselves into their craft and the imagination and detail that has gone into their menu is outstanding. It is an honour for us to see our Professional Cookery students reach such high standards and we wish them all the best for the competition."
Natalia Siwek, finalist, said: "We are all passionate about our Professional Cooking course and to be rewarded for our studies and hard work by becoming finalists in a prestigious cooking competition, is a big deal. We can't thank our lecturers enough for the help they have given us to get to this point and we all have our fingers crossed!"
The student's menu starts with a vegetarian panna cotta of goat's cheese, beetroot, chia seeds and a spiced reduction, followed by sous vide monkfish and prosciutto with grilled sea bass, sweet potato and black pepper mash and a spinach veloute. For dessert, the students will be serving a filo pastry cask filled with lemon and honey sabayon with mixed berries and chocolate mousse.
Natalia, continues: "It was tricky coming up with a healthy modern menu, but we managed it through the help of our lecturers and team work. The Professional Cooking course has really set our standards high when it comes to food and drink and we can't wait to see what the future holds."
During the final, the students will have to produce their menu for three people within 90 minutes against other colleges. The Country Range Student Chef final will be held in the SECC Glasgow on 15th March and is sponsored by Country Range Foods and runs in collaboration with the Craft Guild of Chefs.
Image courtesy of Country Range