College wins double Gold at CDN Marketing Awards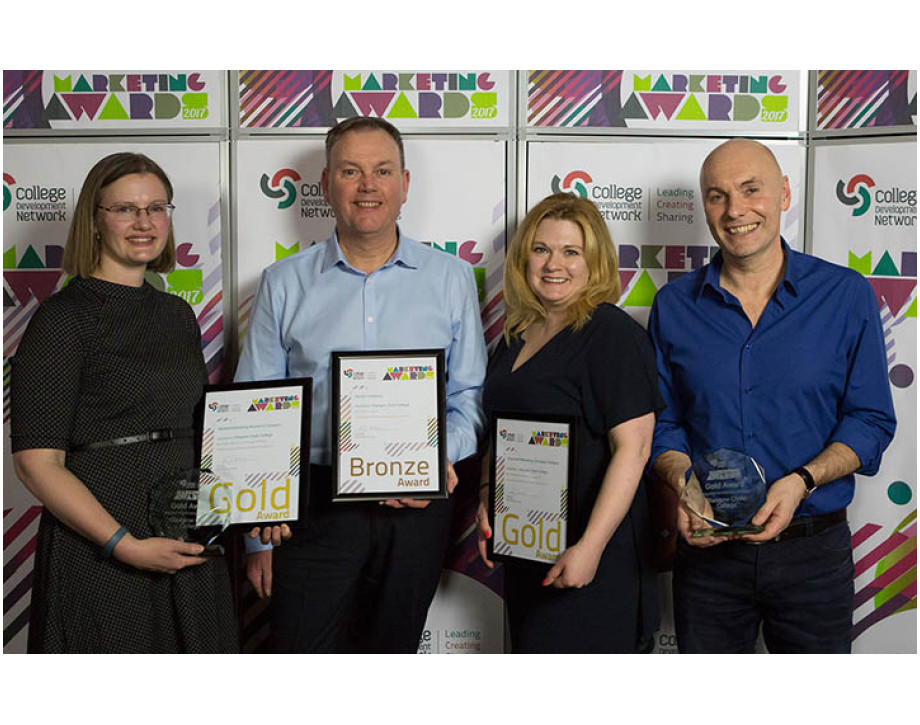 Glasgow Clyde College is celebrating after winning two Gold awards and a Bronze at this year's College Development Network (CDN) Marketing Awards after receiving nominations in three of its categories for Design, Integrated Marketing Campaign, and Marketing Research.

Led by Amanda Proud, the College's marketing team won Gold in the Integrated Marketing Campaign category for its 2016 recruitment campaign, with the judges highlighting the quality of research and the knowledge of the application cycle which informed it. Research of the 2015-16 recruitment campaign also won Gold in the Marketing Research category.

The team was also recognised for its refreshing magazine-style design to promote the Fashion and Textiles department's 'Make it in Fashion' schools taster day. The campaign, which won the College a Bronze award, targeted school pupils in S2 and S6, and was promoted through a variety of marketing channels and collateral, including flyers, posters, postcards, e-shots, and social media formats.

Amanda, Head of Marketing and Communications at Glasgow Clyde College, said: "It's great to see the recognition for the hard work that goes into these campaigns to promote Glasgow Clyde College as the place to come and study in Glasgow. It's a great achievement for the College as many people, across all faculties and departments, are involved in helping to shape and deliver our marketing approach. "We're thrilled to have won an award in all three categories and look forward to producing more excellent campaigns in the year to come. Congratulations to all the winners and nominees."
The College Development Network (CDN) Marketing Awards recognise and celebrate the excellent marketing and communications practice taking place in colleges. The award ceremony took place at Ghillie Dhu, Edinburgh on Thursday 9th March.
Picture shows Nicola Meredith (PR & Communications Co-ordinator), Brian Hughes (Vice Principal Curriculum and External Relations), Amanda Proud (Head of Marketing and Communications) and Eric Brownlie (Assistant Principal: Quality and Performance).