Oor Wullie's BIG Bucket Trail Launched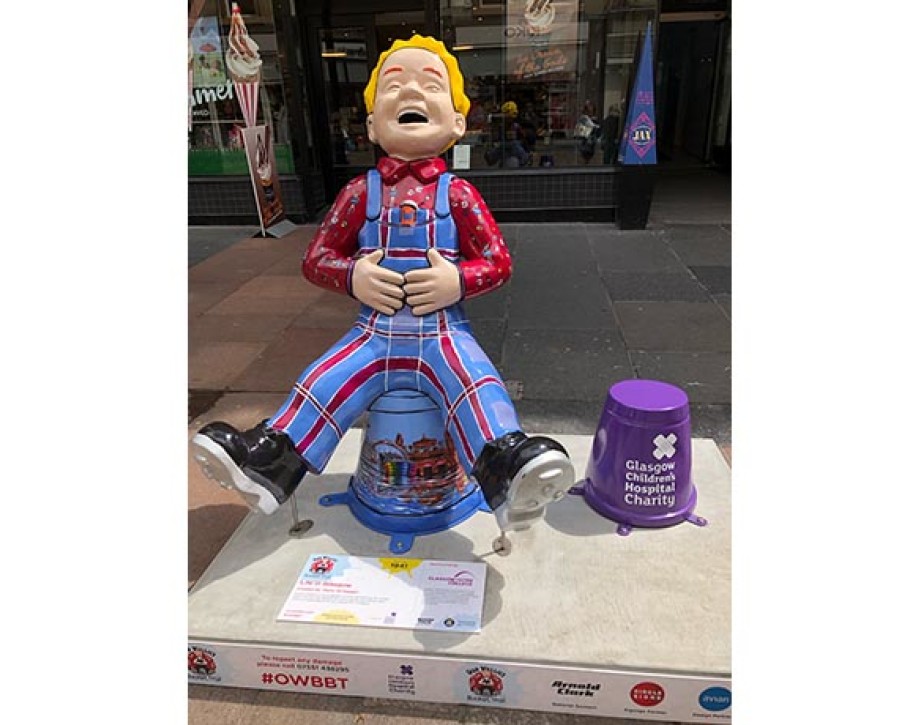 Glasgow Clyde College is delighted to be part of Scotland's first ever national art trail – Oor Wullie's BIG Bucket Trail – which launched this week across the country.
Glasgow Clyde College has sponsored the statue, which will stand proudly on the Glasgow and the West trail at Buchanan Street for the next 11 weeks, before being auctioned at the end of the summer to raise vital funds for Glasgow Children's Hospital Charity.
The statue was designed by Glasgow Clyde College NQ Contemporary Art Portfolio student Taylor McTaggart and reflects the subjects studied at the College, as well as well known Glasgow landmarks.
Inspired by Scotland's favourite son, Oor Wullie's BIG Bucket Trail is the first ever nationwide art trail and will span 700 miles across Scotland this summer. A total of 200 life-sized Oor Wullie sculptures can be spotted across Glasgow and the West, Dundee, Aberdeen, Inverness, and Edinburgh.
This free art event will run for 11 weeks from June 17 to August 30. Each statue is individually designed by 100 artists, each reflecting a unique aspect of Scotland's diverse culture.
The trail will raise vital funds for all of Scotland's children's hospital charities – Glasgow Children's Hospital Charity, the ARCHIE Foundation and Edinburgh Children's Hospital Charity - to provide the very best possible care and support for the combined half a million babies, children and young people who are seen each year.
Find out more at www.oorwullie.com