Glasgow Clyde Creates 2019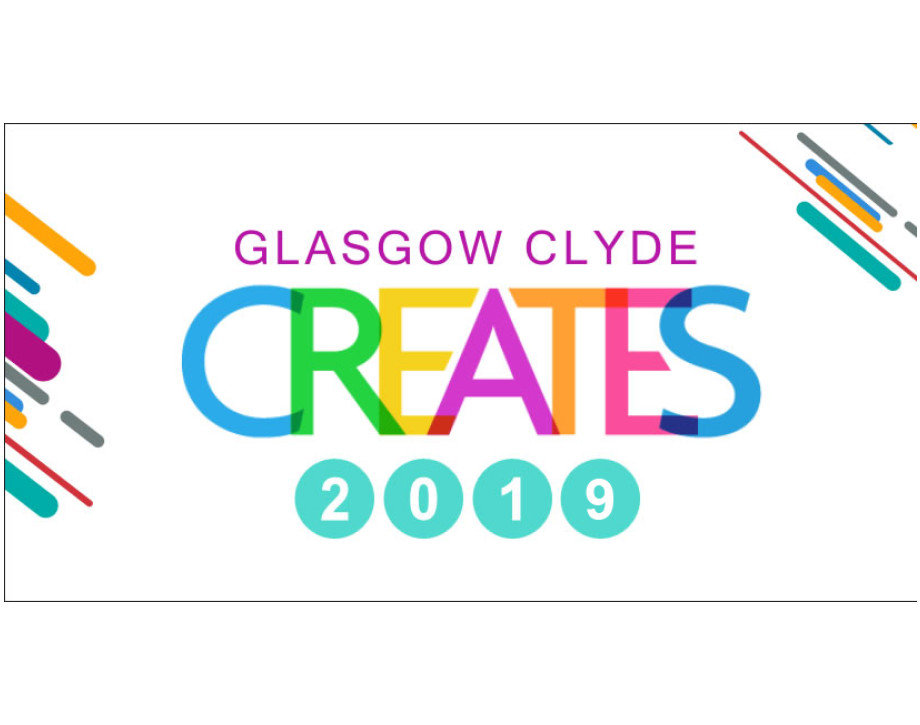 'Glasgow Clyde Creates' is an end-of-year celebration of the work of students in the Schools of Media and Performing Arts and Fashion, Textiles and Design. The celebration launches with a performance of 'Babies' at the Langside Campus Theatre, and with a programme of events including the excitement of the 'Disruptor' Fashion Show and the Pulse Dance Showcase, plus the Luthiers' Concert; it promises to have something to appeal to everyone! The programme finishes in mid-June with a Film Screening of the work produced by our HND Creative Industries: TV students.
Tuesday 14 - Friday 17 May NC Acting and Performance perform 'Babies' The Theatre Langside Campus, 7pm and costs tbc
Tuesday 28 - Friday 31 May Contemporary Art Practice Exhibition, Anniesland Campus 9am-4.45pm
Wednesday 29 - Friday 31 May, Portfolio Exhibition, Cardonald Campus, Rooms 9.02/10.18, 10am-4pm
Thursday 30 – Friday 31 May PULSE 2019, Mitchell Theatre, Granville St. Glasgow, 7:30pm, Tickets £15/£12 available from the College T: 0141 357 6101 or 0141 272 3338

Annual end of year Dance performance showcasing the incredibly talented students from Dance Studio Scotland at Glasgow Clyde College. This is an exciting evening of new and diverse choreography, created by some of Scotland's finest dance makers. N.B. the show is not suitable for children.
Saturday 1 - Tuesday 4 June Graphics and Illustration Exhibition, The Lighthouse, Glasgow 10:30am-5pm (Sunday 12-5pm)
An exhibition of work from BA Hons Graphic Design, HND Graphic Design and HND Visual Communications students.
Tuesday 4 June The Luthiers' Concert, Webster's Theatre, 7-9.30pm Tickets £6* / £3.50* book tickets
This annual concert showcases

individual performances by Steve Hicks, Anne Chaurand and Ciorstaidh Beaton performing on guitars, and a harp made by final year students on the Stringed Musical Instrument Making course.




An eclectic mixture of folk, blues, ragtime and classical tunes played by three outstanding musicians.


*plus booking fee
Tuesday 4 - Friday 7 June, HND Acting and Performance perform Habeas Corpus by Alan Bennett at Langside Campus Theatre, 2pm and 7.15pm, Tickets £10 / £8 T: 0141 272 3775
Wednesday 5 - Friday 7 June, HNC Art and Design Exhibition, Langside Campus, Rooms T402 / T403
Friday 7 (opening) - Wednesday 12 June, Fashion Textile Exhibition, Cardonald Campus, Business Centre 10am-4pm. Opening evening (Friday 7) tickets available here
Tuesday 11 June 'Disruptor' Fashion Show, Cardonald Campus, Games Hall. See the striking garments created by our HND Fashion Technology, HND Textiles and HND Fashion Design students in this end of year Fashion show. There are two shows:
Tuesday 11 - Wednesday 12 June, HND Creative Industries: TV, Film Screening Langside Campus Theatre, 5.30pm
This end of year event will showcase film created by our television students.