Students take first place at Worldskills computing competition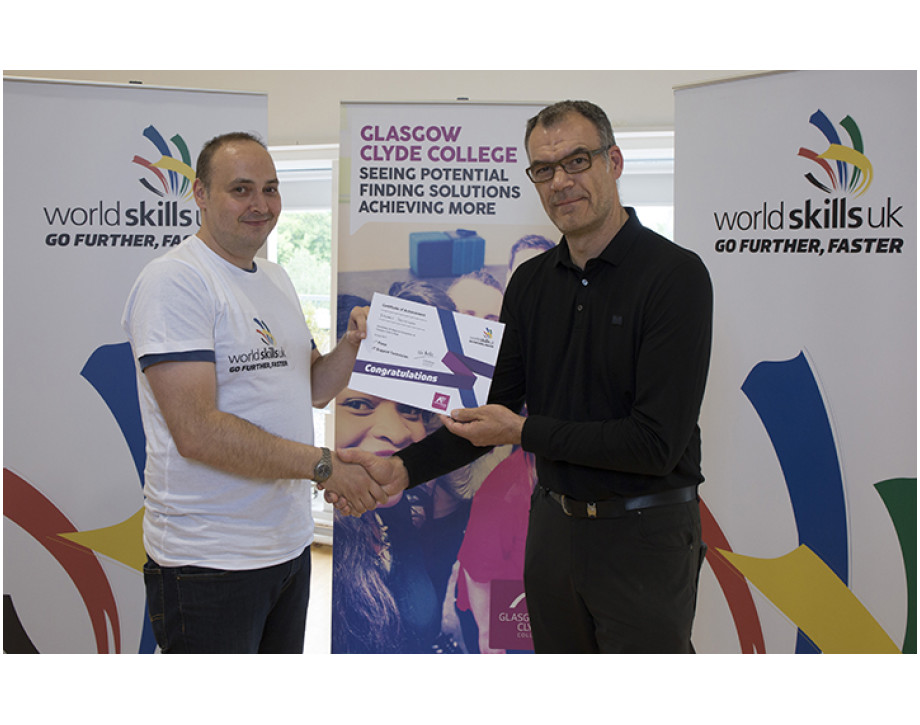 Two Glasgow Clyde College computing students secured first place at this year's Worldskills regional heats.
HND Technical Support student, Stuart Thomson, won the top spot in the IT Support Technician category with fellow HND Technical Support student, Simon Watson, winning first place in the Network System Administrator category. Both students will now work towards securing a place at the UK finals later this year.
Hosted at Glasgow Clyde College for the fourth year, the competition gives students the opportunity to showcase their computing skills and compete against peers from colleges across Scotland and the North of England.
Speaking about his win, Stuart, said: "Taking home a gold from the Worldskills regional heats is a great feeling. It's quite an intense day, but it's also really enjoyable and a great experience to share with other students out-with our own college. I've been working hard with my lecturers Roy Wilson in additional training courses so I was prepared for the regional heats, but I'll be continuing to work hard to make it to the UK finals later this year."
The College, which has competed in Worldskills for the past five years, finds the benefits of the competition for its students and staff invaluable. Over 12 computing staff are involved in the organisation of the event with the team providing extra training and workshops for students in preparation for the competition, as well as advancing their own knowledge and skills development.
Morag Robertson, Head of Curriculum for Computing at Glasgow Clyde College, said: "Worldskills is a serious competition and the rewards for taking part are huge. Competing at this level and with the potential to compete at the UK finals later this year is an unbelievable achievement and a great opportunity for all students.
"The benefits for staff are also endless. We now have a judge in four out of the five computing categories and that is down to the sheer commitment to students and their dedication to their personal development to advance their skills and knowledge. Because of this, we are now working with other departments within the College to highlight the benefits of Worldskills and actively encouraging them to get involved."
David Graham, Stewart McCafferty and Darius Anderson also competed in the competition and were awarded second and third places in their respective categories.