Beauty with a Conscience - it's a charity shop like never before!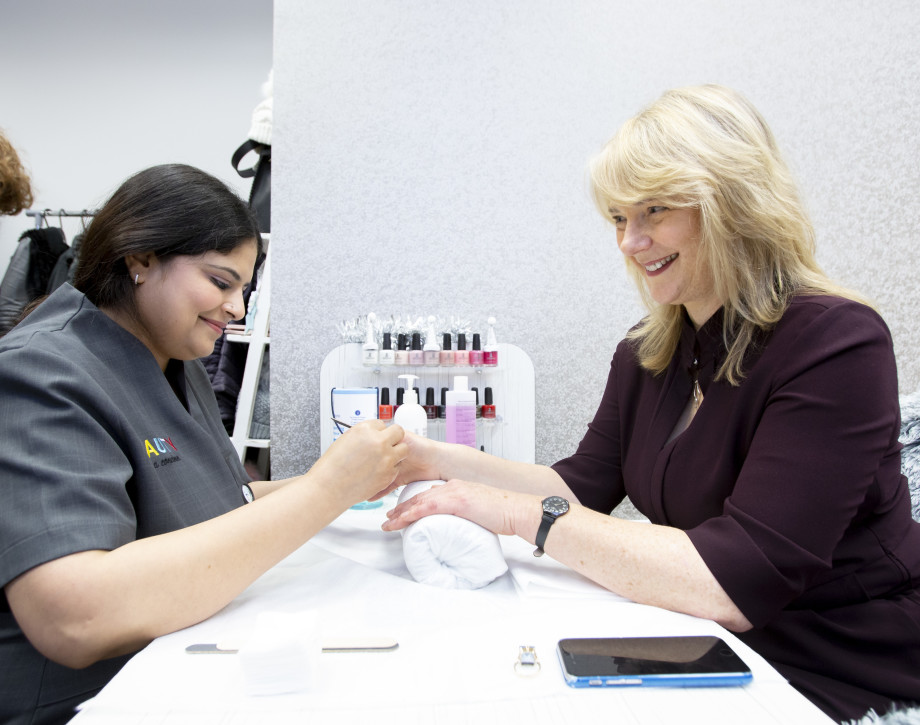 If you think you know charity shops, it's time to think again.
An innovative new social enterprise is set to raise vital funds for one of Scotland's favourite charities; provide valuable work experience for Glasgow students and make clients feel good about looking good, all at the same time.
Beauty with a Conscience, a partnership between the Prince & Princess of Wales Hospice, and Glasgow Clyde College, will offer high quality, ethical beauty treatments at a new salon and retail outlet in the city's Battlefield Road.
Funding of £41,000 has been granted by the charity Glasgow Clyde Education Foundation, which supports new approaches to learning for the students and communities served by the College, to enable the project to get off the ground.
One hundred per cent of the profits raised from the venture will go to support the work of the new £21 million Prince & Princess of Wales Hospice which opened its doors to patients for the first time earlier this month.
The Beauty with a Conscience salon will offer customers a wide range of beauty treatments including manicures and pedicures, eyelash and eyebrow shaping, make up and facial waxing with all the products used being ethically sourced where possible and the work carried out by fully qualified students from Glasgow Clyde College.
The work experience the students gain forms a key element of their NC Beauty Care and Make- Up Course at the college so Beauty with a Conscience offers a win/ win/ win scenario.
The venture is an evolution of an existing charity shop and alongside the beauty treatments on offer, the new outlet will also incorporate an upmarket gift shop selling a range of high quality goods including candles, jewellery, greetings cards and bags. Doors officially open on 5th December and further information is available at www.facebook.com/beautywithaconscienceglasgow. Appointments can be booked in person at the salon or by calling 0141 632 6128.
Ann Loughrey, commercial business manager at the Prince & Princess of Wales Hospice, commented: "Beauty with a Conscience is an entirely new concept for the charity sector, a commercially focused social enterprise which will raise valuable revenue to support the hospice, with the huge added value of providing meaningful work experience for Glasgow Clyde College students.
"In developing commercial opportunities for the hospice, it's essential that we maintain the values associated with it, which is why all the products and services on offer will be ethically sourced, where possible. Customers will be treated by students who are fully qualified and who will benefit enormously from valuable experience of the world of work. This can only assist their future career prospects.
"At this stage, our focus is fully on the new salon but, as part of our ongoing aim to develop commercial ventures which can assist the hospice's work, we will be exploring the potential for expanding this business model further."
Julie Wales, Head of Curriculum Hairdressing, Beauty and Complementary Therapies, Glasgow Clyde College, said: "This is a fantastic opportunity for our students to gain vital work experience in the industry, while giving back to society. We have been fundraising for the new PPWH Hospice for the last few years, so this is a really wonderful way to cement our long term support for the charity, while helping our own students. We are proud to be part of such a fantastic project."
The state-of-the-art Prince & Princess of Wales Hospice, located in Glasgow's Bellahouston Park, opened its doors to patients in November following the hugely successful Brick by Brick Appeal which raised £21 million from individuals, groups and corporate supporters.
The facility leads the way in palliative care, offering an unrivalled standard of support to 1200 new patients and families every year in a purpose-built building. It is the first in this country to be built to the Scandinavian Sengetun model of care, with adaptable private, social and family spaces specifically designed to boost wellbeing and create a sense of calm.
It provides home-style comfort with 16 en suite bedrooms with private terraces, soft-seated areas and open-plan kitchens..
As part of the hospice's commitment to the palliative care of young people aged 16 and over, it includes specialised accommodation to meet their particular needs, including family bedrooms, lounges, social areas, complementary therapy rooms, spa bathrooms, sanctuary, sensory room, a young people's lounge and training rooms.