COVID-19 (Coronavirus) Guidance for Students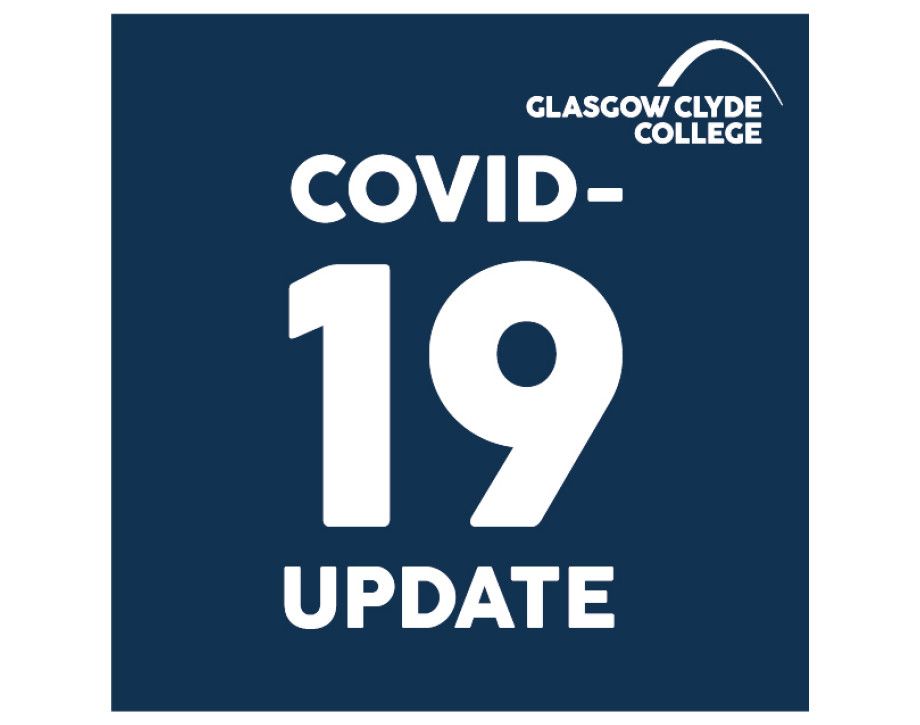 COVID-19 (Coronavirus) Guidance for Students - Tuesday 17 March
The health and safety of our students is our top priority and therefore in light of revised guidance from the Scottish and UK Government given last night, Glasgow Clyde College has taken the decision, that face-to-face teaching and learning will cease on all campuses at 5.00 pm on Tuesday 17 March. There will be no evening classes tonight and for the foreseeable future.
It is currently planned that the College will recommence face-to-face teaching on Monday 20 April 2020; however, this position will be kept under review. Teachers will be in touch to advise on distance and online learning during the period. College services will currently remain available including student funding, and libraries until further notice. As and when there is a change to this plan we will confirm immediately via the college website and social media.
Our teachers are currently working hard to review and update online learning materials, which students will be able to access over the coming weeks.
We fully understand that you will have concerns about the impact on your studies, and wish to reassure you that we are working closely with all relevant agencies, including SQA, to provide the very best response possible.
We have updated our Frequently Asked Questions and will continue to update these as and when new information is announced.
We are continuing to follow advice from the Scottish and UK Governments and the relevant health authorities to safeguard our staff, students and visitors from the risk of Covid-19. It is vitally important that you continue to follow the advice provided by the Government and public health agencies to keep yourself and others protected.
I know this has been a very anxious week for everyone in the College and would like to thank staff for the concern they have shown for our students at this difficult time.
Please note: Interviews after 5pm on 17 March 2020 are cancelled. If you have applied for a course and had an interview scheduled we will be in touch to update you further, please keep checking your emails and online account regularly.
The College can be contacted on 0141 272 9000.