College commended at CDN Awards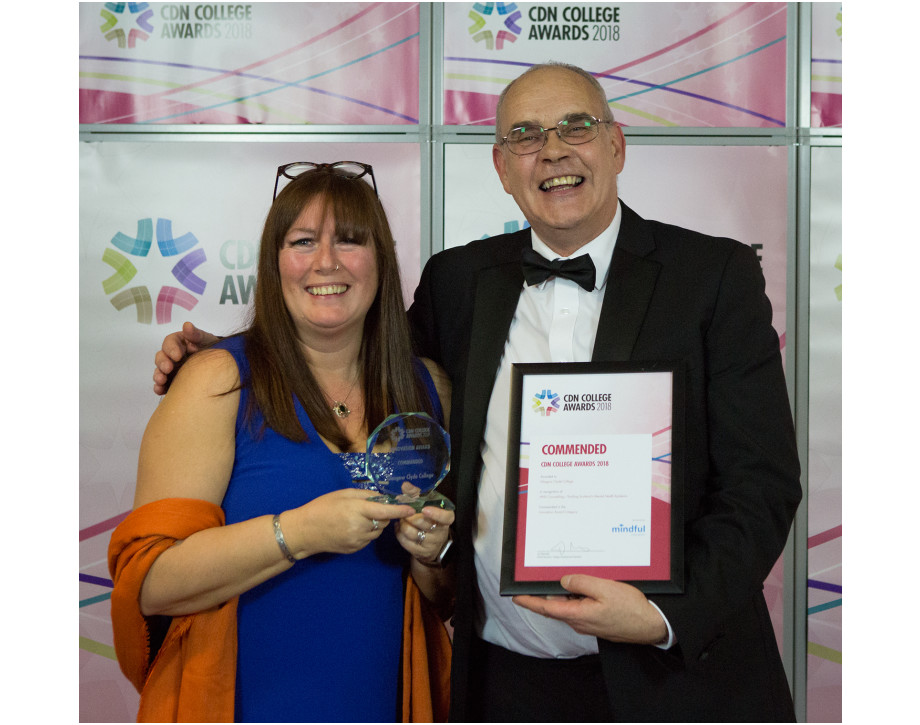 Glasgow Clyde College is celebrating after receiving two commendations at this year's College Development Network Awards.
The commendations were awarded to the College's community learning and development team in the Inclusive College category and lecturer Kirsten Amis in the innovation category for her work in developing the first HND Counselling course.
The College is shortlisted for a further six awards during this year's education award season. Leading the way is the community learning and development team with three more nominations for their continued work in developing innovative practices that benefit the local community.
Their most recent work, aimed at increasing family learning opportunities by focusing on literacy and numeracy, brings together core learning skills with a practical based curriculum which fosters the creativity and imagination of adult learners by using a variety of learning experiences, such as ESOL through Storytelling, Storytelling through Photography, and Supporting Parents Support Children (numeracy and mathematics level one). The programme helps to upskill family educators and support family attainment levels.
Kirsten Amis receives a second nomination in the SQA Star Awards Champion category. The HND Counselling qualification, written by Kirsten and run in partnership between Glasgow Clyde College, the SQA and the British Association for Counselling and Psychotherapy (BACP), meets the urgent need for services which support good mental health. Scottish students can now achieve an undergraduate qualification in counselling for the first time. Over 200 applicants have applied for 2018/19 enrolment.
Demonstrating its continued commitment to providing exceptional experiences, promoting inclusion and accessible opportunities for all, Glasgow Clyde College is also nominated for its schools' partnership programme, complementary therapies for clinical practice course and its provision of life-long learning.
Eric Brownlie, Assistant Principal Quality and Performance at Glasgow Clyde College said: "Receiving the commendations from the College Development Network awards, as well as being nominated for a further six awards is an incredible achievement for everyone involved at the College, from staff and students to partners, stakeholders and the local community.
"Providing innovative solutions to learning is something we all feel passionate about and strive to achieve in everything we do. Ensuring our courses are accessible to all, but also developing courses that meet the needs of learners and demands of a changing workforce, economy and environment."
Glasgow Clyde College is shortlisted in the SQA Star, Herald Society and Evening Times Community Champion Awards as well as receiving its commendations for innovation and inclusiveness at the College Development Network awards.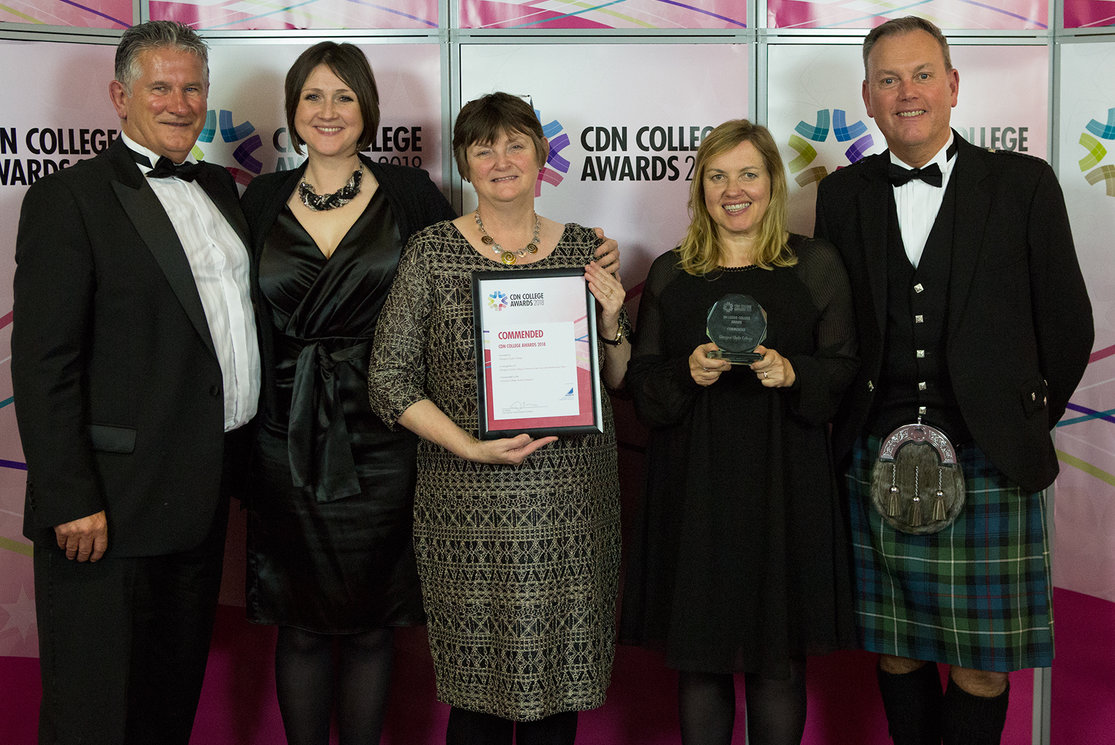 Pictures - Top: Kirsten Amis and David Macallan with the Innovation category commendation
Bottom: Community Learning and Development staff with the Inclusive College category commendation