Engineering students win Institute of Welders award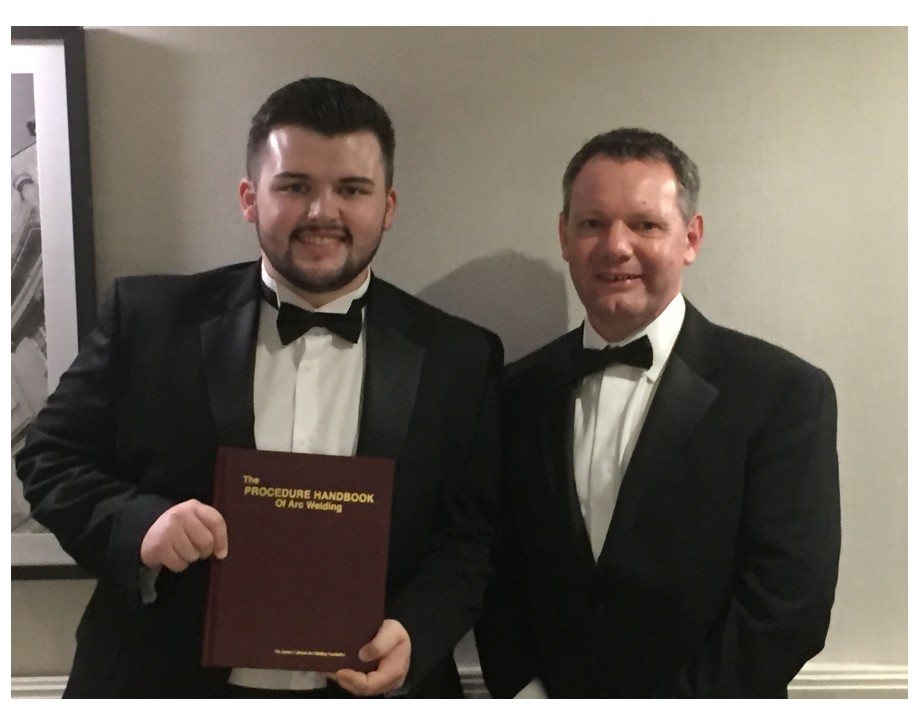 Two Glasgow Clyde College students are celebrating after winning Institute of Welders Awards which recognise the high standard of their performance whilst at college. The awards were presented at the recent Welding Institute (TWI) annual dinner.
Michael Roberts received the HNC Award for achieving a grade A in HNC in Fabrication, Welding and Inspecting and Euan MacLean won the Manufacturing and NDT Award for achieving a grade A in HNC Mechanical Engineering and Performing Engineering. Both students undertook the HNC programmes as part of the Engineering Modern Apprenticeship that they were undertaking in conjunction with their employers.
Alistair Rodgers, Head of Curriculum Engineering at Glasgow Clyde College said:
"I'm delighted that two of our students have won such prestigious awards and have been recognised in the Engineering industry. Michael and Euan should be proud of what they have achieved for themselves and for the College. Like all our students, we wish them the best of luck and look forward to seeing how they progress with their careers."
Glasgow Clyde College is renowned for its partnership work with businesses and organisations across the industries it teaches in, providing students with the essential skills and experience for future careers or continued education. For over 50 years Glasgow Clyde College has provided vocational engineering training across Glasgow and is considered the engineering provider of choice for Glaswegian and multinational businesses.
Michael, from Cambuslang, joined BAE Systems at Scotstoun shipyard in 2013 as a Craft Apprentice on the Pipe Fabrication and Welding Modern Apprentice programme where he trained and qualified as a Code Pipe fitter. Following the completion of the HNC in Fabrication, Welding and Inspection, Michael will be working on BAE Systems Offshore Patrol Vessel contract.
Charlie Murphy, Apprentice and Skills Training Manager at BAE Systems said:
"It was fantastic for Michael to be nominated for this award by Glasgow Clyde College. For Michael to win this award shows that all his hard work and effort has been duly recognised. Michael has worked incredibly hard since joining the company and it is great to see him achieving this award in recognition of his hard work and dedication."
Euan, from Ralston, joined Doosan Babcock's Integrity Technical Engineering Apprenticeship Programme in 2015 attending Glasgow Clyde College for the first year of his Modern Apprenticeship which comprised undertaking the HNC Mechanical Engineering Award as well as the SVQ Level 2 in Performing Engineering Operations. Euan is now undertaking the SVQ Level 3 component of his Modern Apprenticeship in Mechanical Engineering within Doosan Babcock and will soon be embarking on an Open University Degree as part of Doosan Babcock's Technical Apprentice programme.
Campbell Forrest, Group Leader - Integrity Engineering at Doosan Babcock said:
"Gaining this award is not only testament to Euan's attitude and hard work, but also the support offered by Glasgow Clyde College Engineering department throughout his training. This also reflects the high calibre of young people we are now attracting to our Technical Apprenticeship Scheme and we value our working partnership with the college. The accolade of this award will certainly benefit Euan as his career progresses within Doosan Babcock."