Great Big Opportunities for Creative TV Students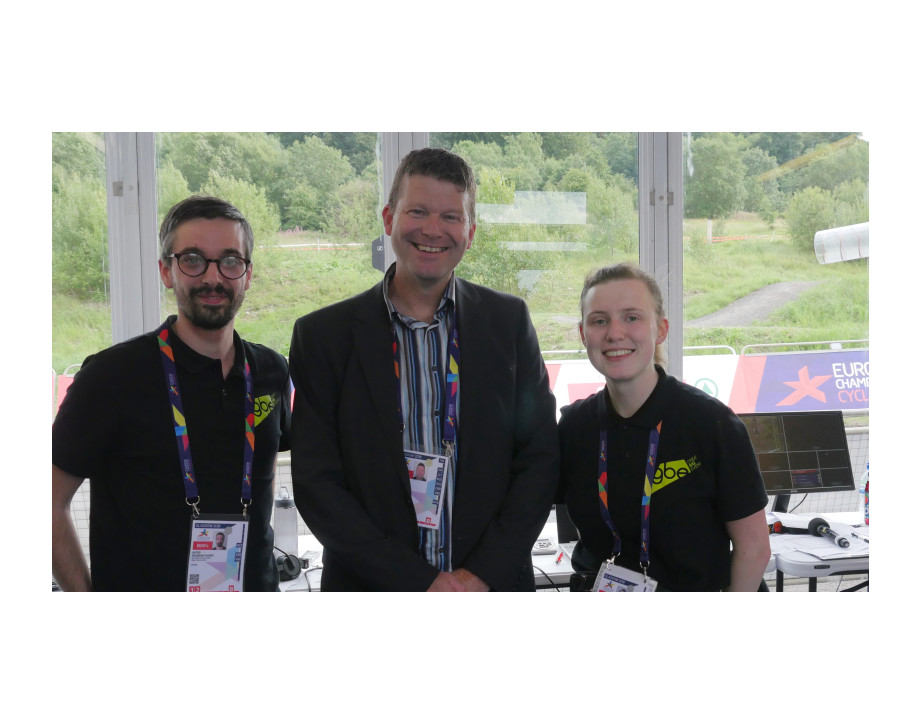 The Glasgow 2018 European Championships are in full swing with events taking place in different locations in and around Glasgow.
Europe's top athletes have been competing in the inaugural European Championships – an exciting new multi-sport event bringing together some of the continent's leading sports. Taking place for the first time in 2018, the European Championships will be a new highlight on the global sporting calendar with around 3,025 competing in Scotland with a total of 8,500 people, including officials and media, expected in the country during the Championships. Played out in front of a potential television audience of up to 1.03 billion people – with many more across digital channels – the event will elevate the status of European Champions.
This opportunity has not only been fantastic for the City, but for our own Creative Industries Television Students. Through our links with Great Big Events the students have had a rewarding, hands on internship experience in the control rooms and on the ground in the venues for the following events:
• Swimming at Tollcross International Swimming Pool
• Synchronised Swimming at Scotstoun Sports Campus
• Open Water Swimming Championships at Loch Lomond
• Track Cycling at the Sir Chris Hoy Velodrome
• Road Cycling from Glasgow Green
• Mountain Biking at Cathkin Braes
• BMX Championships in Knightswood Olympic Standard BMX Park
• Gymnastics at the SECC Hydro
The roles have included, Sports Presentation Camera Operation, Music Play In, Vision Mixing and Floor Management.
Great Big Events is internationally recognised as the world leader in Sport Presentation and in the production of Cultural and Ceremonial events.
Great Big Events has been responsible for Sport Presentation in more than 55 sports at international level, including the Olympic, Commonwealth and Asian Games, the Rugby World Cup and more than 65 sports at World Championship level.
Frank Paterson, Television Lecturer and Jon Vincent, Principal and Chief Executive took some time out to visit the students on location.
Frank said: "We are really, really proud of our students. They have excelled themselves in their individual roles. The GBE Producers have praised them highly and said they'll have them on call to work at other events – potentially anywhere in the world. We are also in discussion with GBE to provide interns when other events come to Glasgow, helping to make our students champions in their own rite."
"We have been extremely impressed with the students who have joined our sport presentation teams for the Glasgow 2018 European Championships. Training workshops were provided for the vision and music playback roles but the majority of the learning has been done on the job, under pressure, in the live sports environment which has been hugely valuable and the students have performed very well. The students have integrated well with our teams and have performed critical roles. We are delighted to offer such positive experiences to these students."
Alison Giles, General Manager – UK, Great Big Events (International) Ltd.
If you are interested in a Television Course then get in touch – we still have places available on NQ TV Operations and HND Creative Industries TV, just think the next time your friends and family are watching an event it could be you behind the camera.