Textile student scoops top scholarship awards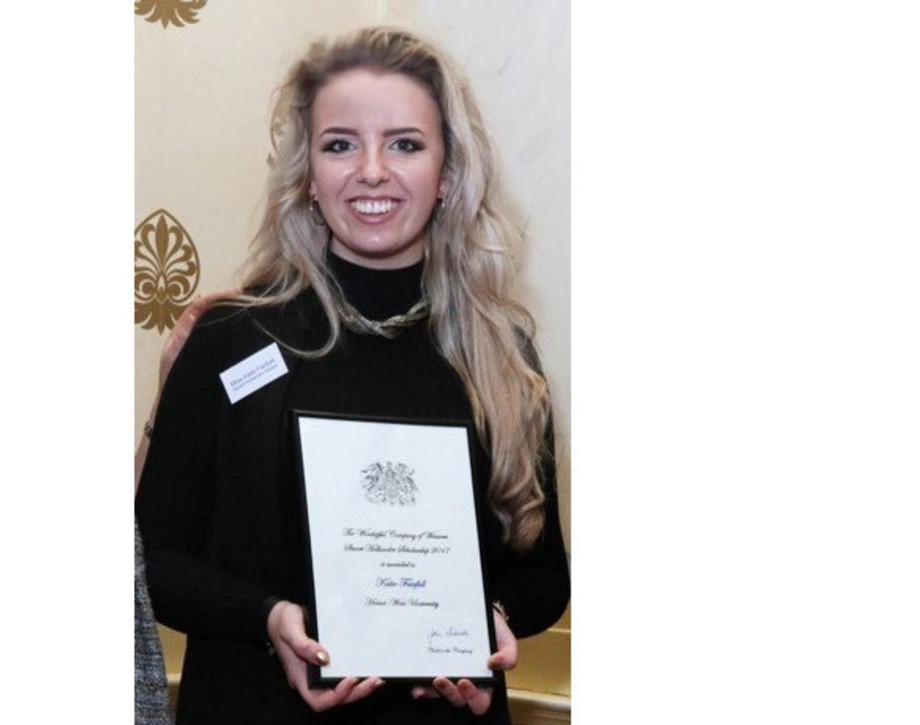 A former Glasgow Clyde College textiles student has been awarded two of the most renowned scholarships from the textiles industry, in recognition of her talent in weaving.
Following two rounds of interviews with the Worshipful Company of Weavers in London, Katie Fairfull successfully attained the top scholarship and won the prestigious Stuart Hollander Award.
Katie developed her skill for weaving while studying HND /BA Textiles at Glasgow Clyde College. The course, which specialises in weave and print, is an associate degree programme where students can progress directly to year three at Heriot-Watt University. Joining in its inaugural year, Katie experimented with a variety of materials and techniques for weave and print, gained skills in machine embroidery, and drawing and design development, before joining Heriot-Watt University as a third-year student. Katie will graduate at the end of the year with a BA (Hons) Design for Textiles (Fashion, Interior, Art).
Katie said: "I'm completely overwhelmed to have won, not only a top scholarship, but the Stuart Hollander award from the Worshipful Company of Weavers - I can't believe it's actually happened! I always knew I wanted to be involved in art and design in some way, but it wasn't until I enrolled onto the BA Textiles at Glasgow Clyde College that I was able to really appreciate the skills and processes involved in textile making. I love designing textiles, and the satisfaction of hand-making a fabric thread by thread."
The HND / BA Textiles course, which enables students to be enrolled at both Glasgow Clyde College and Heriot-Watt University, is a design-led course that focuses on industry-led woven and printed textile processes. The course fully explores both woven and printed textiles before students specialise in their chosen pathway at the end of year one. The programme offers students the opportunity to learn a variety of skills, but also builds on conceptual thinking and builds confidence in the individual student to enable them to be fully prepared for higher education.
Katie continues: "The course has been a fantastic learning experience for me. The two years at college gave me the time to learn and develop a whole range of skills within woven textiles, while also learning other techniques such as print, embroidery and fabric manipulation which has resulted in me being more proactive and creative, especially within my specialism.
"The tutors were inspiring and approachable, to the extent I often go back to visit. They taught me life skills, even out-with the practical work, and introduced me to professionals within the industry. Through experiences like this, I won an internship at Bute Fabrics. This placement was invaluable, and helped build my confidence for continuing to study at Heriot-Watt. At Bute Fabrics, I also met industry professionals who I am still in contact with now, which has led to new experiences and opportunities. I couldn't thank, or recommend, Glasgow Clyde College enough."
Angela MacMillan, senior lecturer at Glasgow Clyde College, said: "The textiles team are absolutely thrilled for Katie. We could see early on that she was going to have a great career ahead of her and these scholarship awards are testament to that.
"Glasgow Clyde College has a long-standing partnership with Heriot-Watt and over time we have built a great relationship with its staff and students. When the Associate Programme was first discussed, it seemed like the natural progression for us to build on this relationship. The programme aims to widen the participation of students that are going into higher education, but are maybe not ready to leave home or friends and just need a bit more time to build their confidence. The programme offers a bridge between school and university."

Angela continues: "When students first enrol on the HND / BA Textiles they enrol at Glasgow Clyde College and Heriot-Watt University respectively. Throughout the course students from the College and University attend field trips to London together and visit each other's campuses. Lecturers often like to visit the College to meet the students and provide feedback on work-in progress projects. We want to ensure that students feel a sense of belonging to both institutions."