Students raise £13,000 for four Glasgow charities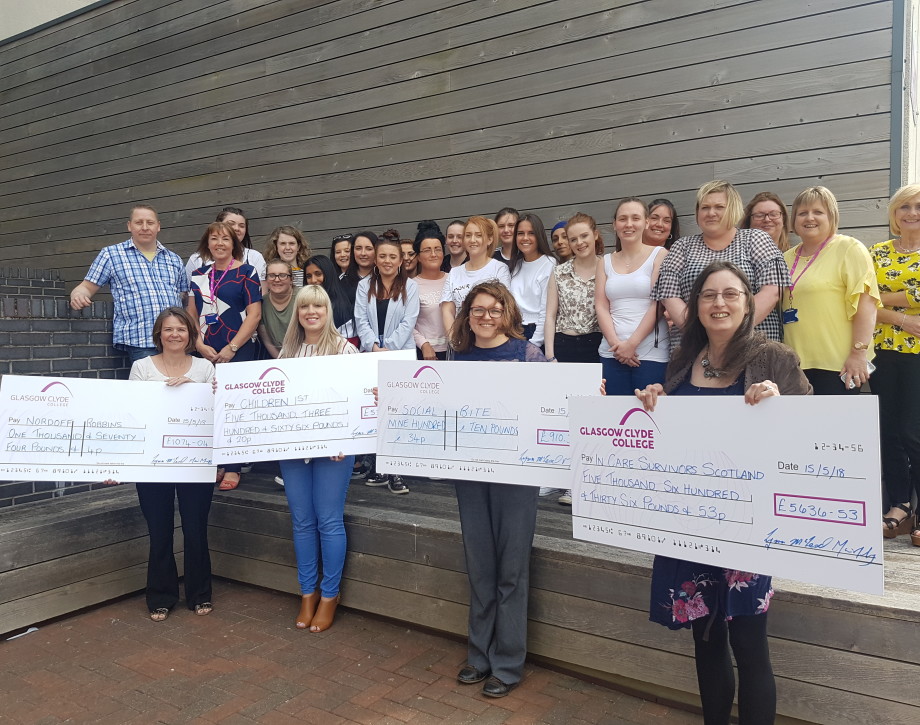 Social Care students at Glasgow Clyde College have raised over £13,000 in just eight months for four Glasgow charities as part of their NQ Social Care course.
The fundraising activity forms part of the Skills for College and Work unit on the college's Social Care course, which requires students to work together to plan and take part in a long-term project.
In order to develop good interpersonal communication and skills such as timekeeping, commitment and confidence, the students work in groups to give back to their local community by selecting charities to support from September to May. The selected charities Nordoff Robbins, Social Bite, Children 1st and In Care Survivors all received part of the £13,000 raised.
Lynn McLeod, lecturer in social care said "This year, we brought the Level 5 and Level 6 Social Care classes together to work on the charities project, to gain vital skills for the workplace such as mixing with other people, gaining confidence in speaking to new people, improving group work, and working as a team.
"Some of the fundraising tasks the students took part in included bag packing, Christmas and Easter stalls and most impressively, a zipslide across the Clyde. The students have raised more than the last three years combined, which is a really incredible feat."
The students hosted a presentation for the four charities where they discussed the project and skills learned, but also revealed the total amount raised and presented each charity with a cheque.
Lynn adds: "I believe this is a great opportunity for students to gain valuable skills, network with charities and gain valuable insight into an industry they may eventually work in, plus they can feel proud that they have done something to help others."
Applications are open for all Glasgow Clyde College's Social Care courses starting in August 2018. For more information, please visit glasgowclyde.ac.uk