The Pattern magazine is now a permanent stitch in time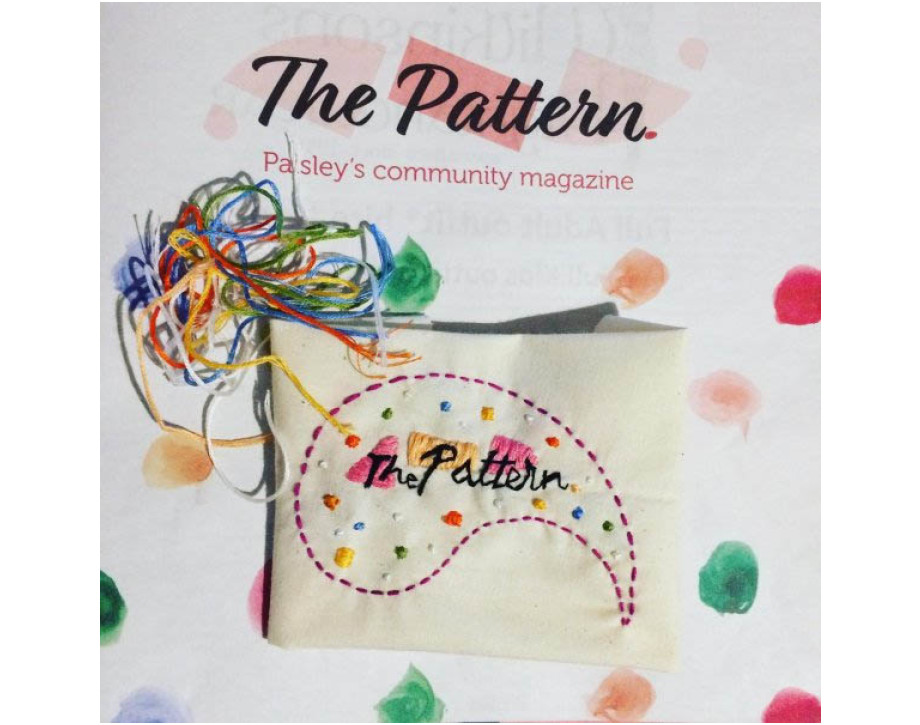 That's our Paisley teardrop – hand-stitched by one of our magazine designers, Hannah McLaren, which is now on its way to the Paisley Thread Mill Museum, ready to be added to The Tapestry of Renfrewshire.
Earlier in the year, a journalist for our news site, Clyde Outside, wrote a piece for the one-off special print magazine, The Pattern, about the impressive and inspiring efforts of those involved in building The Tapestry of Renfrewshire. Whilst interviewing at the regular Wednesday stitching group in the Paisley Thread Mill Museum – the hub of all the Tapestry work – our reporter left a small donation in exchange for a small Paisley teardrop stitching starter kit.
Have you read about the Renfrewshire Tapestry yet? History is being sewn at the Paisley Thread Mill Museum as over 1,000 volunteers string together Paisley's past, present and future in one giant masterpiece: https://goo.gl/8nLGjB
Each of these tiny teardrops are hand-sewn by volunteers from throughout Renfrewshire in order to capture the area's legacy from every perspective imaginable. Therefore, it was only natural in our designer's eyes to stitch the magazine logo of "Paisley's Community Magazine" as her donation to this woven timeline.
Thanks to Renfrewshire Tapestry, The Pattern magazine will now always have a permanent place in Renfrewshire's rich history.
And it's with a Paisley teardrop that we say our final goodbye. Thank you to all the team and thank you readers.
For more information on The Tapestry of Renfrewshire and how you can contribute, visit their website www.renfrewshiretapestry.org.uk/ . Or follow them on social: @RenfrewshireTapestry (Facebook), @RenTapestry (Twitter).