Summer issue of The Clyde Insider published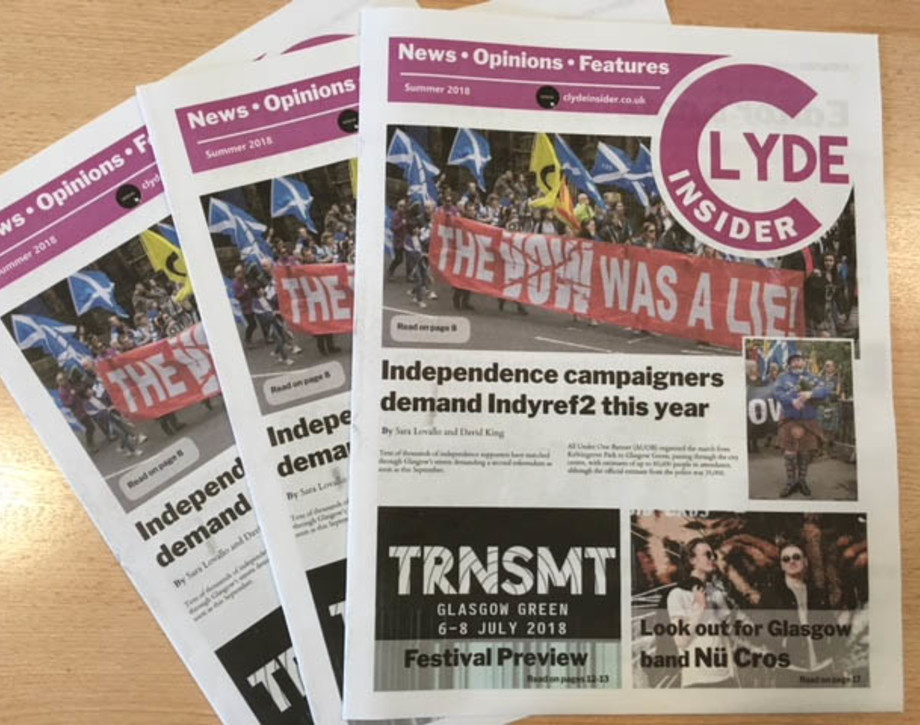 The summer issue of Glasgow Clyde's college newspaper, The Clyde Insider, has been published and is available across all three campuses.
This issue, produced, designed and written by our first year HNC Practical Journalism class, will also be available throughout the local community.
The student newspaper has everything from news and reviews to opinion pieces and creative writing.
Just last week the previous issue of the student newspaper was commended at the Scottish Student Journalism Awards while the Clyde Insider website was runner up in the Student Website of the Year category.
Editor Sara Lovallo said: "The paper has improved with us ahead of this second edition and we are excited to share that progress with our audience.
"We are going to pass this publication on to the next first-years after summer and we are proud of what we're leaving them to work with.
"Running the Clyde Insider was a fun learning experience and a great opportunity to showcase our work as student journalists and we are looking forward to doing the same with the Clyde Outside in the next academic year."
Editor Sara also won the prestigious Calum Macdonald Memorial Award at the SSJAs, recognising investigative journalism which makes a difference to society, along with classmate David King.
Journalism lecturer Karen Bale said: "I'm very proud of the progress our first year have made. They were determined to print a second edition of the Clyde Insider and have done themselves proud.
"There are a lot of talented students in the class and some excellent and emotional pieces of work in the summer edition.
"I look forward to seeing what they will produce in second year."