27 dresses unveiled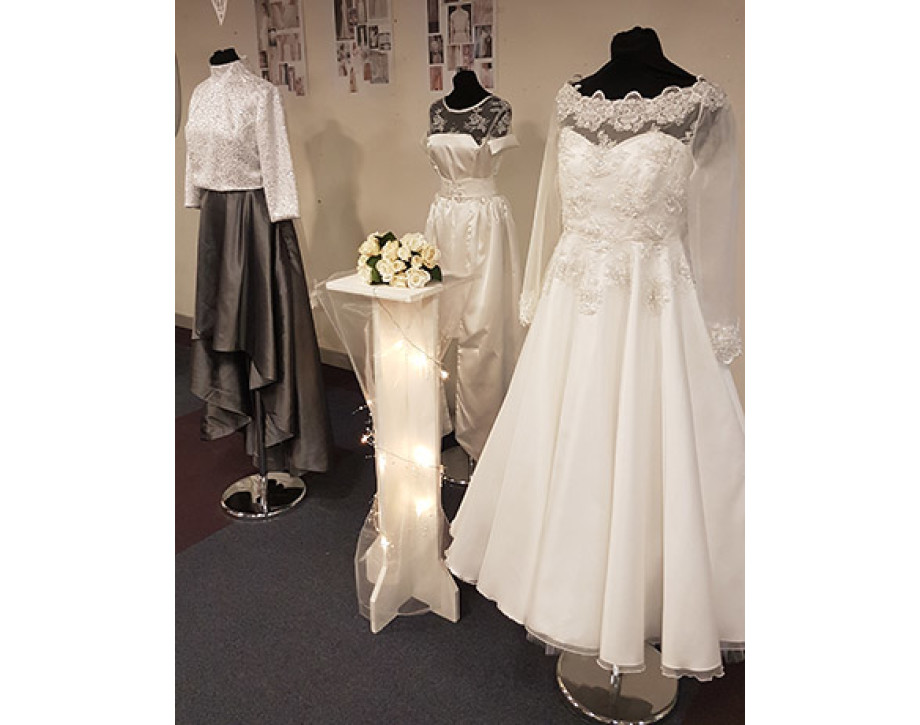 Tirelessly searching for wedding dress inspiration? Or need a dazzling new evening dress for a special occasion? Look no further than Glasgow Clyde College's HND Fashion Technology and Manufacture with Design students who exhibited 27 stunning bridal and evening dresses at their mid-term showcase on Thursday 16th March.
Unveiling their final design projects for the first time, the students displayed an array of bridal couture and evening attire. Some students wore their own creations to show off the precision and skills required in creating their designs.
Students were briefed to design a contemporary wedding or evening dress that would sell in today's market utilising the skills learned throughout the course. Working on the project for 24 weeks, students used a range of different materials, skills, and designs to produce their final piece culminating in 27 exquisite and unique creations.
Meriel Kerr, 31 from Renfrew and a Fashion Technology and Manufacture with Design student at Glasgow Clyde College, said: "The project has been amazing to work on and to see all 27 dresses on display together is pretty spectacular. We see each other's designs and bits and pieces coming together in class, but to see everything on display is overwhelming.
"We've all worked really hard on our designs and it's great for friends and family to see what we have been working on and what we are learning through our course. The College course has helped me expand my knowledge and skills and learn the intricacies of how to handle delicate fabrics and materials."
Through the College's partnership with David's Bridal, Meriel was hired to help out at a wedding show and subsequently secured a part-time seamstress job there after impressing the company when she stepped in to do a few emergency alterations. Meriel's role involves making alterations to wedding dresses which helps to advance her existing skills while finishing her studies.
Meriel continues: "When I first started my employment with David's Bridal I was originally on the shop floor until I had the opportunity to demonstrate my sewing skills. I'm currently working part-time doing small alterations and hand sewing, but will move to full-time over the summer and will move onto machine sewing, learning on the job is really helping to develop the skills I'm learning at College.
"Attending Glasgow Clyde College and working at David's Bridal has given me a huge confidence boost in my own ability to become a wedding dress designer."
HND Fashion Technology and Manufacture with Design covers industrial sewing, management skills, pattern grading and industry-led design projects. The course is taught in purpose built facilities by a team of dedicated professionals with a depth of industry experience.
Glasgow Clyde College is renowned for its successful partnership work with businesses and organisations across the industries it teaches in, providing students with on-the-job training and experience through its employer connections for future careers or continued education.
Theresa Lindsay, Senior Lecturer for the Fashion Technology course at Glasgow Clyde College, said: "The mid-term exhibition is a very exciting time for all the students as it gives them a chance to see their work professionally displayed and an opportunity to show their friends and family.
"After spending years running my own bridal business, it is incredible to see the quality of work being produced by the students. Their designs and the intricate detailing on some of the dresses is outstanding."