TEDxYouth: Countdown is on for college students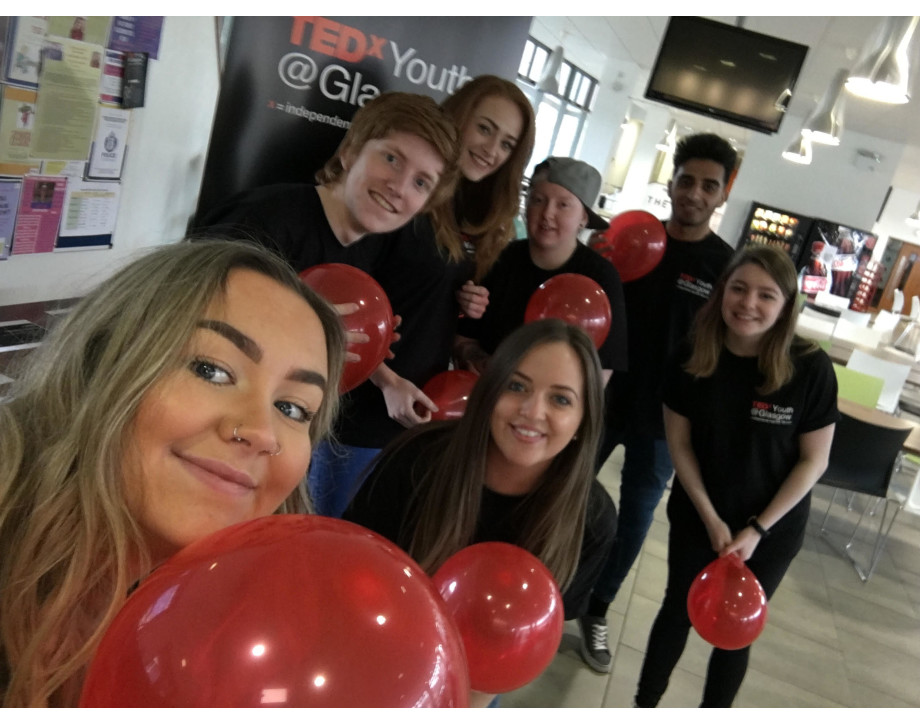 A group of five students from Glasgow Clyde College are gaining exceptional experience as they come to the final stages of planning the TEDxYouth conference, taking place at the SEC Armadillo on 31 May.
Since November, the HNC and HND Events students have juggled their college work and part time jobs with the huge task of arranging a conference for 2000 12 – 26 year olds, as part of the Year of Young People.
With support from their lecturer, Neil Macleod, the five students have arranged every aspect of the conference, from booking speakers and recruiting volunteers to arranging catering and marketing and sales.
Volunteer coordinator on the team, Rebekah Fisher,19, said: "I was very apprehensive about becoming involved with such a huge, high profile project. I have auto immune disease and I have struggled to get work in the past and felt like I might never be able to be a part of a workforce.
"Since working on the TEDxYouth project, my confidence has grown. I've pushed myself to take on additional tasks and working under pressure has made me realise how capable I am. Being part of a team where everyone supports each other has also been fantastic."
Rebekah's role requires her to recruit 100 volunteers and interview each candidate before assigning roles and responsibilities.
She adds: "I've interviewed them all, and I am now at the stage of splitting them into teams, appointing team leaders, creating task lists for each and ensuring that everything is covered from ticket collection to acting as the speakers' aids."
Neil MacLeod, events lecturer at Glasgow Clyde College, was originally approached to discuss the potential partnership between the College and TEDx and saw it as a fantastic opportunity for his students:
"My first thought was how enormous a task it would be. But I just don't think you can pass up an opportunity like this, not when it gives students the chance to gain so much valuable experience. The event industry is high pressure, it has tight deadlines and there is constant problem solving. These students are excellent at studying the theory, but the chance to co-design and deliver an event of this size is an incredible opportunity for them to put theory into practice."
"It has been a huge test of commitment, maturity and enthusiasm. The students all have college deadlines and part time jobs to juggle, but I think it has been an eye opener for them, and a chance to see what the industry is really like. The experience that they have gained will be fantastic on their CV and will give them so much to draw on at job interviews."
Glasgow Clyde College students will host the TEDxYouth event on 31st May at SEC Armadillo. Tickets are now on sale or 12-26-year olds. Under 18s can attend for FREE. For more information please visit: www.tedxglasgow.com/youth