Local lad lands top textiles scholarship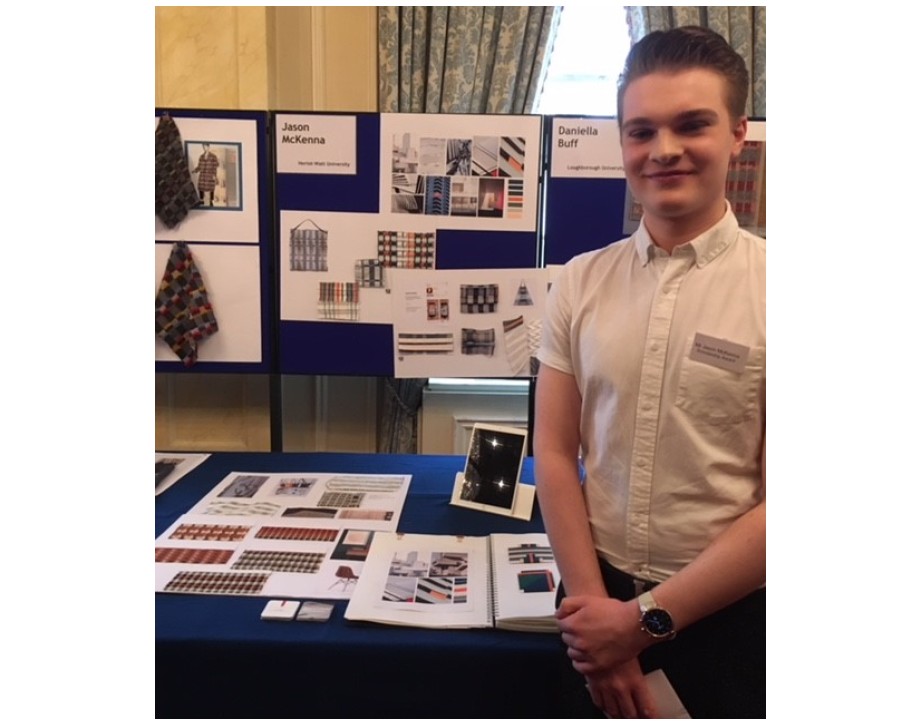 Jason McKenna from Pollok has been awarded one of the most sought-after scholarships in the textiles industry, acknowledging his skills in woven textiles.
The former Glasgow Clyde College student will receive funding from Worshipful Company of Weavers Scholarship Awards to help continue his studies in weaving.
Jason began his textiles journey after enrolling in the College's HND / BA Textiles course, which specialises in weave and print. The unique and highly creative course allows students to progress directly into third year at Heriot-Watt University, following completion of the two-year HND at Glasgow Clyde College. Jason experimented with both weave and print, learning a variety of techniques and processes, and adopted new skills such as machine embroidery, drawing and design development. Jason is now a fourth -year student at Heriot-Watt studying BA (Hons) Design for Textiles and will graduate later this year.
Jason, 21, said: "It's an amazing feeling to have received this incredible scholarship and know that I can continue my studies in textiles. I was interested in art and design at school but didn't really know how to progress after that. The BA Textiles course at Glasgow Clyde College was the perfect learning curve for me, it gave me a better understanding of the skills and techniques that are required to work in the textiles industry. It definitely helped build my confidence too and progress to university."
Angela MacMillan, senior lecturer at Glasgow Clyde College, said: "The College staff are delighted for Jason. He has achieved so much already and thoroughly deserves the scholarship. We'll be sure to keep an eye on his progress and work as he continues with his studies and moves into a career within the textile industry."
This is the second year a former student of the College has received the scholarship, highlighting the College's ability and strength in gearing students up for continuing their studies in Higher Education.
Angela continues: "Glasgow Clyde College is committed to providing the best in theoretical and practical learning, providing students with the skills and the ability to progress to further education or into the working world. We have developed excellent industry links which we utilise for this course and ensure that all students take part in live projects with industry partners, attend industry led talks and participate in all aspects of college life."
Recent live projects have included designing a range of printed and woven interior samples for Bute Fabrics and designing a collection of jacquard woven fashion scarf designs for Alex Begg.
The course allows students to experiment with a variety of materials and techniques for weave and print but they also gain skills in machine embroidery, fabric manipulation, drawing and design development. Application to the course enables students to dual enrol at both Glasgow Clyde College and Heriot-Watt University.