Fashion students are winners with Bute Fabrics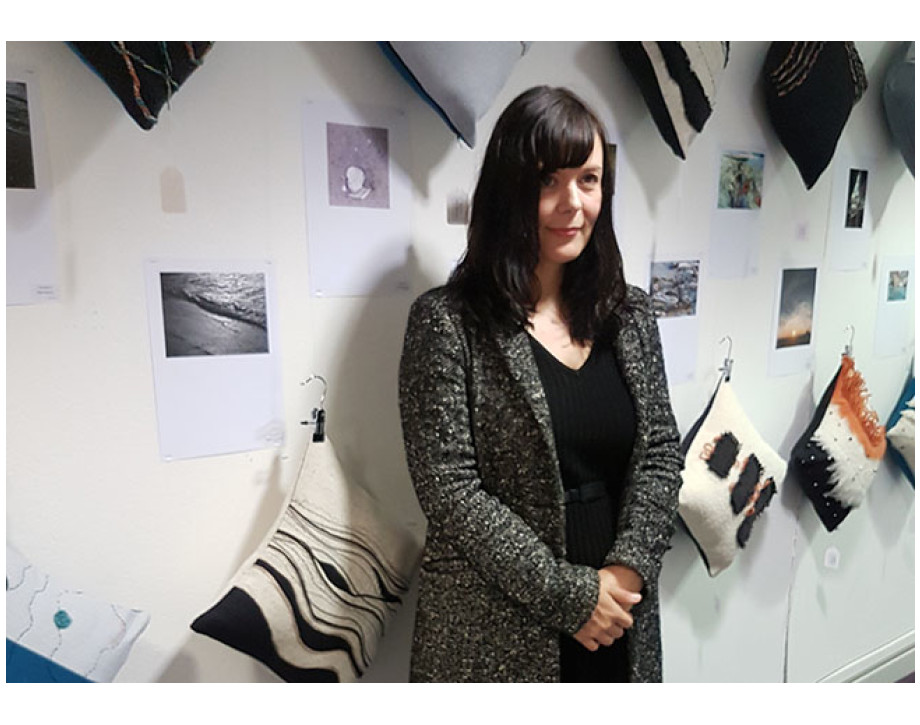 Glasgow Clyde College fashion students unveiled their final project designs at their mid-term exhibition recently with one student winning a work placement at Bute Fabrics.
Students studying NC Fashion Design and Manufacture have been working with Bute Fabrics on a project to design and produce cushions. Working over 12 weeks the students used a range of different materials, skills and designs, to produce their final pieces. Wendy Murray from Bute Fabrics judged the final products and was overwhelmed at the high standard and quality produced.
Megan Towndrow, from Glasgow, was awarded first place and will begin a work placement at Bute Fabrics to design cushions and develop her skills on-the-job as part of the College's long-standing partnership with the company.
Megan said: "I'm thrilled to have won the Bute Fabrics competition. The cushion project allowed me to use the skills I have already learned as part of my College course, but the additional work experience will give me the opportunity to work with the Bute team and learn first-hand what it's like to work in the textiles industry."
Wendy adds: "Megan's design was chosen due to its strong translation from her original concept image to the final product, her precise detail and its striking visual appeal. She really deserves the win and I'm looking forward to seeing her at Bute Fabrics and working with her to develop her skills in the industry."
Bute Fabrics is currently working on a large sale commercial project which requires the company to produce a large number of cushions for the venture. Wendy selected a further six students, including Megan, to join the Bute team to fulfil the project.
Wendy continues: "When I saw the standard of work that had been produced by the students at Glasgow Clyde College, I knew they were more than capable of joining us on this new and exciting project. It's a great way to get the students involved in a live project giving them experience with work-life timescales and deadlines, as well as an opportunity to work on a fantastic project with us."
The NC Fashion Design and Manufacture course offers an introduction to fashion design with the opportunity to work through the design process from research and design development to creating, basic garments, pattern cutting and surface decoration.
Morag Marshall, Senior Fashion and Textiles Lecturer at Glasgow Clyde College, said: "The mid-term exhibition is a very exciting time for all the students as it gives them a chance to see their work professionally displayed and an opportunity to show their friends and family. It's great to see so many of the students benefit from this year's showcase."