College employee first to achieve new qualification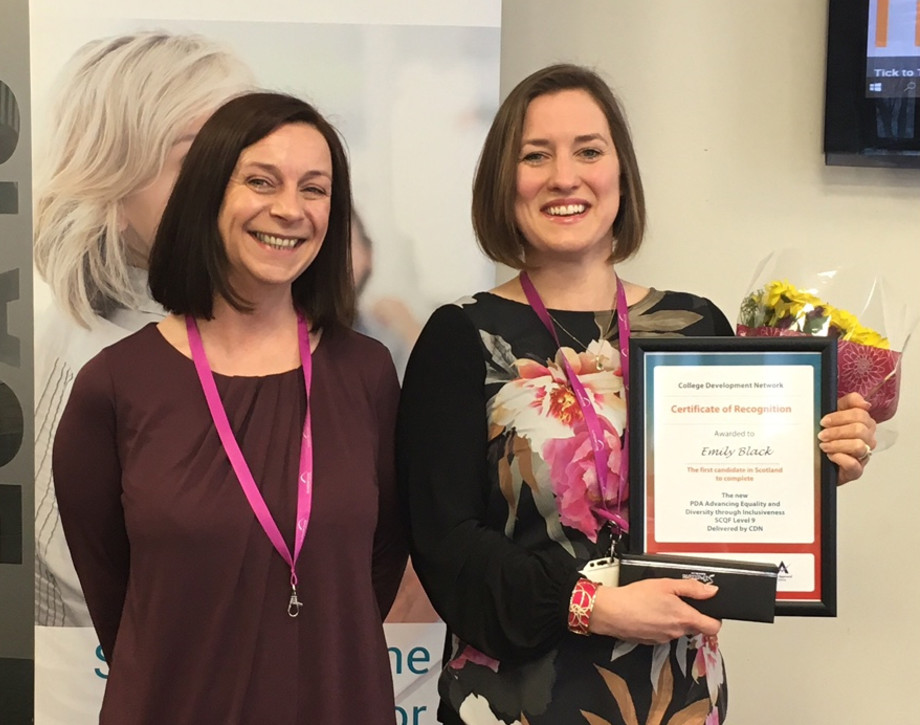 Glasgow Clyde College employee, Emily Black, has become the first person in Scotland to achieve a new Advancing Equality and Diversity qualification.
Emily, who works as a Learning Inclusion Advisor at the College, applied for the PDA in Advancing Equality and Diversity with the aim of completing a programme which would complement and inform her role. The online course, delivered by College Development Network, is designed to meet the CPD needs of education and training practitioners who are actively involved in the support of learners from all nine protected characteristics (Equality Act 2010).
The course is delivered through a combination of lecturer-mediated discussions, web resources, practical workshops, case studies, mentored activity and observed practice.
All learning inclusion advisors at the College will now study the online course, reflecting the College's policy to provide relevant training to its staff and continue the high standard of extended learning support offered by the College.
Emily says: "I'm thrilled to be the first person to complete the PDA. The content covered is directly relevant to the role and practice of a Learning Inclusion Advisor which is helping to inform and guide my work in providing support for students and staff."
Jim Metcalfe, CEO at College Development Network (CDN), said: "Glasgow Clyde College demonstrates excellent inclusive practice and I am delighted to congratulate Emily on being the first candidate in Scotland to complete the new PDA Advancing Equality and Diversity award. This two-year course, which Emily completed with CDN, introduces the concept of inclusive teaching and support strategies for learners and staff. Emily was an outstanding candidate and I wish her every success in her career."
Glasgow Clyde College's learning and inclusion department works to provide support to students requiring extra assistance. This can take the form of in-class support, one to one training in assistive technology, guidance on adapting course material, dyslexia screening and general information, advice and signposting.
Emily continues: "Completing this course has helped me feel more able and confident to communicate the overarching aims and ethos of the learning inclusion team at Glasgow Clyde College. This provides the teaching staff with a better understanding of what to expect from the department, and results in a more collaborative approach as all staff can work closer together to promote an inclusive learning environment for our students."
Image shows staff member Julie Grant (L) and Emily Black (R)