Meet Paul Gallacher: Creative and Digital Media Modern Apprentice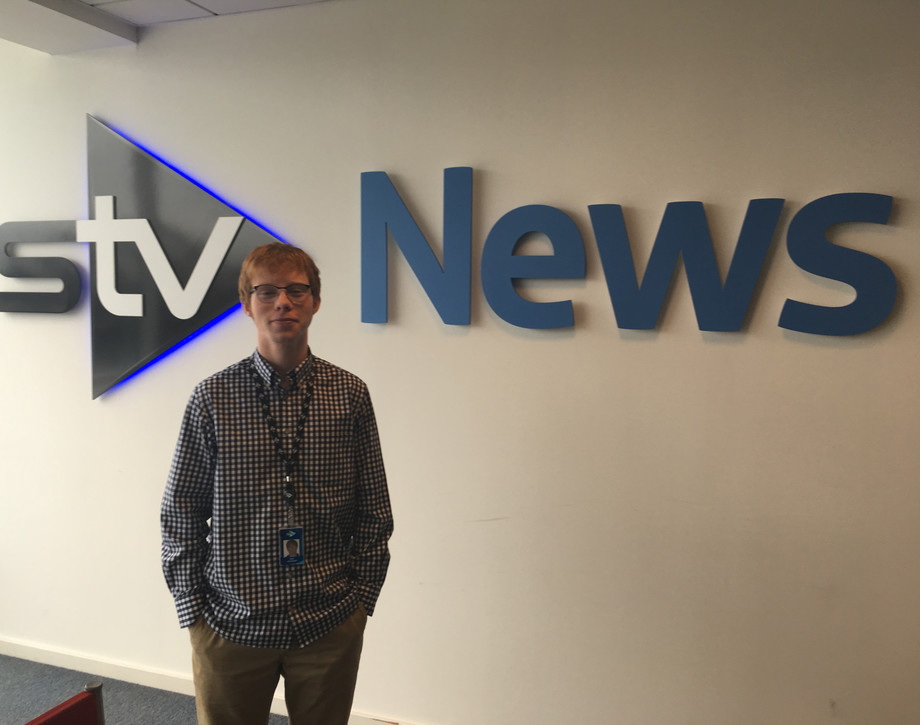 Paul Gallacher, 18, is a Modern Apprentice (MA) in Creative & Digital Media at STV within the News Department, and attends Glasgow Clyde College.
At school, Paul felt frustrated and unsatisfied with the way his life was and what he was doing at school. He began looking at Modern Apprentices; being able to earn money, and work in the real world, whilst gaining a qualification appealed to him.
"I was not ready to go to University, nor did I particularly want to go at this point in my life. What I was desperate for was a chance in the real world, a chance to have a real job, to earn money, to be treated like an adult."
"I did not want to just get a job anywhere, doing anything, because that can be a fruitless pursuit. And that is one great thing with being a Modern Apprentice, you are half a student and half an employee. It is a great balance for a young person. STV is a great company to work for in this respect."
Paul saw the apprenticeship with STV advertised, applied for it and got the job, starting in September 2017. As part of his apprenticeship, Paul attends Glasgow Clyde College, studying Creative & Digital Media where he is given the opportunity to learn skills in radio, video and written journalism and media law.
"Media had always been a career path that I felt suited to. I love movies, I love comedy and I love good TV programmes. I love things that can impact on your whole way of thinking and behaving and do the same for others. That's what I felt I could get with this chance at STV as a News apprentice. I felt I could have a foot in the door to see how a large organisation with a massive influence operates and works. News is a societal need.
"Everything I learn at College helps with what I'm doing on a daily basis at work"
Paul's MA will see him spending time in each department. He initially started with Newsgathering; seeing how a news story begins, formulates and then goes out on air. He then moved to being a camera operator's assistant, always out on the road and at different jobs, learning a lot about lighting, sound, microphones but more importantly for him – he was able to be on the scene all the time, at live broadcasts and press conferences and out and about gathering news footage with the camera operators. He also got a chance to spend time with the Satellite Engineer, who ensures that all the connections are working so that live broadcasts can happen.
He then moved on to Digital, learning about STV's style guide and was given the chance to publish many articles.
"It was great and it is very cool to be able to see your by-line on an article on STV's website. Isn't that cool? All your mates are in school and you're receiving an opportunity like this."
Paul will move on to working with the likes of the Sports desk in the future, with the opportunity to spend time in Holyrood.
"The main idea for me is to receive an overall experience of how STV's Newsroom ticks. I don't know what I want to study in the future – I am not isolating myself specifically to Media or Journalism – I feel I will study Economics and then do a post-grad in Journalism or something. I am unsure but also not stressed about it, it's important to be rational and not dive into things purely for the sake of it. Young people are always being rushed to do this and do that and we sometimes never get a chance to actually think.
"I 100% recommend that young people like myself look into Modern Apprenticeships because the balance of being half student, half employee is invaluable for a young person. The chance to earn money, become self-reliant and be in real-life situations is amazing."
"I guess what I'm trying to share is that there are so many chances and experiences out there that you don't have a clue about. Who knew STV offered this apprenticeship? I didn't until I sought it out myself."
"There are so many great opportunities for young people, it's important that we take them and that schools and colleges make a massive effort to make pupils aware of them."