Journalism students produce 'Clyde Outside' magazine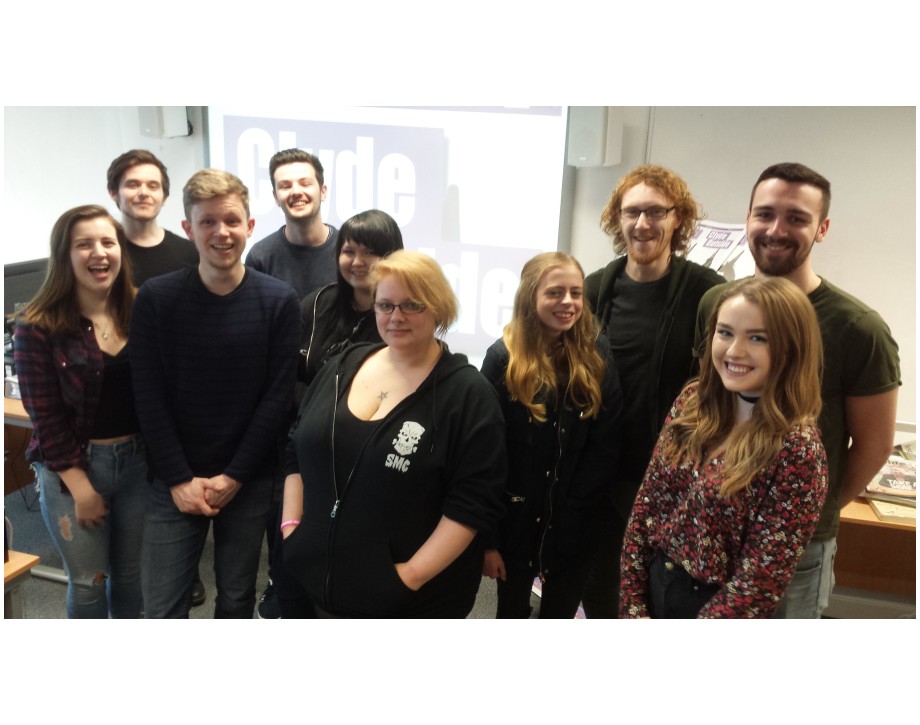 HND Journalism students have produced the magazine 'Clyde Outside' as part of an an award-wining project with market leaders Media Scotland, owners of the Daily Record and Sunday Mail, and supported by leading railway contractor QTS.
Media Scotland will print 12,500 copies of 'Clyde Outside', and distribute 8,500 copies within their hugely successful regional paper, The Paisley Daily Express on Thursday March 30th.
A further 4,000 copies of the magazine will be distributed in the communities of Anniesland, Cardonald, Langside and Paisley.
The magazine is produced by the second year HND journalism students as part of their graded unit, and this is the second year the project will run. Last year's publication went on to win a commendation at the national NCTJ awards for Best Student Project.
As it was last year, the students' stories will also be published online on Media Scotland's digital platform; and readers will have the opportunity to vote for the best editorial story about the involvement of QTS in the sports industry.
HND Media students have also been working on securing advertising and the judging panel will decide on the winning ad campaign.
A presentation ceremony, for the students with the winning editorial and advertising pieces, will be held in Media Scotland's Central Quay boardroom in May – where prizes will include engraved trophies and work experience opportunities.
Helena Morrow, sales director for Media Scotland's regional titles, said: "As one of the UK's leading publishers in print and online, Media Scotland continues to take very seriously its role of working together with our local communities. This fantastic project which embraces both our thriving title the Paisley Daily Express and a prestigious seat of learning, Glasgow Clyde College, is the perfect example of how joining forces can produce a first-class outcome
Glasgow Clyde College journalism lecturer, Karen Bale, said: "Our project was such a success last year we were delighted to have the opportunity to do it all again, with such fantastic partners who give our students an incredible platform for their work.
"This year the students have been determined to create an even bigger and even better magazine and have worked tirelessly to make this happen.
"They have worked round the clock on the magazine and have been one of the most impressive groups we have worked with. This year the students have also worked hard on their digital presence, creating a strong online and social media profile for the magazine.
"We hope our readers love the magazine as much as the students enjoyed creating it. None of this would be possible without the support of QTS and Media Scotland, we can't thank them enough."