Glasgow Clyde College student wins prestigious industry award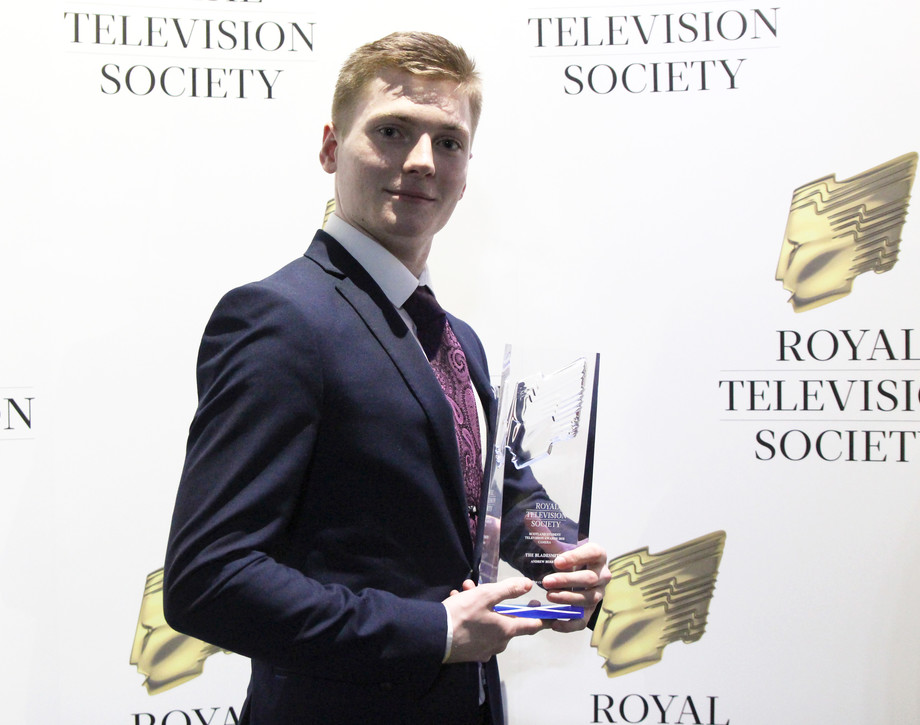 Glasgow Clyde College graduate Andrew Berry was honoured at the RTS Scotland Student Television Awards for his short film, The Bladesmith.

Winning the Craft Award for Camera Work, Andrew travelled to Stuttgart, Germany to meet and film Scottish bladesmith, Ruaraidh Pooler. Andrew's film was shot in Pooler's Bavarian forge, and captures the ancient art and technique of bladesmithing, as well as describing Pooler's journey to becoming a bladesmith.

Senior lecturer at Glasgow Clyde College, Jim McIvor, said:
"Andrew demonstrated real talent from the first day he arrived at Glasgow Clyde College to start his NQ in Television. He was shy and lacking in confidence, however throughout his three years studying at NQ, HNC and HND levels, he honed his skills and produced some high-quality work."

The College encouraged Andrew to submit his piece for the RTS Awards, along with 18 other Glasgow Clyde College students, who were all finalists on the night.

Jim continued: "To have so many of our students as finalists is incredible, we were up against several universities and the Conservatoire, so it is a real testament to our student's hard work and their ability, as well as the quality of our teaching."

Andrew said: "The College was really supportive of my project, and I felt as though they were personally invested in me and wanted me to develop as a film maker, not just submit a piece of work in order to pass."

"Winning the RTS award has already opened a lot of doors for me career wise and receiving recognition for my first international piece has spurred me on to continue forging a successful career in the industry."

If you're interested in studying one of Glasgow Clyde College's TV, media or journalism courses, please click here.

Andrew's short film, The Bladesmith is available to view on Vimeo.

On 31 January 2018, the Royal Television Society presented nine awards at the ceremony in Glasgow, which was hosted by Karen Dunbar and recognised emerging talent from across Scotland.