Glasgow Clyde College student wins national journalism award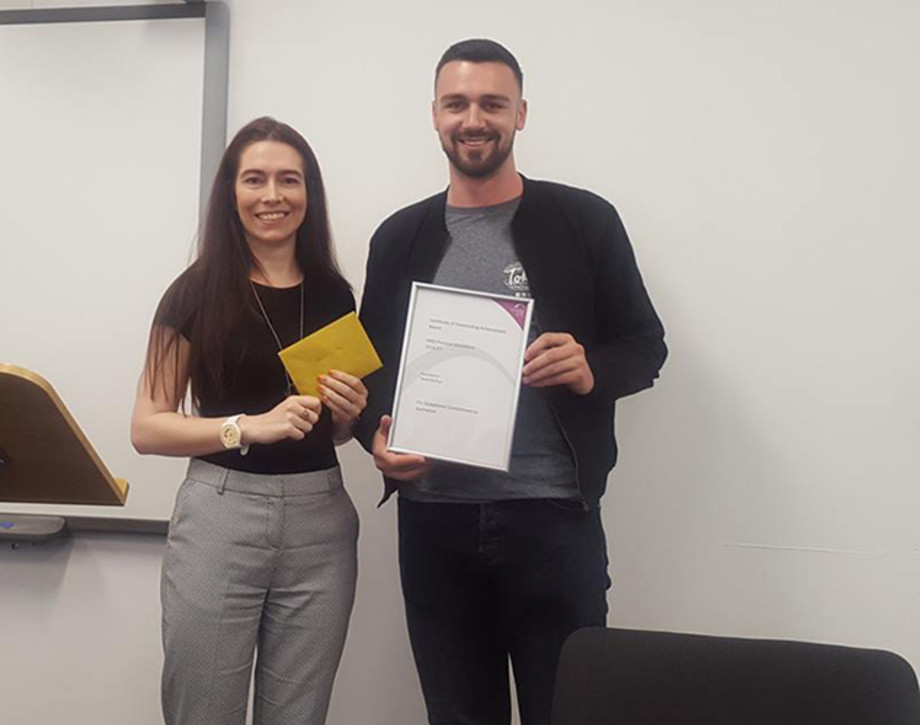 A Glasgow Clyde College graduate has won a national journalism award after achieving the highest grade in the whole country for a magazine exam.
David McPhee, who left the college with an A grade as part of HND Practical Journalism last summer, won the Mark Allen Group NCTJ Business of Magazine award along with a cheque for £250 for being the top performing student in the UK.
The Business of Magazines (BoM) unit is part of the National Council for Training Journalists (NCTJ) diploma which HND Practical Journalism students study in their second year.
David, who now works as a reporter for The Oban Times, was one of 11 students nationwide presented with awards at the annual NCTJ Student Council meeting last week, hosted by BBC Academy Birmingham.
The top-performing students in each NCTJ exam for the 2016-7 academic year were announced at the ceremony, hosted by national television journalist Nick Owen.
Addressing students, Nick said: "The NCTJ demands such a high standard from students and trainees because that's what will be expected of you in this exciting and competitive industry.
"Passing the diploma exams is a great achievement, but to get the highest marks in the UK is exceptional".
David, who received his NCTJ gold standard diploma last year – only achieved with A-C passes in every subject and 100wpm in shorthand, said: "Winning this award is a genuine career highlight. I wasn't the most academically minded at school, so this is testament to how far I've come.
"I entered college with very few qualifications and I'm very grateful to have been given the life-changing opportunity.
"I thoroughly enjoyed the Business of Magazines class and would highly recommend it to anyone considering entering the industry.

"I have to give a lot of credit to my BoM lecturer, Karen Bale, who went above and beyond to make sure our class had the best chance at success.

"I'd also like to thank the NCTJ for all that it does, and the Mark Allen Group for sponsoring this award. The £250 won't go to waste.'
Lecturer Karen Bale said: "We are all incredibly proud of David for what he has achieved. He was a brilliant student who did exceptionally well at college. He absolutely deserves this award as his work was consistently top class.
"It's one thing passing with A grade, which David did for BoM, but to discover his paper was the best in the UK is just incredible.
"David will achieve great things, it's only a matter of time."
The NCTJ provides journalism training across the UK – and their accredited courses, including Glasgow Clyde College, set the benchmark of excellence for journalism. Almost 75% of all trained journalists in the UK are NCTJ trained.
Picture shows David winning a college merit award, presentd by Scottish Sun features editor Lynn Kernan.