New partnership agreement with University of Strathclyde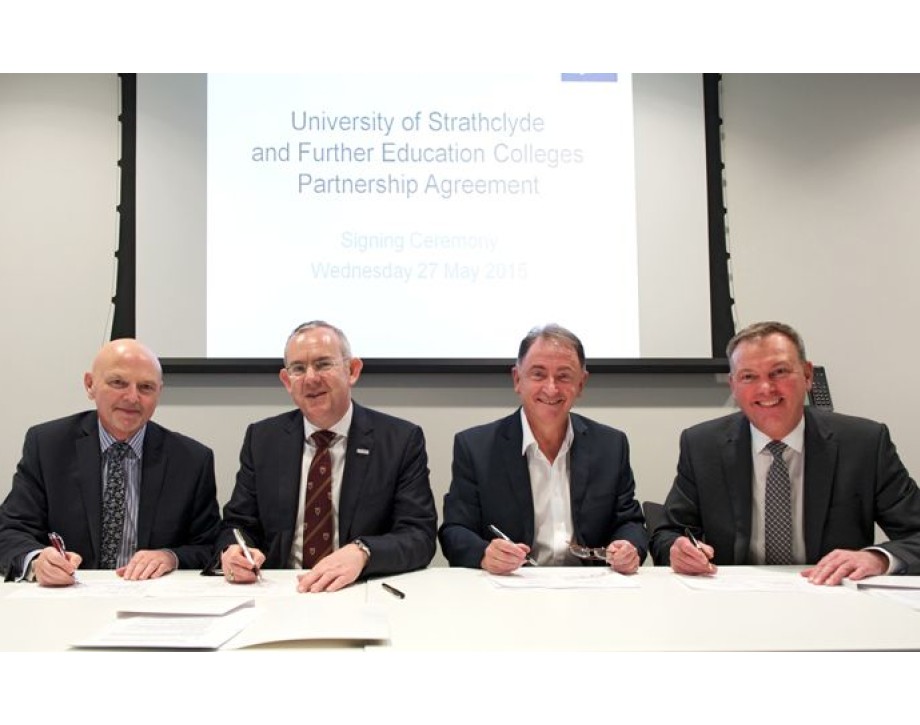 Widening access to education for students from all backgrounds is at the heart of a new agreement between the University of Strathclyde and Glasgow's three further education (FE) colleges.
An agreement between the University of Strathclyde, City of Glasgow, Glasgow Kelvin and Glasgow Clyde Colleges will provide a framework for students to move seamlessly from FE colleges to continue their studies at the university.
Students who study on one of the partnership programmes will have a guaranteed place at Strathclyde, assuming they achieve certain standards, and will be associate students of the university during their college studies.
This will be first time in the UK that a research initiative university has entered into such an extensive partnership with FE colleges.
Strathclyde's Principal, Professor Sir Jim McDonald, said: "We are delighted to be further strenghtening our links with Glasgow's colleges and, through our partnership agreement, we will be opening our doors to people who may not otherwise consider studying at university. The University of Strathclyde prides itself on being the place of useful learning and our close collaborations with industry, and the launch of these new academies will deliver a range of learning opportunities through classroom study and workplace experience".
The university and three FE colleges have agreed to establish dedicated academies in the subject areas of social sciences, business and enterprise, and digital. The academies will not only take advantage of the excellent relationship between the university and colleges, but will also harness their extensive industrial links to enhance the practical focus of the joint programmes.
The announcement follows the success of the university's existing Engineering Academy, which welcomed its first intake of 60 students in August 2013. More than 73% of that initial group successfully completed the college portion of the programme and are now full-time students on Strathclyde's range of engineering courses. The Engineering Academy as continued to grow, recruiting 83 students in 2014, and will welcome up to 105 students onto the programme for the 2015/2016 academic year.
Like the existing engineering initiative, the new academies will provide students with the opportunity to take up practical placements with a range of industrial partners.
Paul Little, Principal and CEO at City of Glasgow College, said "The City of Glasgow College is delighted to expand its existing partnership with the University of Strathclyde. In setting up this exciting initiative we are not only widening access and providing unlimited opportunities for our students, but further developing a unique learning quarter in the heart of the City Centre".
Principal Alan Sherry, of Glasgow Kelvin College, said: "For Glasgow Kelvin College, this is a landmark moment for the ambitions of our students keen to progress with their learning and advance to degree-level. The links built through our partnership with the University of Strathclyde create greater opportunities for people from some of Scotland's most deprived communities to access a high quality university learning experience and it will ensure a smooth transition from college.
"We look forward to playing a key role in the new academies and exciting engineering initiative, and to seeing the many benefits this will bring. The partnership will support learners into high skilled jobs and contribute to the economic success of both the city and Scotland."
Depute Principal Eleanor Harris, of Glasgow Clyde College, said: "Glasgow Clyde College is proud to be part of a new partnership with The University of Strathclyde. Our strong links with universities and other colleges across Glasgow mean students benefit from a huge raft of knowledge sharing and team working - furthering our ability to provide students with all the tools necessary to achieve their goals.
"Glasgow Clyde students have an excellent track record for making successful transitions to degree programmes and will relish the new opportunities that will open up to them by the expanding academies."
Pictured (l-r) are Alan Sherry, Principal of Glasgow Kelvin College; Paul Little, Principal of City of Glasgow College; Sir Jim McDonald, Principal of the University of Strathclyde; Brian Hughes, Vice Principal Strategy and Performance at Glasgow Clyde College.