Apprentice of the Year 2015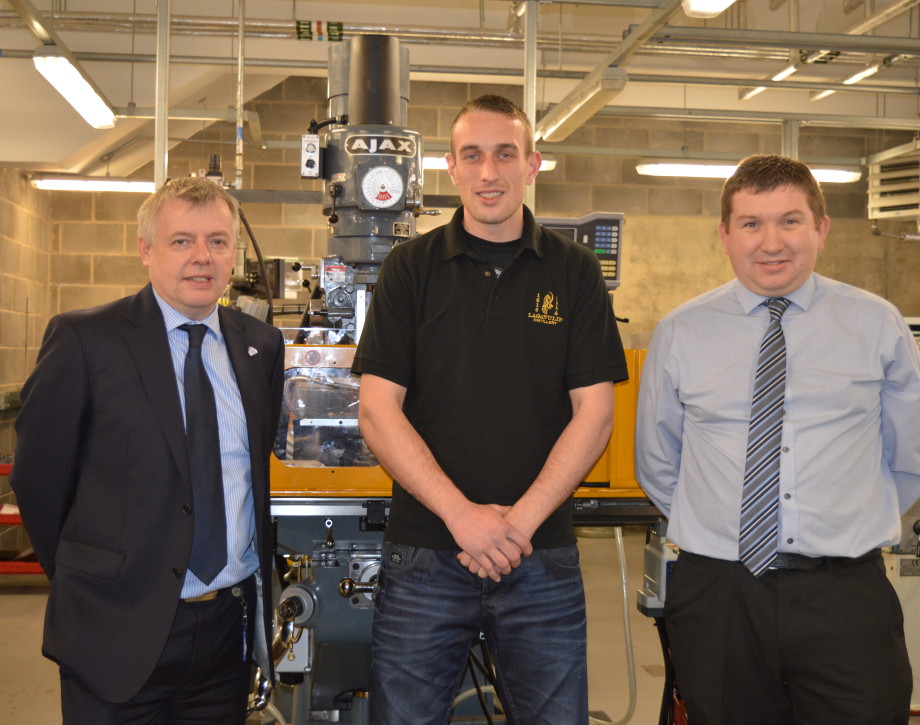 We're delighted to announce the winner of our 2015 Apprentice of the Year.
Former Islay High School pupil Shane Mackinnon was given the honour for third-year engineers in recognition of the dedication he has shown towards his apprenticeship with Diageo at Lagavulin and Caol Ila distilleries and Port Ellen maltings. His grandfather and great-grandfather also worked at Lagavulin.
The 25-year-old, who studies HNC Mechanical Engineering at Glasgow Clyde College, embarks on a 10-hour, 270-mile round-trip each week in order to combine his work and study commitments. He has continually gone above and beyond the call of duty and even attended a careers open day at the local high school to encourage pupils to consider pursuing careers in the engineering industry through apprenticeships.
He said: "I feel proud and privileged to work for Diageo and thrive on the opportunity I've been given within the organisation. I hope to progress within my role, taking part in any necessary training for the benefit of both myself and the business.
"I have a portfolio to maintain, whereby I take pictures and write a report about jobs carried out for Diageo. I know that I can work on my portfolio during work time, but I choose to do it in my own time so I'm not missing out on any experience within the workplace. Any spare time I have – at lunchtime, at home in the evenings, or when travelling on the ferry to college – I study for exams, look over my college notes, or read one of my engineering books."
Eric Davie, Engineering Lecturer at Glasgow Clyde College, said: "Glasgow Clyde College and Diageo are delighted with Shane. He is a super fabricator and welder, having trained in those skills during previous employment, and puts that expertise into practice in the workplace, saving the need for Diageo to sub-contract that kind of work at considerable expense."
Glasgow Clyde College's commitment to engineering and its successful partnerships with the likes of Rolls-Royce, BAE Systems and the NHS recently earned the institution a place as the only UK college and sole Scottish finalist in the UK-wide industry awards. The college has been shortlisted in the Training Partner of the Year category at the Semta Skills Awards 2016. Semta – the Science, Engineering, Manufacturing and Technologies Alliance – is a not-for-profit, employer-led organisation that aims to enable the UK engineering industry to compete on the global stage.
Angus Docherty, Maintenance Manager at Diageo, says: "I have been in engineering for 35 years and have come across many engineers and apprentices in my time. A mentor in my kind of role can always tell when engineering is in someone's blood – it's in the way that they won't give up in fault-finding until they find a solution. When somebody has the thought process of ensuring that the fault can't happen again, they understand engineering. Shane fits into that category.
"A lot of young engineers just want to take things apart and put them back together again, but Shane understands that preventative maintenance is more important than the cure. Shane is an important part of Diageo's Islay engineering group. His role is vital to the company's ability to maintain production and achieve certain levels of output. All three sites run 24 hours per day, 365 days a year, and the expertise and flexibility of the engineers is crucial to ensuring that production targets are met."
Pictured above are (l-r) David Innes, Director of Faculty of Engineering and the Built Environment at Glasgow Clyde College; Shane Mackinnon; and Alistair Rodgers, Head of Curriculum for Engineering at Glasgow Clyde College.