Enhancing the dance student experience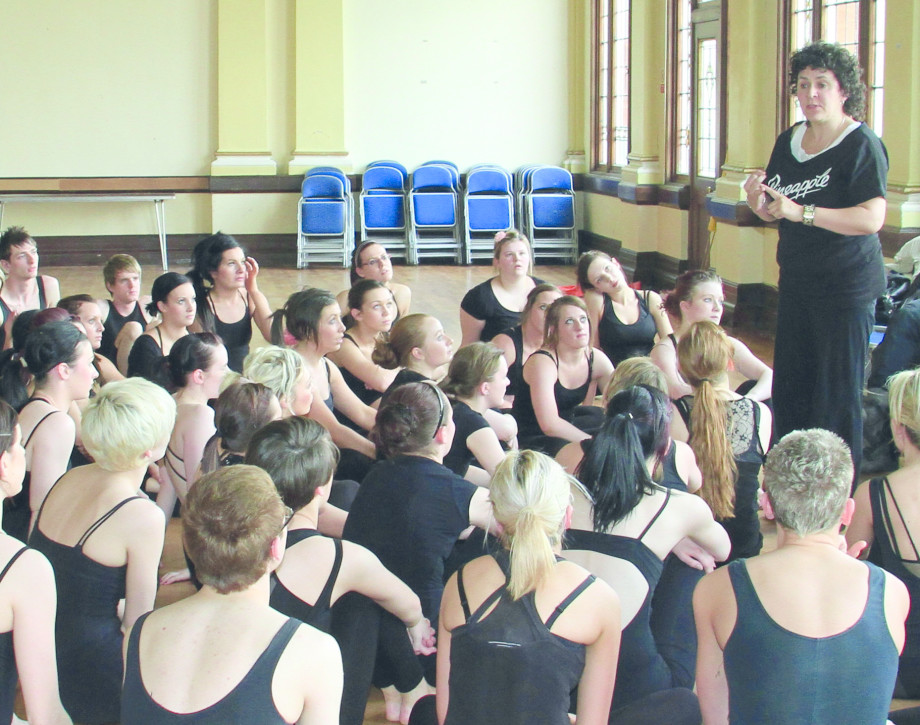 Senior Lecturer Maxine Railton, a dance specialist who has helped hundreds of Glasgow students make the breakthrough into professional performance, has won the opportunity for her work to be displayed as part of a special showcase.
Maxine (pictured above with a class of Glasgow Clyde students) teaches at the College's Dance Studio Scotland. She is one of a select few Scottish choreographers who, in an audition, sufficiently impressed a panel of industry specialists to gain the opportunity to become part of the inaugural Anserinae Choreographic Mentorship Scheme, which has been developed by Scottish Ballet. The panel included Artistic Director of Scottish Ballet Christopher Hampson and acclaimed dance artist Kerry Nicholls.
As a result of her successful audition, Maxine will create a new dance work based on Scottish Ballet's new production of Swan Lake in collaboration with Nicholls, who is widely regarded as one of Britain's leading mentors. The resulting choreography will be performed at Edinburgh's Festival Theatre in May.
Maxine said: "I've been choreographing for years but feel that it's time to rejuvenate my creative practice. To gain new perspectives from a mentor at this stage in my career is really exciting.
"Whatever I learn, by its very nature, spills over into my work at the college and this enhances the learning experience for my students."
By working alongside Nicholls – who acts as mentor for the Royal Opera House, English National Ballet, and Dance UK – Maxine will bring added expertise to the students and staff at Glasgow Clyde College's award-winning Dance Studio Scotland, which is based in a purpose-built facility at our Anniesland Campus.
Equipped with three large studios and a multi-gym, it offers a thorough and disciplined four-year professional training that prepares students for a variety of careers in the dance industry. Alongside recognised SQA qualifications at NC, HNC, and HND levels, students can take ISTD examinations in classical ballet, tap, modern and jazz as part of a course of full-time study. The teaching faculty has had extensive performing, teaching and choreographic experience and the department enjoys a very high level of graduate success.
For her successful audition, Maxine was tasked with creating a choreographic sketch relating to Swan Lake. She said: "It was quite challenging. I'm used to working in an abstract language, but creating new material on two dancers I didn't know and whose capabilities I didn't know was daunting. Fortunately, the two dancers were quick to pick up my instructions and were very open-minded.
"The whole purpose of the project is to provide a platform for a variety of new choreographic work made in Scotland, which we barely see, and to support that process by providing a mentor."