SFRS partnership offers real-life experience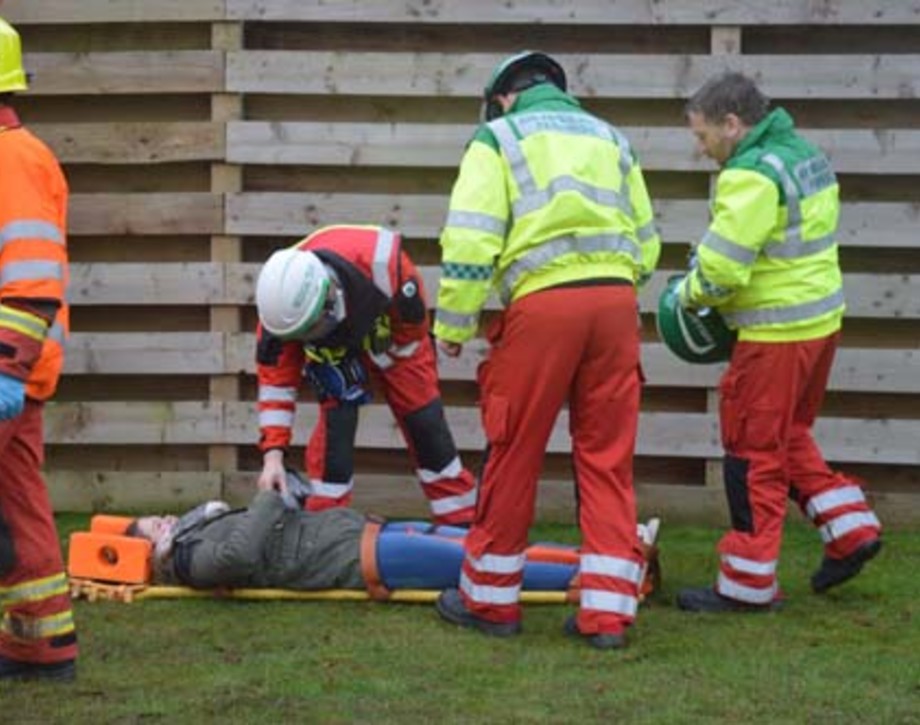 A unique partnership with the Scottish Fire and Rescue Service (SFRS) has given healthcare students real life experience during an innovative training exercise designed to equip emergency services staff with the experience needed to do their job.
The students (pictured above taking part in the training exercise), who study NQ Healthcare Level 5, posed as casualties during a simulated train crash at the SRFS College in Cambuslang. They volunteered to take part in the Heavy Rescue Training exercise as part of a unique partnership between Glasgow Clyde College and SFRS that is designed to give students a personal insight into what being rescued feels like. The inclusion of 'live casualties' also ensures that the training scenarios are realistic and that the communication, trauma and rescue skills of emergency services staff are thoroughly tested.
Barrhead's Andrew Kilcullen, a former pupil of St Luke's High School, said: "Once I finish studying, I want to become a paramedic so I thought this would be a great opportunity for me to learn about what patients often go through before I treat them. I was briefed on what injuries I was to pretend I had sustained during a train derailment but the emergency services staff didn't know and had to figure this out for themselves. Staying in character for such a long period of time and pretending to be trapped was difficult but I managed as I knew how important it was."
Debbie Crookshanks, formerly of Govan High School, added: "I had to lie underneath a table on the train and pretend to have a brain injury. It was a great experience and I was really pleased to have the opportunity to help with the training of emergency services staff."
Glasgow Clyde College is Glasgow's leader in partnership working with industry and has strong links with some of Scotland's most successful employers including NHS Greater Glasgow, ScottishPower, and BAE Systems.
Veronica McIlroy, Head of Health and Life Sciences at Glasgow Clyde College, said: "We are delighted that our students have been given the opportunity to work with the emergency services as this allows them to link theory with simulated practice and work alongside highly-trained skilled professionals. This experience has proven to be rewarding, worthwhile and thoroughly enjoyable and it has enabled the students to make better decisions on future career choices."
Pat Gourlay, Senior Health and Life Sciences Lecturer at Glasgow Clyde College, said: "Through this exercise, the students gain an insight into the role of the emergency services and witness a multi-disciplinary team in action under distressing circumstances. They also gain an insight into the patient journey – from emergency care to rescue from the crash incident – and experience empathy with casualties."
Garry Mackay, Station Manager at the National Training Centre, Scottish Fire and Rescue Service College, said: "We are glad that we were able to host this training exercise and continue to assist Glasgow Clyde College in the provision of realistic training scenarios for students. Successful and effective partnerships are key to the delivery of our service and improving outcomes for our local communities and this is a great example of that. We have a unique and highly-developed range of training facilities at the site and fully understand the benefit realistic training can have when developing emergency responders."