Students provide Help For Heroes with Zumba!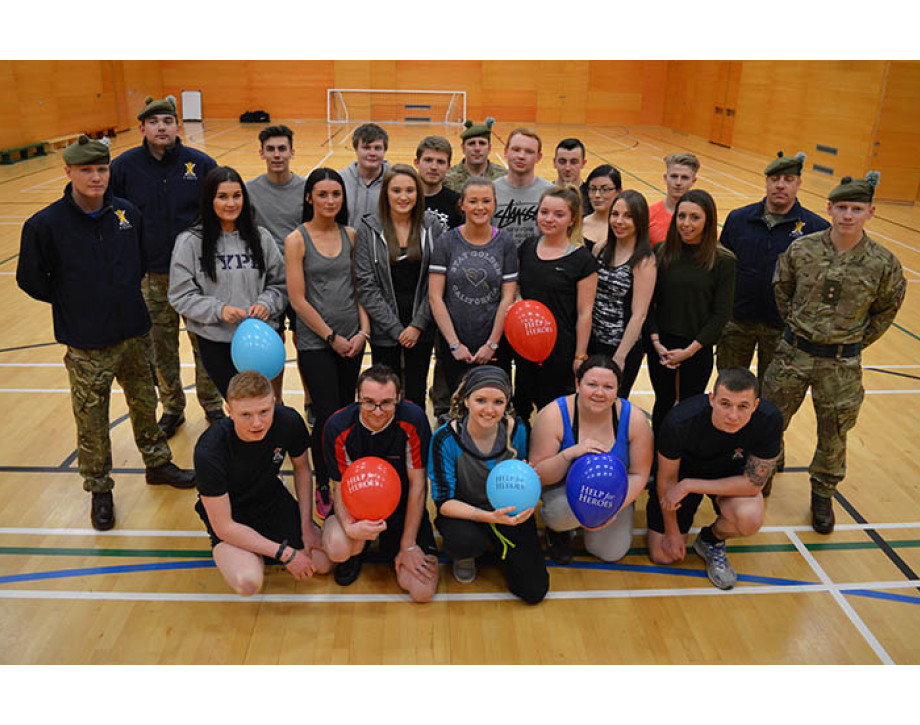 A group of caring students from Glasgow Clyde College have raised nearly £2000 to help wounded soldiers.
The students, who are all enrolled on the college's HND Events Management course, raised the money by organising and promoting a number of events including a race night, craft fair and a Zumbathon at the college's Anniesland Campus. Several soldiers attended the latter event – with some even offering to take part in the dance-based fitness class!
Trisha Campbell, a former pupil of St Patrick's High School in Lanarkshire, suggested that the students raise money for the charity as it is extremely close to her heart. The 26-year-old student explained: "Help for Heroes is really important to me as my Dad was in the Territorial Army and so I grew up around soldiers. Lots of his friends went into the army and we lost some people so I think it's important to do whatever we can to help those that are injured.
"One of my classmates, Lauren, is a qualified Zumba instructor so we decided that it'd be really fun to use her skills for one of our events. It feels great to have raised so much money for them and I'm really pleased that all the hard work we put into organising the event paid off. It's been great work experience for us as we've learnt what it takes to organise and run a successful event."
Major Scott Menzies, who supported the students by attending the event, said: "Help for Heroes does so much to help injured servicemen. Two of our guys took part in the Zumbathon event and the rest of us came along to support and thank the students and talk to people about the work being done by the charity. The initiative that's been shown by the Glasgow Clyde College students is fantastic and they have picked a deserving charity to benefit from their fundraising events."
Nicola Leslie-Gallagher, Lecturer at Glasgow Clyde College, said: "The students were tasked with organising several events in aid of their chosen charity. They were responsible for all aspects of the planning process – from arranging venues to selling tickets – which will be great experience for them to have once they graduate and try to gain employment in the industry. All the events were a huge success and I am very proud of them for raising such a substantial amount of money for such a great charity."